Through the migrant lens
Receiving more than 1,000 submissions this year, One-Forty's fourth annual photography contest and exhibition provides an opportunity for Southeast Asian workers to tell their own stories
Windi Fransisca had big dreams when she left her rural home in Indonesia for Taiwan — but she suffered a car accident shortly after her arrival, leaving her partially paralyzed and her face scarred.
Her self portrait showing her backlit silhouette facing a rainbow, titled Untuk Apa Hidup (What is Life For?), won first place out of 1,100 submissions at this year's Voice of Migrants (移工之聲) photography contest held by One-Forty, a nonprofit organization aimed toward reducing discrimination and empowering migrant workers.
In the interactive, online-only exhibition, Windi emotionally narrates her story in her native language.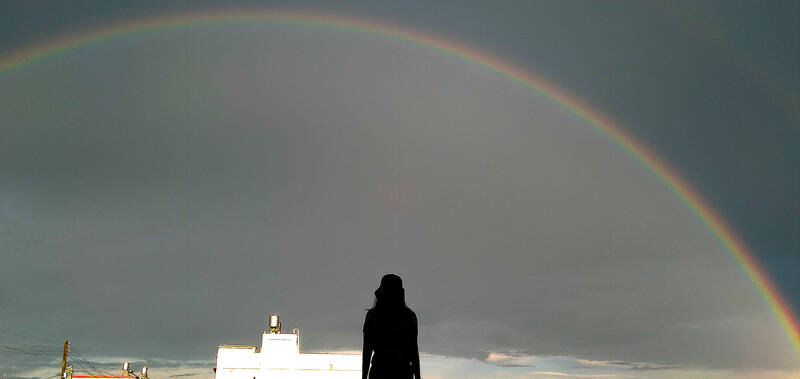 Untuk Apa Hidup (What is Life For?), Windi Fransisca.
Photo courtesy of One-Forty
"I asked myself, "Why did this happen to me? Why did I have to go through this? I just started to put together my new life here, I'm not strong enough, I can't endure this alone.'"
The portrait symbolizes the rediscovery of her will to live on. "Don't be weak, don't lose to your current situation, otherwise your life will be over before the halfway point."
Many of the 31 selected pieces speak to their life working grueling hours away from their loved ones often in unfavorable conditions — but there are also artistic street snaps, scenery shots of their travels as well as celebrations and everyday activities.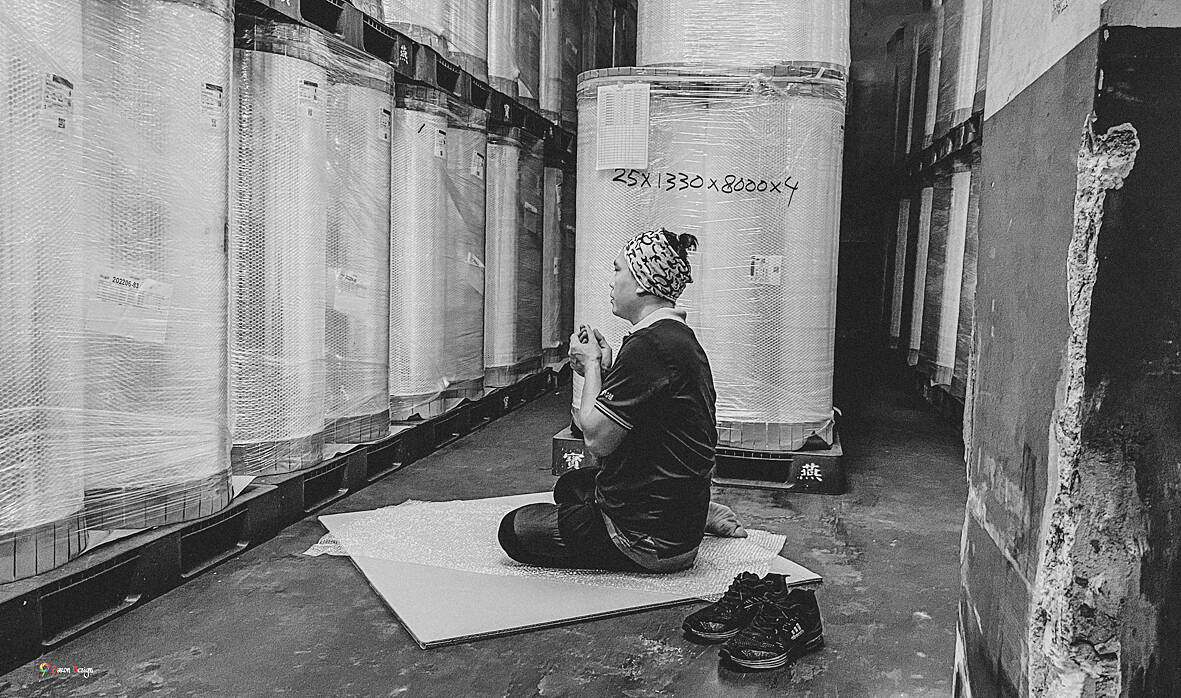 Bersyukur (Thankful), Dwi Kusnanto.
Photo courtesy of One-Forty
Fourth place winner Damianito Trapa from the Philippines' Ipon Resibo (Receipt Collection) says, "One of the things I have copied from the Taiwanese was collecting receipts ... it is also a way to discipline yourself by not throwing away these receipts, which later on will cause pollution."
And Dwi Kusnanto from Indonesia's Bersyukur (Thankful) shows her praying and expresses her gratitude toward her Taiwanese employers for allowing her to take time out of her hectic schedule at the factory to conduct her religious duties.
"The contest is not just to show the work of migrant workers to Taiwanese, but also to let them feel that they're not just a labor force," One-Forty founder Kevin Chen (陳凱翔) says. "They can also record what they see and have a voice. It's photography empowerment."
Building My Future, Resty V. Ortiz.
Photo courtesy of One-Forty
SUCCESSFUL VENTURE
Before they launched the contest in 2019, One-Forty staff were the ones behind the camera, documenting the life of migrant workers in Taiwan and even following them back home. Chen says the projects were well received by the public, but they thought it would be more effective to encourage the workers to tell their stories.
"We really wanted to try it; we had mostly been teaching practical skills such as language and acculturation, but we also want to help them gain confidence through self-expression," he says. "And for many Taiwanese, it's the first time they're able to hear the stories of migrant workers directly and get a glimpse of their real thoughts."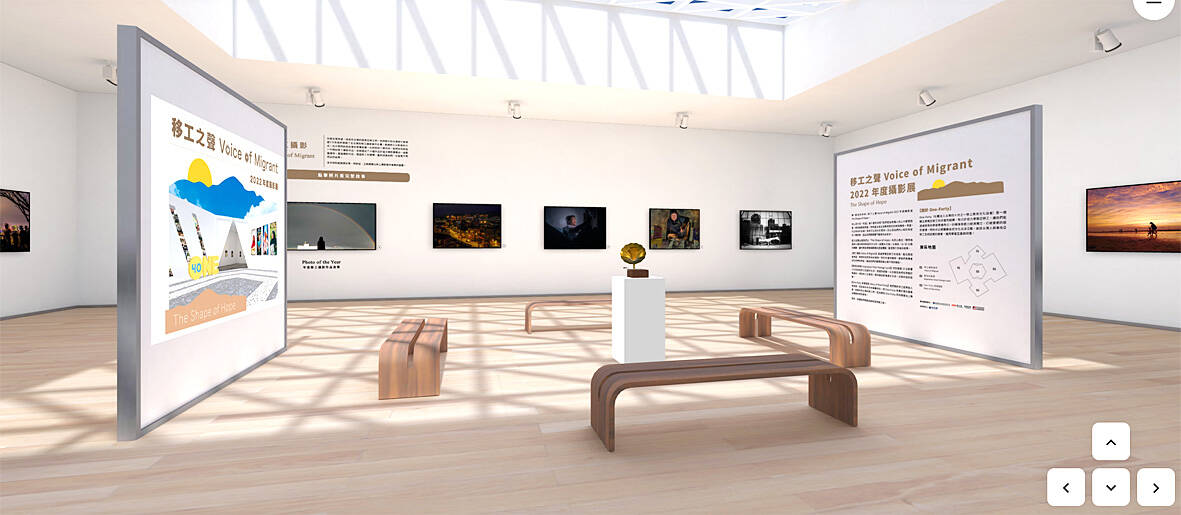 A view of the interactive virtual gallery for the Voice of Migrants photography exhibition by One-Forty.
Photo courtesy of One-Forty
It wasn't as difficult as they expected; most migrant workers had cell phones and were very active on social media, and some were avid YouTubers. About 200 submissions came in the first year with minimal promotion.
"It was all across the board," Chen says. "They were cleaning the mountains, hiking, joining local religious ceremonies; some took pictures of their workplace, some recorded things they saw in Taiwan and wrote down the thoughts or inspirations that they evoked."
Over four years, the contest has received more than 2,600 submissions. Chen says it was most eye-opening to see the ones of them at work, as these environments are often off-limits to the public. But ultimately, it's the stories that matter — the injured factory worker who carries on just to provide a better life for his family, the caregiver who became close friends with her elderly client after initially butting heads, and the woman who submitted a photo of a Taiwanese woman holding her daughter's hand, lamenting that she couldn't be with her child.
FURTHER EDUCATION
This year, a Kaohsiung award was added with help from a local sponsor, leading to about 200 of the submissions featuring the special municipality.
"We've been encouraging migrant workers to travel and get to know Taiwan better," Chen says. "Maybe next year we can get more cities on board."
Ten local celebrities were also invited to present work discussing their experiences overseas.
Chen hopes that the photographs can be used to further educate both migrant workers and Taiwanese. Leading up to this year's contest, One-Forty provided photography workshops for participants who needed help, and they hope to make it part of their regular program.
"We hired professional photographers to not just teach them technical skills, but also help them with storytelling to better express what they really feel," he says.
He also hopes that the collection of photos can be used as classroom material, and One-Forty plans to design lead-in questions to help teachers discuss diversity, empathy and an international world view with their students. They encourage teachers to print the photos out, and hope that each school can have their own Voice of Migrants exhibition.
After eight years of working with migrant workers, Chen says their next venture will target employers who want to establish better relationships with their migrant workers.
"We've been receiving requests from employers who don't know how to interact with or help their workers," Chen says. "We help them learn about their culture, religion, food, language so that the understanding can go both ways."
The online exhibition can be viewed at:
bit.ly/3S7QIRa
Comments will be moderated. Keep comments relevant to the article. Remarks containing abusive and obscene language, personal attacks of any kind or promotion will be removed and the user banned. Final decision will be at the discretion of the Taipei Times.