On pointe in Kaohsiung
Kaohsiung City Ballet's annual 'Dance Shoe' productions have long provided a platform for southern-born talent, be they choreographers or dancers, and this year is likely to prove no exception
Anyone in Kaohsiung tomorrow night looking for something to do besides watching the election should head over to the Kaohsiung Cultural Center's Chihde Hall for some inspired dancing.
The Kaohsiung City Ballet (KCB, 高雄城市芭蕾舞團) will premier its annual Dance Shoe (2020點子鞋) production, the 17th in the series.
Company founder Chang Hsiu-ru's (張秀如) idea behind the first show in 2004 was to provide a platform for young choreographers from southern Taiwan and give her more senior dancers a chance to work with different styles and visions.
Ssu-tu Ping-hsuan, in white, Wang Tsan-kai, in black and Ally Yeh will perform Hsieh Pei-shan's Vicissitudes of life in the Kaohsiung City Ballet's 2020 Dance Shoe, which opens tomorrow night in Kaohsiung.
Photo courtesy of Liu Ren-haur
Two of the choreographers that Chang picked for this year's show also had pieces in last year's production: Hsieh Pei-shan (謝佩珊) and Halee Li Zong-lin (李宗霖), while the third is a former member of the company, Hsu Chia-jung (許佳蓉), and the fourth is Sean Hsu (許生翰), whose background is more street dance than classical ballet.
Kaohsiung native Hsieh is the most experienced of the quartet, as well as being the founder of her own troupe, the Kaohsiung-based HPS Dance Company (HPS舞蹈劇場), which although focused on modern dance, has developed a reputation for working with performers from non-dance backgrounds.
The graduate of the Chinese Culture University's dance department created X Guanxi (X 關係, "X Relationship") for last year's show, set on KCB veteran Ally Yeh (葉麗娟) and two young men, Bai Yen-yu (白顏毓), HPS member Yu Chung-yu (余忠諺) and a large rolling armchair.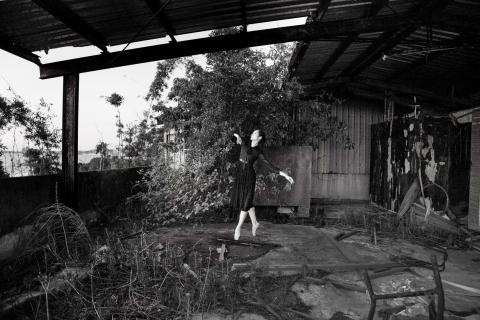 Wei Tzu-ling will perform in Sean Hsu's I owe all the happiness of my life to you, a solo performance inspired by Virginia Woolf's final note to her husband before she committed suicide, one of the works on the Kaohsiung City Ballet's 2020 Dance Shoe program.
Photo courtesy of Sean Chen
Hsieh chose to work again with Yeh for this year's piece, Vicissitudes of life (百態), but picked two new male partners for her, Maurice Ssu-tu Ping-hsuan (司徒秉宸) and Wang Tsan-kai (王贊凱). The trio will dance to songs that German-born British composer Max Richter created for the 2017 BBC television drama Taboo.
Dancer/choreographer Li created a duet for last year's show — Wuqiao (無殼, "Shell-less"), but this year he produced a solo, Du jiao (獨角, "Unicorn") for dancer Huang Yen-chieh (黃彥傑) that is set to musical excerpts from some of the most famous works in the classical ballet canon: La Bayadere, Paquita, Sleeping Beauty and Swan Lake.
That is a lot of passion to pack into a solo, but Li, who had works chosen for Hung Dance's (翃舞製作) Stray Birds Platform (漂鳥舞蹈平台) in Taipei last month as well as the International Young Choreographer Project at Tsoying Senior High School in July, appears to have the talent to pull it off.
Tainan-born Sean Hsu was also inspired by passion for his solo, I owe all the happiness of my life to you (我虧欠你一生的快樂), albeit from an unusual source: British author's Virginia Woolf's final note to her husband Leonard before her suicide.
For the score, he selected The Poet Acts from Philip Glass' soundtrack to the 2002 movie The Hours and some of composer Wu Hao's (吳凜) work that he also used in his Taipei National University of the Arts (TNUA, 國立臺北藝術大學) graduation production in April last year Exclude My Loneliness from You (我的孤獨排除在你之).
He chose another TNUA alumnus to perform his solo, Wei Tzu-ling (魏梓錂), who has danced with KCB for several years, and also choreographed for the previous two Dance Shoe shows.
The final choreographer on the program, Hsu Chia-jung is another KCB dancer turned creator. She also studied at TNUA as well as at the Kirov Academy of Ballet in Washington.
Her piece, Peise (配色, "Matching Colors") is set on three dancers — Liu Yu-hsuan (劉諭萱), Tsai Min-chien (蔡旻倩) and Ssu-tu — to an interesting choice of music: Argentine tango compose Astor Piazzolla's Fuga y Misterio and two songs from Brazilian musician Renato Rocha's Kurup project, Joeira and Surf na Mata.
While it is too bad that Taipei fans of KCB will miss out once again on a Dance Shoe production due to the lack of a suitable venue, this year's show would be a good reason to visit Tainan next weekend, the second stop on the company's tour.
Publication Notes
Performance Notes
WHAT: 2020 Dance Shoe
WHEN: Tomorrow at 7:30pm
WHERE: Kaohsiung Cultural Center's Chihde Hall (高雄市文化中心至德堂), 67 Wufu 1st Rd, Greater Kaohsiung (高雄市苓雅區五福一路67號)
ADMISSION: NT$500, available online at www.artsticket.com.tw, Eslite ticket desks and convenience store ticketing kiosks
ADDITIONAL PERFORMANCES: Saturday next week at 2:30pm and 7:30pm at the Tainan Municipal Cultural Center (台南市立台南文化中心國際廳原生劇場), 332 Zhonghua E Rd (台南市中華東路3段332號); admission as above
Comments will be moderated. Keep comments relevant to the article. Remarks containing abusive and obscene language, personal attacks of any kind or promotion will be removed and the user banned. Final decision will be at the discretion of the Taipei Times.