A packed dance card
Taipei is bursting with dance performances next weekend, which, if you are a TNUA student, alumnus or teacher wanting to keep up with the School of Dance's current students or graduates, could prove tricky
It is often feast or famine when it comes to dance performances around Taipei: Weeks of either nothing or just one show per weekend, and then a deluge.
It is time to pull out the umbrellas because next weekend brings five programs ranging from a student production to the latest by up-and-coming choreographers to a "work-in-progress."
Starting off — purely in chronological order — the School of Dance at Taipei National University of the Arts (TNUA, 國立臺北藝術大學) opens a five-performance run of its winter concert, (Dis)equilibrium (衡), on Thursday night at the campus Dance Theater.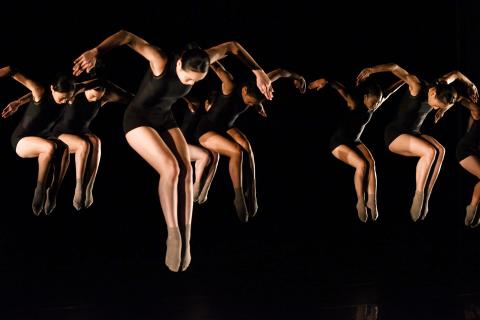 Czech choreographer Jiri Kylian's Falling Angels is one of three works on winter concert program of Taipei National University of the Arts's School of Dance, (Dis)equilibrium, which premieres at the university in Taipei's Guandu District on Thursday next week.
Photo courtesy of Pong Jun-ming
On Friday, Benson Tsai's (蔡博丞) B.DANCE (丞舞製作團隊) takes to the stage of the Metropolitan Hall for the first time for his latest work, INNERMOST, while Taiwan-based Italian dancer/choreographer Mauro Sacchi will be at the HAUS Studio to preview a new work, 5 years, 5 days (五年,五天), which is scheduled to premiere next year.
On Saturday, Lai Hung-chung's (賴翃中) Hung Dance (翃舞製作) troupe gives the first of two shows at the Taiwan Traditional Theatre Center's Experimental Theater of its inaugural Stray Birds Platform (漂鳥舞蹈平台), while over at the Songshan Cultural and Creative Park, choreographer/dancer Tien Hsiao-tzu (田孝慈) will be capping off a very busy year with her latest collaborative work, Masses (群眾).
The following weekend, the park's Song Yan Creative LAB will host a new work by Dua Shin Te Production (大身體), A Piece of Cake, created by choreographer Liu Yen-cheng (劉彥成) and two frequent collaborators, freelancers Wang Chu-hua (王筑樺) and Shen Le (沈樂).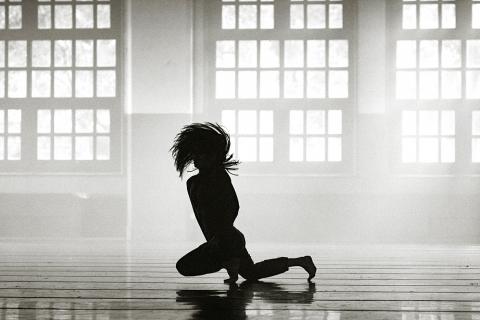 Masses, part of this year's Points on Stage @ Lab series, opens at the Songshan Cultural and Creative Park's Song Yan Creative LAB on Saturday morning next week for four shows.
Photo courtesy of Points on Stage @ Lab
BALANCING ACT
(Dis)equilibrium is a triple bill featuring a work by a visiting instructor, Italian Francesco D'Astici, founder of I.T. Fused Dance; a restaging of one of Czech choreographer Jiri Kylian's works as part of the school's Kylian Project; and a piece by alumnus Chang Chien-ming (張建明), a member of the Brighton, England-based Hofesh Shechter Company.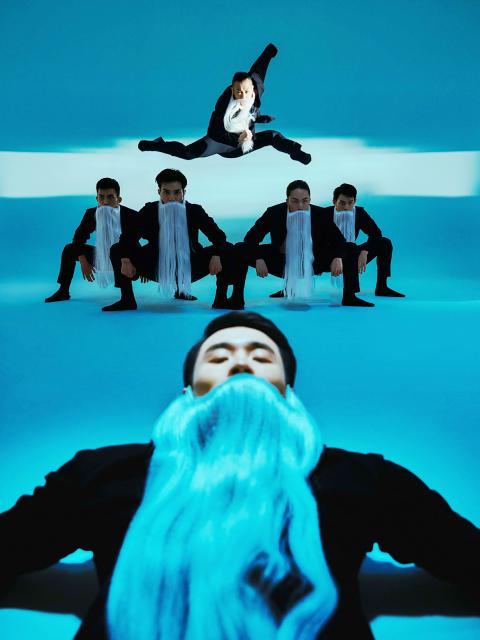 B.DANCE will perform founder Benson Tsai's newest work, INNERMOST, at Taipei's Metropolitan Hall on Friday and Saturday next week.
Photo courtesy of B.DANCE
In June last year, the school put on Kylian's Soldier's Mass, created in 1980 for the Nederlands Dans Theater (NDT), the first time that any university dance department in the world had been given permission to stage one of his works.
Australian choreographer Leigh Warren, a visiting professor at TNUA and a former NDT dancer, was instrumental in getting that production for the school.
Warren, along with two reconstruction specialists from Kylian Productions, Shirley Esseboom and Roslyn Anderson, have now staged Falling Angels, a ballet choreographed in 1989 for eight women and set to Steve Reich's Drumming Part 1, for the winter concert.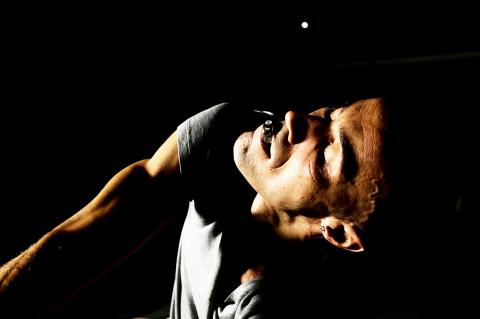 Mauro Sacchi will give four work-in-progress performances of 5 years, 5 days at the HAUS Studio in Taipei on Friday and Saturday next week.
Photo courtesy of Mauro Sacchi
D'Astici has worked with many Taiwanese companies over the years, having been a guest ballet teacher for Cloud Gate 2 (雲門2), choreographed for Tainan-based HuiDance (匯舞集) and taught several courses at TNUA. His piece is entitled Burqa.
Chang has slowly been building up a repertoire of his own works even as he continues to dance with Hofesh, which he joined when the company was founded in 2008.
He had a piece in Meimage Dance's (何曉玫MEIMAGE舞團) "New Choreographer Project" in 2014, and created another for TNUA's Focus Dance Company's (焦點舞團) Grassroots (草根限定) program in 2017. His work for next week's show is entitled Disappearing Sounds (消失的聲音).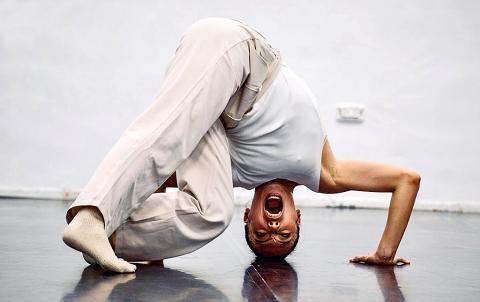 Hung Dance troupe will perform eight works as part of the Stray Birds Platform at the Taiwan Traditional Theatre Center's Experimental Theater in Taipei on Saturday and Sunday next week.
Photo courtesy of Hung Dance
(Dis)equilibriu will be performed Thursday, Friday and Saturday at 7:30pm, with 2:30pm matinees on Saturday and Sunday. Tickets are NT$400.
GRADUATE WORK
TNUA is a common factor in next weekend's other productions, which are packed with its graduates.
Tsai, who graduated in 2009, founded his own company in 2015 after racking up several wins at international choreographic competitions in Europe.
INNERMOST was inspired by the chaotic universe in Norwegian mythology, but with an Asian twist: incorporating the long sticks used in Chinese martial arts and Beijing opera as props.
There are some familiar faces as well as new ones in Tsai's eight-member cast, including TNUA alums such as Chang Chien-chih (張堅志), Lo Li-an (羅立安) and Lin Tse-an (林則安).
INNERMOST will be performed at 7:45pm on Friday and 2:45pm on Saturday and tickets range from NT$500 to NT$2,500.
Sacchi earned a master's in dance theory and performance studies from the school in 2013.
His 5 years, 5 days is his first solo piece in several years, as he has been working with several local dance and theater companies and artists as well as performing in French choreographer Jerome Bel's productions for the Taipei Arts Festival (臺北藝術節) this year and last. He also has teaching commitments around the world.
Sacchi has described the show as a simple piece: just his body, some clothes, some sounds, some simple lighting in a beautiful empty space. It will be performed at 8pm on Friday and at 3pm, 7:30pm and 10pm on Saturday. Tickets are NT$350.
Lai graduated in 2012 with a bachelor's degree, and like Tsai, first drew attention with pieces he created for Kaohsiung City Ballet's (KCB, 高雄城市芭蕾舞團) Dance Shoe (點子鞋) productions before entering international competitions and winning first prize at several of them.
His Stray Birds Platform (漂鳥舞蹈平台) is designed to highlight the works of young Taiwanese choreographers and dancers both at home and abroad, much as the Dance Shoe shows have done locally over the years.
The platform features eight works by Lai and six others: Cheng I-han (鄭伊涵) and Huang Yu-hsuan (黃于軒), who are two of Lai's longtime collaborators; Su Chia-hsien (蘇家賢), Li Zong-lin (李宗霖), Huang Yu-hsuan (黃于軒), Guo Jue-kai (郭爵愷) and Ho Tzu-wen (何姿妏).
Cheng and Guo will also be dancing in the show, which will be performed on Saturday at 7:30pm and Sunday at 2:30pm. Tickets are NT$600.
SONG YAN CREATIVE LAB
The final choreographer in this year's Points on Stage @ Lab series, Tien breaks ranks with the others mentioned in this story by being a graduate of National Taiwan University of Arts (國立臺灣藝術大學), where she earned a masters of fine arts in dance.
For a freelancer, Tien has had a very busy year, with a work in Micro Dance (微舞作) program in October as part of the Dancing in Autumn series, and before that a piece in the Chiayi New Choreography (嘉義新舞風) project's Since time immemorial (亙古) show that toured nationwide.
Masses is a solo dance piece created by four independent artists: Tien, metteur en scene Wang Shih-wei (王世偉), lighting and stage designer Helmi Fita and sound artist Li Tzi-mei (李慈湄).
Given the number of pro-democracy and social issue protests around the world in recent years, it is no surprise that they would inspire the performing arts.
Masses asks if participating in a mass movement is the realization of reform ideals or inspired by personal awareness.
The group decided to optimize their chances of attracting dance fans to the Song Yan Creative LAB by offering shows at the rather unusual times of 11am and 4pm both on Saturday and Sunday, so that people who want to see other performances or exhibitions could still squeeze them in.
The show times will also maximize the winter sun, weather permitting, since the LAB space has large windows along two sides.
Tickets are NT$700.
After Masses, another TNUA-connected show, A Piece of Cake, starts at the LAB space on Dec. 19 for a five-show run.
It is also aimed at raising questions. Liu and his two performers say that they want to know why we cannot enjoy pain as much as we enjoy happiness, why do we always want things to be "a piece of cake?"
As a production designed to break down the wall between the performers and audience, Wang and Shen will shuffle quickly through time and relationships.
Liu earned a graduate degree from TNUA, as did Wang, while Shen also attended the university.
A Piece of Cake opens on Dec. 19 for five shows, with the evenings at 7:30pm and matinees on Dec. 21 and 22 at 2:30pm. Tickets are NT$800.
■ Taipei National University of the Arts Dance Theater (國立臺北藝術大學展演藝術中心戲劇廳), 1 Xueyuan Rd, Guandu District, Taipei City (台北市關渡區學園路1號)
■ Metropolitan Hall (城市舞台), 25 Bade Rd, Sec 3, Taipei City (台北市八德路三段25號)
■ HAUS Studio (攝影工作室), 776 Bade Rd, Sec. 4, Taipei City (八德路四段 776 號)
■ Taiwan Traditional Theatre Center's Experimental Theater (臺灣戲曲中心大表演廳), 751, Wenlin Rd, Taipei City (台北市文林路751號)
■ Song Yan Creative LAB at Songshan Cultural and Creative Park, East Building 2F (松山文創園區 — 東向製菸工廠2樓), 133, Guangfu S Rd, Taipei City (台北市光復南路133號)
■ Tickets for all the shows except Mauro Sacchi's are available at NTCH and Eslite ticket desks, online at www.artsticket.com.tw and at convenience store ticketing kiosks. Tickets for "5 years, 5 days" are available through Accupass (www.accupass.com/event/1911180226311976933052)
Comments will be moderated. Keep comments relevant to the article. Remarks containing abusive and obscene language, personal attacks of any kind or promotion will be removed and the user banned. Final decision will be at the discretion of the Taipei Times.