Highlight: Stepping out on his own
Hu Chien (胡鑑) has long been associated with fellow dancer/choreographer Huang Yi (黃翊), whom he met when they were studying for their master's degrees in performance and choreography at Taipei National University of the Arts (TNUA, 國立臺北藝術大學).
Hu danced in Huang's early works such as Symphony Project (交響樂計畫之), Second Skin (第二層皮膚) and Double Yellow Lines (雙黃線) before becoming a cofounder of Huang Yi Studio+ (黃翊工作室) in 2010 and going on to perform in Huang Yi & KUKA (黃翊與庫卡), last year's Under the Horizon (地平面以下) and this year's A Million Miles Away (長路).
He also danced with Cloud Gate 2 (雲門 2) from 2012 to 2013.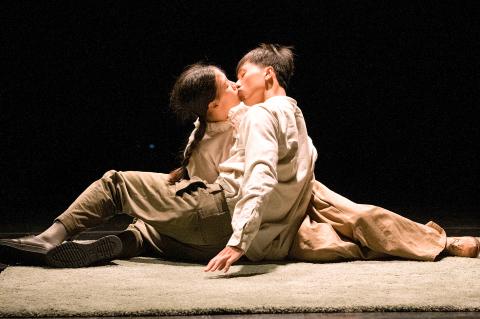 Taiwanese dancer-choreographer Hu Chien is presenting his latest work, A Place Belongs to You and Me, this weekend at Songshan Cultural and Creative Park's Song Yan Creative LAB, a duet performed by Lin Yun-zheng, left, and Wu Meng-ting.
Photo courtesy of Chang Chen-chou
However, in the past few years Hu has also begun to focus on his own choreography, creating Shi Guang (拾光, "pick up") for the National Taiwan University of Sport's dance company, and Liwu (禮物, "gift") for the group this year.
He was a finalist in this year's Copenhagen International Choreography Competition in July, with There is only one of us (有一個地方只有我們兩個人).
Although the piece did not win a prize in Copenhagen, it was selected to be part of this year's New Points on Stage@Lab at the Songshan Cultural and Creative Park Song Yan Creative LAB, where it will be performed this weekend.
There is one of us delves into the dynamics of personal relationships.
Hu said he wanted to explore how often we are willing to really face one another — for a minute, an hour or even a day — and how much value we place on ourselves and one another.
He set the duet on Wu Meng-ting (吳孟庭) and Lin Yun-zheng (林昀正), who have both studied in TNUA's graduate dance program.
Wu Meng-ting (吳孟庭) is a freelancer who danced with Lai Hung-chung's (賴翃中) Hung Dance (翃舞製作) in Boundless (無盡天空) and performed in National Guoguang Opera Company's (國立國光劇團) PHAEDRA (費特兒) in April
Taichung-born Lin earned her bachelor's degree from National Taiwan University of Physical Education and Sport's (國立臺灣體育運動大學) dance department.
■ Tonight and tomorrow at 5pm and 8pm and Sunday at 5pm at the Songshan Cultural and Creative Park Song Yan Creative LAB in East Building 2F (松山文創園區 — 東向製菸工廠2樓), 133, Guangfu S Rd, Taipei City (台北市光復南路133號)
■ Tickets are NT$800, available at NTCH and Eslite ticket desks, online at www.artsticket.com.tw and at convenience store ticketing kiosks. Sunday's show is sold out.
Comments will be moderated. Keep comments relevant to the article. Remarks containing abusive and obscene language, personal attacks of any kind or promotion will be removed and the user banned. Final decision will be at the discretion of the Taipei Times.