How to have a good Year of the Pig
A renowned fortune teller and a LGBTQ-friendly Taoist priest show how to make the best of the Year of the Pig, which may be tumultuous for Taiwan
If celebrity fortune-teller and geomancer Wisdom Tsai (蔡上機) is to be believed, this year will be disastrous for Taiwan. National strength is at its weakest, as the country is battered by wind and rains and alone in the world, while the ruling party faces a crisis. The cause is a clash of zodiac signs (犯太歲) that traditionally augurs misfortune: both the upcoming new year and the Republic of China's founding on Jan. 1, 1912 belong to the Year of the Pig.
NATIONAL DESTINIES
Truth be told, it's hard to tell if Tsai is an oracle of the zodiac, or simply an astute reader of the newspapers. Some predictions in his 2019 Heavenly Book of Luck and Fortune (招財開運天書) read like trend reports.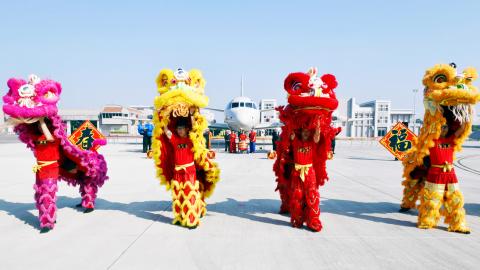 Earlier this month, Taiwan navy personnel perform a lion dance on the sidelines of a military exercise at the Pingtung Air Force Base.
Photo: AFP
The people "feel disappointed by and are departing from party politics," Tsai writes. "Those without the baggage of party affiliation, atypical and refreshing political actors and those with a loud social media presence will enjoy popularity and become the political mainstream." This is Taipei Mayor Ko Wen-je (柯文哲) in a nutshell, and Tsai accordingly gives him good odds in presidential elections scheduled for next year.
While lesser mortals watch the inscrutable faces of our leaders for a glimpse of their intentions, Tsai divines national destinies from their dates of birth.
The Year of the Pig will be arduous for President Tsai Ing-wen (蔡英文), who was born in the Year of the Monkey and sees her luck ranked second-last this year. According to Wisdom Tsai, she is trapped in a cul-de-sac and at real risk of becoming the first president in Taiwan's democratic era not to be re-elected. The president will face challenges such as a strengthening cross-strait and unification policy by China and possibly an era of "new poverty" in Taiwan, as the economy idles and a brain drain of professionals seeking higher salaries reaches new highs.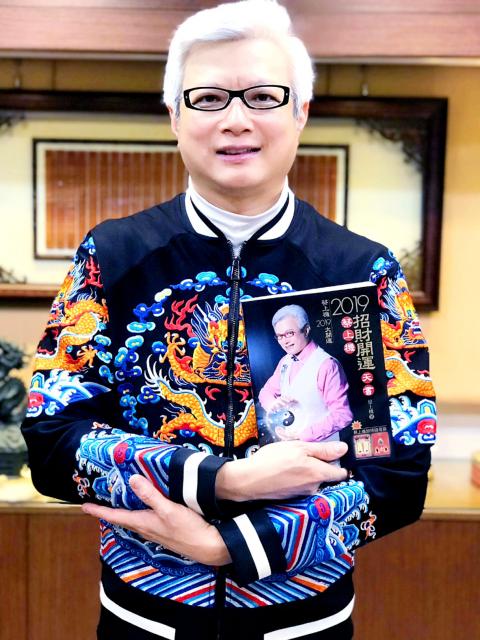 Wisdom Tsai holds his Heavenly Book of Luck and Fortune, in which he predicts a disastrous year ahead for Taiwan.
Photo courtesy of Wisdom Tsai
Tsai foresees that President Xi Jinping (習近平), born in the Year of the Snake, will be able to steady the ship and overcome economic losses from China's trade war with the US, as well as a potential bubble in China's high-end real estate market. As for US President Donald Trump, born in the Year of the Dog, Tsai predicts that this may be the year when messy past deeds finally catch up to him, pointing to a high chance of impeachment.
ATTRACTING GOOD FORTUNE
While ordinary folk may not hold national fates in their sway, the quest to secure individual fortunes is just as, if not more urgent.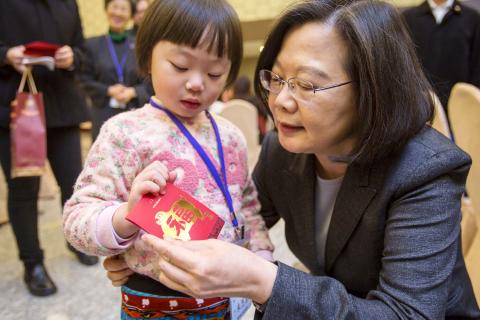 President Tsai Ing-wen on Jan. 24 attends a Lunar New Year event at the Straits Exchange Foundation. Based on her zodiac sign of the monkey, it looks like the upcoming new year will not be a good year for her.
Photo: CNA
People born in the Year of the Rooster, Ox and Snake top Tsai's fortune rankings this year, and will need to work hard and fast to take advantage by making investments, starting or expanding businesses and seeking promotions.
Conversely, those born in the Year of the Horse, Monkey and Dog are the unluckiest, and should be very careful about where they put their money. If things go wrong, they could spend the year mired in lawsuits or in prison. It's a good reason to sit out of the rat race and take things easy.
In case you need another excuse to fill up on barbecued pork jerky and red bean treats, here's one: Tsai recommends keeping two or seven red-colored fruits, foods or bottles of "fortune water" (發財水) from your local bank in a northwesterly direction for two or seven days before consuming them for luck. And if your bank doesn't give out "fortune water," Tsai suggests bottling your own from a water dispenser in the building.
Red potted orchids and red pouches filled with red banknotes — perhaps the highest return on NT$100 to be found these days — can be kept in the same way, with the banknotes deposited into an investment account after two or seven days.
QUEER NEW YEAR
Regardless of the zodiac, the Year of the Pig is set to be momentous for Taiwan as it becomes the first country in Asia to legalize same-sex marriage, in accordance with a ruling by the Grand Council of Justices issued in 2017.
Those hoping to take advantage of this can find celestial succor at the shrine of the Rabbit God (兔兒神), a Taoist deity who looks after same-sex relationships, in Taipei's Weiming Temple (威明堂).
Priest Lu Wei-ming (盧威明) says that it is the world's only shrine to the Rabbit God, and there are cultural reasons why the Lunar New Year is the most crucial time of the year to make a visit and ask for blessings.
"Chinese people believe that if the start of the new year goes well, the rest of the year will go well," Lu says. Because each year has its own distinct course of fortune, the next opportunity to appeal for good luck and correct the course will come only a year later.
To ingratiate yourself to the Rabbit God, who has a sweet tooth, Lu recommends offering mung bean cake — the old-fashioned kind, he insists — and sake. Worshippers also leave face masks, perfume and other grooming products at the altar, which they then wear to attract romantic opportunities.
Those who wish to show their devotion in more perpetual fashion can ask to become god-children (義子) of the Rabbit God, so as to enjoy his special protection and better share in his prosperity. Lu assures that the ceremony for this is a matter of faith and does not require passing any tests.
Weiming Temple, which attracts LGBTQ visitors from around Asia, particularly Thailand, Japan, Hong Kong, Malaysia and Singapore, has received three or four requests to sanctify same-sex unions since it was established in 2007. But Lu, in his early 30s, says that the temple has yet to bring any of these requests to fruition, as all the couples eventually disagreed on the need for a Taoist ceremony.
"Young people these days don't pay much attention to traditional marriage rituals and customs. What's important to them is capturing the sweet and romantic sentiment of their love," Lu says, adding that the temple has always hoped to help couples perform marriage rites.
With same-sex marriage in sight, that could finally happen in the Year of the Pig. And in what could be a tumultuous year for the nation, it would not be wrong to cling to and celebrate the intimate relationships we hold dear.
Comments will be moderated. Keep comments relevant to the article. Remarks containing abusive and obscene language, personal attacks of any kind or promotion will be removed and the user banned. Final decision will be at the discretion of the Taipei Times.