Art exhibition listings
The National Palace Museum teams up with City University of Hong Kong and Taichung City Seaport Art Center to present ANiMAL-Art Science Nature Society (動物藝想). The show features a selection of contemporary artworks and museum treasures that explore the animal world through the lens of art and science. From illustrations, paintings, video, sculpture to photography, the show reflects upon new and old imaginations of mythical creatures, scientific documentation of natural life and the changing relationship between animals and their environment. Curator and City University media art professor Jeffrey Shaw describes the show as an invitation for "visitors to listen to the extraordinary web of stories that emanate from the animal world" that promote appreciation of "universal wonders and inspirations." Exhibition highlights include Compendium of Materia Medica (本草綱目), a Ming Dynasty encyclopedic classic that details almost 2,000 accounts of herbal medicine. Authored by the legendary Chinese doctor Li Shizhen (李時珍), the compendium is based on 16th century knowledge of plants as well as Li's personal experiences practicing medicine. Illustrated Album of Sea Miscellany (海錯圖) is a Qing Dynasty publication of marine life drawings in China, including horseshoe crabs, snails, crabs and shrimp. The accounts of natural life are derived from author Nie Huang's (聶璜) 20 years of travelling the coastal areas of China.
■ Taichung City Seaport Art Center (台中市港區藝術中心), 21, Jhongjhen Rd, Taichung City (台中市忠貞路21號), tel: (04) 2627-4568. Open Tuesday to Sunday from 9am to 5:30pm
■ Through May 5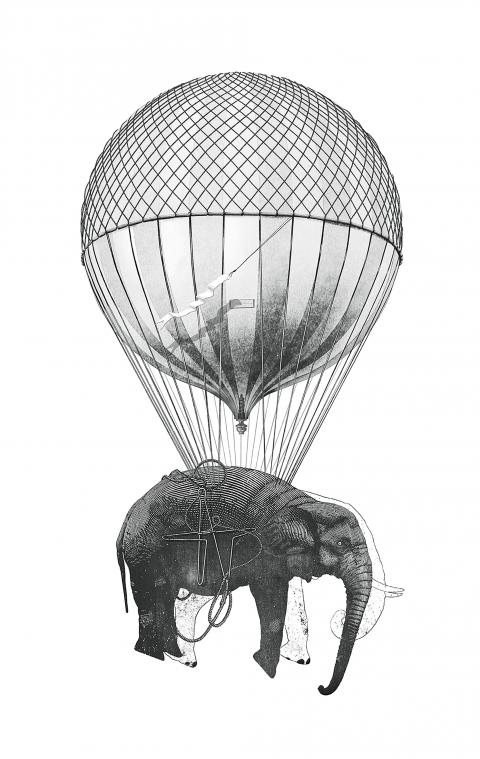 Page Tsou, Noah-Elephant (2015).
Photo Courtesy of Xue Xue White Gallery
Celebrating the 70th anniversary of the UN's Universal Declaration of Human Rights, Chiang Kai Shek Memorial Hall presents a group exhibition that seeks to address contemporary concerns for justice, truth and power. Under the Great Leader: Contemporary Human Rights Film and Video Exhibition (中正之下—當代人權影像展) includes eight documentaries and video artworks by local and international artists and filmmakers that explore themes of ideology, history and identity. Wang Ding-yeh's (王鼎曄) Portrait Under Electric Shock (瘋狂電擊—中華民國國旗歌) is a video that features individuals singing the national anthem of the Republic of China while being electric-shocked on the cheeks. Their involuntary facial expressions triggered by the current of electricity satirically speak to the dictation of emotions embodied in national song. American filmmaker Jay Rosenblatt's Human Remains is a documentary film that addresses the banality of evil through the study of five 20th century dictators, including Adolf Hitler, Benito Mussolini, Joseph Stalin, Francisco Franco and Mao Zedong. "We learn the private and mundane details of their everyday lives—their favorite foods, films, habits and sexual preferences," reads the film description.
■ Chiang Kai-shek Memorial Hall (中正紀念堂) 21, Zhongshan S Rd, Taipei City (台北市中山南路21號), tel: (02) 2343-1100. Open Monday to Friday from 10am to 6pm, weekends from 9am to 6pm
■ Through March 17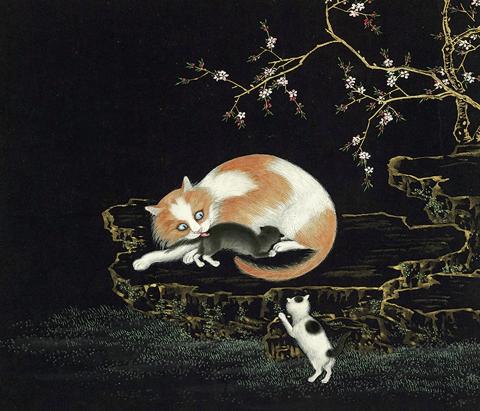 Huang Yu-ling, Don't Forget Your Phone (2018).
Photo Courtesy of Huang yu-ling
Page Tsou (鄒駿昇) is a Taipei-based artist and illustrator with a background in Chinese ink painting and graphic design. Before moving back to Taiwan in 2011, Tsou spent six years in London working as a designer and artist. He has won a number of awards including the International Award for Illustration at the Bologna Children's Art Fair and a gold medal for the 3x3 Professional show. Tsou's solo exhibition From Stop to Start (啟示的起始—鄒駿昇個展) at Xue Xue White Gallery features a selection of drawings from six illustration projects. Tsou is known for his imaginative illustrations that tell fantastical stories rendered with an elegant, classical style. "Traveling across borders and diverse cultural aesthetics, Page's artworks [resonates with]…new and old generations," writes the gallery. Noah (諾亞方舟) is a drawing series that draws upon the biblical story of apocalypse. The series depicts endangered animals riding on hot air balloons, such as whales, elephants and foxes participating in playful scenes of interaction, as if alleviating the gravity of the topic of the end of the world. The Gift (禮物) is Tsou's first Chinese illustration book that was commissioned by the Taipei Fine Art Museum. The book speaks of an art-loving boy and his surreal experiences visiting the museum.
■ XUE XUE White Gallery (學學白色展覽空間), 7F, 207, Tiding Boulevard Sec 2, Taipei City (台北市堤頂大道二段 207 號 7樓), tel: (02) 8751-6898 ext 321, Open daily from 11am to 5pm
■ Until April 28th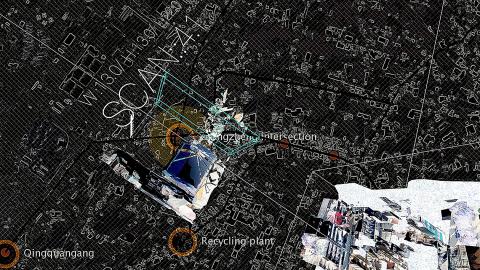 Wang Hsin-jen, Paths to the Past (2018).
Photo Courtesy of Taiwan Digital Art Center
Presently on view at the Taiwan Digital Art Center is Paths to the Past (昨日的路徑), a solo exhibition by Taiwanese artist Wang Hsin-jen (王新仁). Wang specializes in multimedia art and is known for his laptop based audiovisual performances. He is also deeply involved in OpenLab Taipei, a hackerspace that promotes maker spirit and open source software. The show features a single virtual reality project by Wang entitled Paths to the Past (VR version). The project explores the concept of memory from the perspective of computer coding. Wang asks in the exhibition preface, "How can we understand the act of recalling in the age of algorithms? What are the feelings triggered by a memory and how are they triggered?" Using aerial photography, 3D rendering and field recordings altered by granular synthesis, the project offers a virtual experience of sound and sight that is based on the artist's personal account of home. Every viewing experience is unique, says the artist, as the progression of the work is determined by real-time algorithmic operations. The unpredictable transformations that occur in the virtual space correspond to the ever-changing relationship between the artist and his memory.
■ Taiwan Digital Art Center (台灣數位藝術中心), B1, 431-1, Zhongshan N Rd, Taipei City (台北市中山北路六段431-1號B1), tel: (02) 7709-9091. Open Monday to Friday from 10:30am to 6pm.
■ Through March 15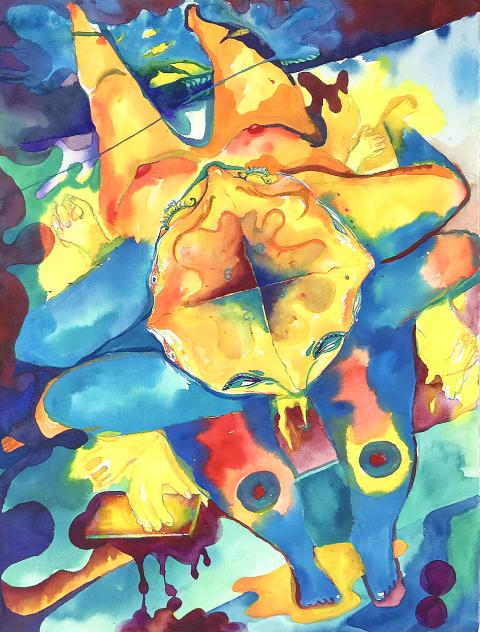 Shen Zhenlin, Cats and Butterflies in Springtime (Qing Dynasty)
Photo Courtesy of National Palace Museum
Tadpole Point (尖蚪) presents @ura Land, a solo exhibition by Taiwanese artist Huang Yu-ling (黃郁齡). Huang is a trans-disciplinary artist who works between painting, design, research and journalism. Her interests lie in social change and the relationship between art and society. During her graduate school years, Huang explored visual techniques for political protest and explored art and design as a tool for activism. In the past decade, Huang has been involved in a number of activist groups in Taiwan, Korea and Hong Kong. Her recent research in contemporary economies and virtual currencies is reflected in the title of the exhibition, which borrows from the language of blockchain, a cryptographic method that prevents modification of data. The selection of paintings featured in this show a six-year process of reassembling, digesting and responding to a personal memory significant to the artist. For Huang, her subjective experiences are intricately related to the conditions of society and its politics and economies.
■ Treasure Hill Artist Village, Tadpole Point (寶藏巖國際藝術村尖蚪) 57, Ln 230, Sec 3, Tingzhou Rd, Taipei City (台北市汀洲路三段230巷57號). Open Wednesday to Friday from 1pm to 8pm, weekends from 11am to 9pm
■ Until March 31
Comments will be moderated. Keep comments relevant to the article. Remarks containing abusive and obscene language, personal attacks of any kind or promotion will be removed and the user banned. Final decision will be at the discretion of the Taipei Times.