Reading Germany
This year's Taipei International Book Exhibition, which begins on Feb. 12, will focus on the German experience of transitional justice
With a mix of nostalgia and urgency, the Taipei Book Fair Foundation will be hosting the Taipei International Book Exhibition (TIBE) next month.
"In the past, reading was a part of life that was necessary, but many people have forgotten," says James Chao (趙政岷), the chairman of the foundation.
It's no surprise, then, that the theme of this year's exhibition, which opens at the Taipei World Trade Center on Feb. 12, sounds like a reminder: "Time for Reading."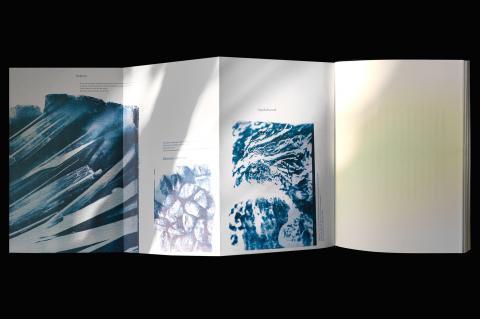 Design studio Mistroom's Huang Jui-i and Peng Yu-jui won a Golden Butterfly Award for Aroma Island.
Photo courtesy of Yiri Living
FROM TRANSITIONAL JUSTICE TO AI
With Germany as the guest of honor at this year's exhibition, 13 German writers, including defense attorney and crime author Ferdinand von Schirach, will be traveling to Taipei for the six-day affair.
Journalists Ronen Steinke and Lin Yu-li (林育立), who have both written extensively about transitional justice in Germany, will be holding a discussion titled "A New Understanding of the Past" at the German pavilion at 5pm on Feb. 13.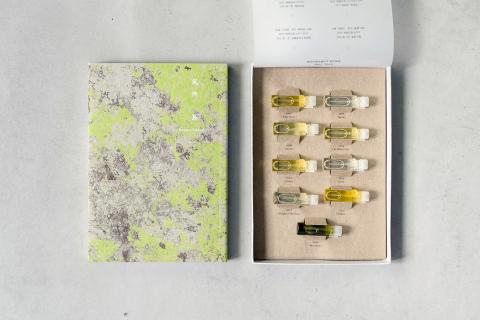 Aroma Island published by Yiri Living.
Photo courtesy of Yiri Living
The German experience has become an essential reference for Taiwanese academics and politicians who are trying to envision Taiwan's own path towards transitional justice, so it will be interesting to hear what is discussed at the event.
Digital technology has left no industry unscathed, but it has also presented exciting new opportunities for the publishing market. At this year's Frankfurt Publishers Training Program, the sixth collaboration between the Frankfurt Book Fair and TIBE, industry experts will be speaking about the applications of artificial intelligence, audiobooks and hybrid and platform publishing.
Tickets to "Off the Page — from voice to platforms, from bundling to AI," which takes place from Feb. 13 to Feb. 14, are NT$5,000 and can be purchased through www.tibe.org.tw.
The Hole by Lo Yi-chin.
Photo courtesy of the Taipei Book Fair Foundation
EXHIBITION HIGHLIGHTS
Appearances by world-renowned authors remain one of the main attractions of book fairs and TIBE is no exception. Over 13 years after the release of his best-selling novel, The Book Thief, Markus Zusak will be at the exhibition to promote his latest work, Bridge of Clay, the Chinese translation of which will be released on Friday.
Written by Ichiro Kishimi and Fumitake Koga, The Courage to be Disliked took Asia by storm when it was published in Japanese in 2013. It became available in English last year. Kishimi will be speaking about the Adlerian psychology he helped to popularize at the exhibition's Theme Square at 6:30pm on Feb. 15 and at 4pm on Feb. 16.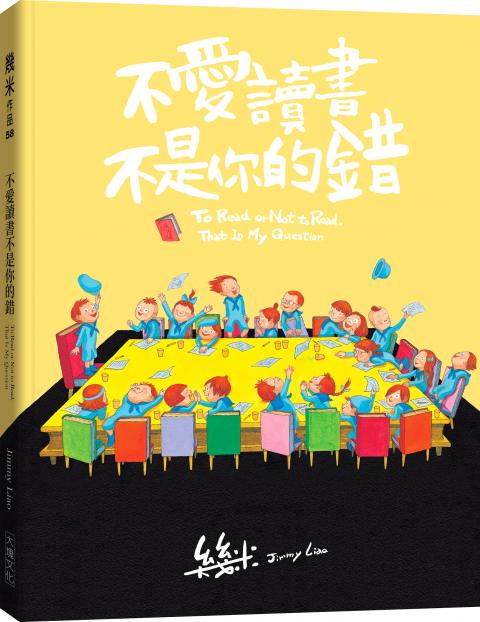 To Read or Not to Read, That Is My Question by Jimmy Liao.
Photo courtesy of the Taipei Book Fair Foundation
Counting this year's selections, which were announced this month, Taiwanese illustrators have participated in the Illustrators Exhibition at Bologna Children's Book Fair a total of 69 times. To celebrate the 30th anniversary of the first-ever selection of a Taiwanese illustrator for the Italian fair, TIBE will be exhibiting the works of 35 illustrators who have previously been selected.
'NOT TOO MANY AWARDS'
In line with its efforts to encourage reading, especially among younger populations, the Taipei Book Fair Foundation has added a new category — children's and young adult literature — to this year's TIBE Book Prize, which recognizes books published in Taiwan between Nov. 1, 2017 and Oct. 31 last year.
Five Hundred Lemon Trees by Huang Po-chih.
Photo courtesy of the Taipei Book Fair Foundation
The foundation is "not afraid of [giving] too many awards," Chao said at the press conference, where the winners were announced.
The inaugural prize for children's and young adult literature was awarded to life sciences professor Chen Chun-yao (陳俊堯) and comic artist Forest (Lin Chen-hung, 林振宏) for Bacteria: Best Friends Forever (值得認識的38個細菌好朋友), writer-illustrator Tang Mu-niu (湯姆牛, pen name for Liu Chen-kuo, 劉鎮國) for Calder the Artist (藝術家阿德) and best-selling children's book author Jimmy Liao (幾米) for To Read or Not to Read, That Is My Question (不愛讀書不是你的錯).
Meanwhile, Hong Kong's Dung Kai-cheung (董啟章), Malaysia's Zhang Guixing (張貴興) and Taiwan's Lo Yi-chin (駱以軍) took home the TIBE Book Prize for fiction. Their winning books are Beloved Wife (愛妻), Wild Boars Crossing the River (野豬渡河) and The Hole (匡超人), respectively.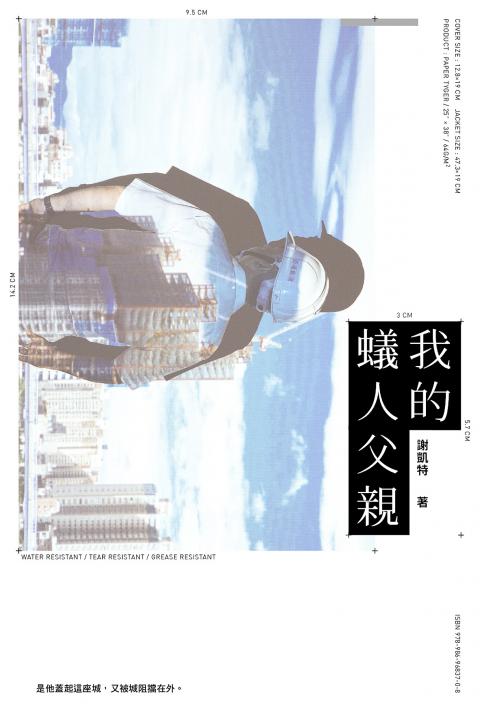 His Gay Son by Hsieh Chih-wei.
Photo courtesy of the Taipei Book Fair Foundation
Two of the three winners in the non-fiction category wrote books based on field research. As the book's title suggests, Chen Chao-ju's (陳昭如) Gloomy Country: Love and Sex of People with Disabilities (幽黯國度:障礙者的愛與性) discusses an often unspoken subject, while A-po (阿潑, pen name for Annpo Huang, 黃奕瀠) After the Disaster: Anthropological Points of View (日常的中斷:人類學家眼中的災後報告書) tells the stories of earthquake victims in Indonesia, China and Japan after the cameras and news crews have left.
Hsieh Kai-te (謝凱特, pen name for Hsieh Chih-wei, 謝智威) also received the TIBE Book Prize for nonfiction for his debut book His Gay Son (我的蟻人父親), in which he shares his personal experience of growing up gay in Taiwan.
In the editor's category, the TIBE Book Prize recognized Gusa Press's (八旗文化) Joshua Wang (王家軒) for his focus on international affairs.
This year, art publications dominated the Golden Butterfly Award given for book design. Artist Huang Po-chih (黃博志) won the gold prize for Five Hundred Lemon Trees (五百棵檸檬樹), a book that walks readers through a tree-planting project he began in 2013 that culminated in a solo exhibition at the Taipei Fine Arts Museum.
Design studio Mistroom's (霧室) Huang Jui-i (黃瑞怡) and Peng Yu-jui (彭禹瑞) won the silver prize for Aroma Island (氣味島), an "aromatic map of Formosa" published by Yiri Living (伊日美學生活). Designer Liu Ming-wei (劉銘維) won the bronze prize for Industrial Research Institute of Taiwan Governor-General's Office (台灣總督府工業研究所), a catalog for an exhibition at Liang Gallery (尊彩藝術中心).
MORE THAN SALES AT STAKE
Now in its 27th edition, TIBE may find itself under more pressure than ever to succeed. Last year, the foundation reported a 8.6 percent decline in visitor numbers from 2017.
Statistics fluctuate, but what cannot be dismissed are years of anxiety that the best days are over for the publishing industry.
There is no shortage of articles online based on the same rhetoric — that Gen Zers admire YouTube celebrities more than Harper Lee or J. K. Rowling, and that millennials don't read.
But whoever or whatever you blame for the decline in book sales and reading, don't blame the readers, Chao says.
"We blame [ourselves] for not [publishing] books that readers want to read. We blame ourselves for not bringing the value of books to the reader's attention," he said.
Still, Chao says the publishing industry is at a crossroads. If book sales continue to fall, authors will be disinclined to write books that don't sell, and, even if they do, publishers won't print them, he says.
"Those books would disappear, and the diversity [of Taiwan's publishing industry] would be damaged," he said.
Comparing the arrival — and irreversibility — of the digital age to the industrial revolution, Chao says the questions we must ask ourselves next are: Is digital all we need? Is social media all we need?
Comments will be moderated. Keep comments relevant to the article. Remarks containing abusive and obscene language, personal attacks of any kind or promotion will be removed and the user banned. Final decision will be at the discretion of the Taipei Times.