Highlight: German Cornejo's tango troupe premieres in New Taipei City
The Cornejo Dance Company makes its Taiwan debut tonight as part of the New Stage Art Festival (新舞臺藝術節) in New Taipei City sponsored by the CTBC Foundation for Arts and Culture, with its founder German Cornejo's newest production, Tango After Dark.
Cornejo comes from an Argentine family of tango dancers, but he said he first started by practicing in secret in his room, trying to imitate what he had seen his relatives do.
He began formal classes at age 10, and eventual added ballet and jazz to his studies. In 2005, when he was 19, he and a partner won the stage portion of the Tango World Championships in Argentina.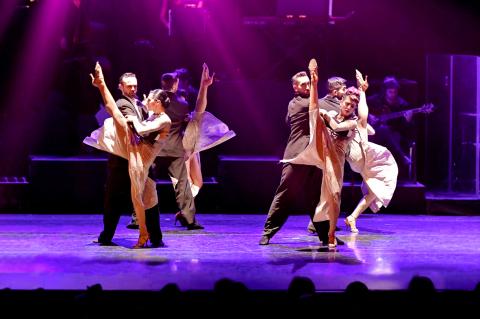 The Cornejo Dance Company will perform Tango After Dark at the New Taipei City Arts Center in Banciao District this weekend as part of the New Stage Art Festival.
Photo courtesy of Leo Mason
The following year he joined the Tango Fire Company in Buenos Aires, and went on to earn a master's degree in chorerography from Argentina's National University of the Arts.
He has built a career not only as a dancer and choreographer with the Tango Fire Company, but as a tango coach.
He has appeared many television shows at home and in the US, including America's Got Talent last year, and in 2013 was chosen to be in the cast of Sidi Larbi Cherkaoui's Milonga.
While his company is making its debut in Taiwan, Cornejo and some of his cast have been here before, when Milonga was at the National Theater in April 2016.
More than half of the 10 dancers of the Cornejo Dance Troupe have won the Tango World Championships, including his frequent partner, Gisela Galeassi, who claimed the title with another partner in the stage division in 2003. She was also in the cast of Milonga.
Tango After Dark premiered in London at the end of February and won rave reviews for its dancers as well as its two singers and six musicians.
■ Tonight and tomorrow at 7:30pm, tomorrow and Sunday at 2:30pm at New Taipei City Arts Center (新北市藝文中心演藝廳), 62 Jhuangjing Rd, Banciao District, New Taipei City (新北市板橋區莊敬路62號)
■ Tickets range from NT$900 to NT$4,200, available at the NTCH box offices, Eslite ticketing, online at www.artsticket.com, at convenience store ticket kiosks
and at the door
Comments will be moderated. Keep comments relevant to the article. Remarks containing abusive and obscene language, personal attacks of any kind or promotion will be removed and the user banned. Final decision will be at the discretion of the Taipei Times.