'TAPE' questions when to let go
The final performance by The LAB Space before it closes, examines sexual assault and the willingness to forgive and forget
With Stephen Belber's TAPE, theater director Brook Hall has a hard-hitting final play for The LAB Space.
High school reunions are tricky. Some classmates have moved on in life, others have not. Some dredge up a past that others want to forget, especially when it involves sensitive matters like rape.
This one-act play opens and takes place in a very realistic, semi-grungy Motel 6 room in Lansing, Michigan, wonderfully put together by Ridge Production Studio.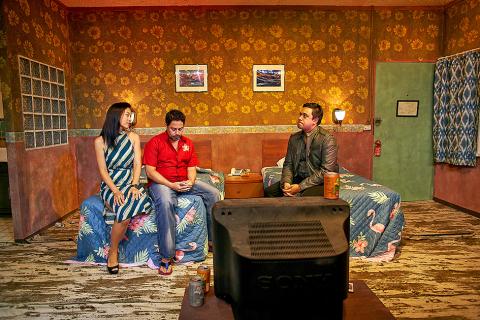 From left, Michelle Kao, Lucas Salazar and John Brownlie perform a scene from TAPE last weekend in Taipei.
Photo courtesy of Jamie Osho Mactography
TAPE is a demanding play for its actors, where all three characters must adapt to rapid-fire dialogue and changing emotions, but Hall chose a skilled team.
Lucas Salazar plays Vince, the volunteer fireman and drug dealer who allegedly has come to celebrate former high school friend Jon's success in the film industry, but in reality seeks to expose why Amy, a girl that he and Jon dated, slept with Jon but not with him.
With great energy Salazar clearly delights in this manipulative and sinister role; he bounds about and plays on Jon's sympathy while calculating his end game.
LAB veteran, John Brownlie, as Jon, has the challenging role of being the unsuspecting, blind-sided friend, trying to be helpful but slowly realizing Vince's calculating subterfuge.
Enter Amy, Michelle Kao (高微嵐), who at first appears to be an unsuspecting pawn and spectator in Vince's game of watching Jon squirm between guilt and apology.
Vince thinks he is in control and hopes to impress Amy until he realizes the strong, resilient Amy has moved on in her own way.
TAPE is a play with a high stakes end for all, where each character is pushed to the limit. The end comes quick — an end that will certainly linger in the viewer's mind after the curtain falls.
Due to subject matter, no children under 16 are admitted without an adult guardian.
Publication Notes
Performance Notes
WHAT: TAPE WHERE The LAB Space (實演場) 3F, 9, Beitou Rd Sec 1, Taipei City (台北市北投路一段9號3樓), tel: (02) 2898-5382 WHEN: Friday and Saturday at 8pm and Sunday at 2:30pm and 8pm. ADMISSION: NT$ 700, tickets on-line. VIP seating NT$1,000, includes beverage Go to: www.tiny.cc/tapetw
Comments will be moderated. Keep comments relevant to the article. Remarks containing abusive and obscene language, personal attacks of any kind or promotion will be removed and the user banned. Final decision will be at the discretion of the Taipei Times.