Same-sex marriage activists face an uphill climb ahead of gay rights referendums
In the run-up to the three gay rights referendum proposals, pro-marriage equality activists face difficulties mobilizing support
As tens of thousands cheered in May last year when the same-sex marriage ban was ruled unconstitutional, Jennifer Lu (呂欣潔) knew that the battle was far from over.
"I didn't feel happy or excited because we still needed to go back to the legislature and make them pass the bill we want," says Lu, who is coordinator of the Marriage Equality Coalition (MEC). "The ruling was an amazing moment for the LGBT movement in Taiwan, but as a leader of the campaign, I was quite worried about people losing their motivation to continue."
Lu's concerns have proved prescient. The Council of Grand Justices gave the legislature two years to legalize same-sex marriage — either to amend the Civil Code's gendered language, as LGBTQ activists prefer, or to create a separate same-sex civil partnership law.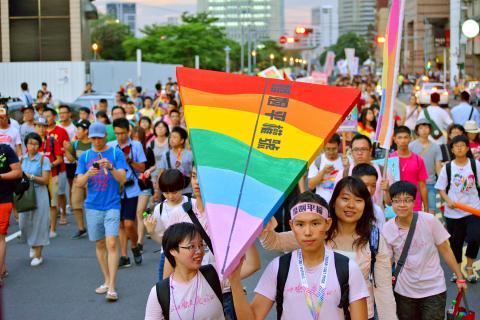 In the wake of the US Supreme Court ruling on same-sex marriage in 2015, the Taiwan Alliance to Promote Civil Partnership Rights stages a demonstration to advocate for marriage equality.
Photo courtesy of the Taiwan Alliance to Promote Civil Partnership Rights
However, in April, the Central Election Commission approved three referendum proposals from anti-LGBTQ organizations that, if passed, could create a separate law for same-sex couples, restrict the definition of marriage in the Civil Code to unions between men and women and eliminate education about homosexuality for younger students.
Creating a law specifically for same-sex couples rather than removing gendered language from the Civil Code would deny gay people the title of "marriage," implying that it is distinct from heterosexual partnerships. If the separate law is not identical to the Civil Code, activists fear they will need years of additional litigation to achieve the same rights.
As anti-LGBTQ organizations rush to gather the 281,745 signatures needed by the end of this month for the proposals to coincide with the November municipal elections, marriage equality activists face difficulties mobilizing opposition.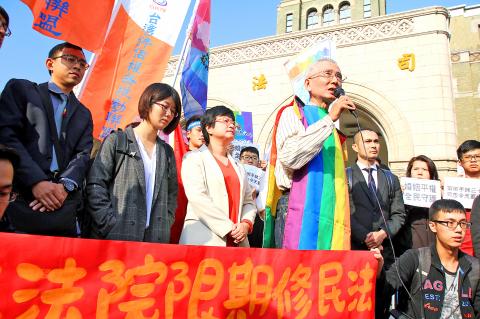 The Taiwan Alliance to Promote Civil Partnership Rights on March 24 last year holds a press conference in front of the Judicial Yuan.
Photo courtesy of the Taiwan Alliance to Promote Civil Partnership Rights
LOW 'CRISIS AWARENESS'
Paowuchien (拋物線), a pseudonym for founder of LGBTQ organization Rainbow Boulevard, says "people lack crisis awareness."
Paowuchien cites as an example a gay cafe owner with whom she wanted to collaborate to petition the government to revise the Civil Code.
The Taiwan Alliance to Promote Civil Partnership Rights in May last year celebrates the Council of Grand Justices ruling that same-sex marriage should be legal.
Photo courtesy of the Taiwan Alliance to Promote Civil Partnership Rights
"Why do we have to do this? Hasn't it already passed?" he asked her.
Huang Hsin-yi (黃馨儀), a MEC volunteer, says momentum remains low.
"People are waiting to get married, and people think, 'Yes, we can get married already,'" Huang says.
LGBTQ activists contrast the lack of awareness with a strong anti-gay movement that lobbies politicians effectively.
"Gay people are not visible. You don't know where they are," Taiwan Alliance to Promote Civil Partnership Rights secretary-general Chien Chih-chieh (簡至潔) says. "Churches are well-organized, gay people are not. Churches give campaign donations, gay people don't."
Chien sees this vocal opposition as one source of legislators' reluctance to openly support amending the Civil Code, with most maintaining neutrality in the lead-up to the referendum — and the municipal elections. It's also why same-sex marriage activists are annoyed that Premier William Lai (賴清德) continues to drag his feet in drafting a same-sex marriage proposal, even though he promised one by the end of last year.
Indeed, there was a campaign last year to recall New Power Party (NPP) Executive Chairman Huang Kuo-chang (黃國昌) after he voiced support for same-sex marriage. Though it failed, 48,693 constituents voted in favor of recalling Huang, while less than half that number — 21,748 — voted against it. Huang's detractors needed to cast at least 63,888 "yes" votes.
For marriage equality activists, the potential political ramifications of the referendum proposals are more significant than the success or failure, as legislators use them to gauge public support.
"If they get a lot of votes, then the government will choose not to revise the Civil Code, and maybe they will give us a separate bill," Chien says.
LEGAL CONFUSIONS
Cora Lee (李欣宜) occasionally accompanies friends to LGBTQ events, but is unsure what the referendum proposals mean. When the anti-LGBTQ proposals were approved, she didn't think they would affect her because she was not considering marriage.
"Even if society accepts gay people, if my parents won't accept me, then it doesn't change my life," Lee says.
Chang Xin-yu (張欣渝) says the proposals are somewhat confusing.
"The wording of the proposals are deliberately complicated, to make people unable to understand it," she says, citing confusion over legal technicalities to explain widespread indifference to the referendum proposals. "I have a lot of friends who think if marriage equality happens, it's fine, regardless of whether it's a separate law or a modification of the Civil Code."
When Flora Yang (楊彤玉) describes her indignant reaction to the proposals, she says that the lack of understanding between creating a separate law and revising the Civil Code disadvantages marriage equality activists.
"If supporters of marriage equality don't disseminate easily understandable information, those who agree with same-sex marriage may end up supporting a separate law," she says.
NORMALIZING MARRIAGE EQUALITY
The MEC believes that to turn the anti-LGBTQ referendum proposals in favor of the "no" campaign, activists need a new tactic, beyond rallies, protests and anger: conversation.
This strategy puts ordinary citizens on the front lines, relying on people like Chang, who recalls countering misinformation about homosexuality within her LINE group chat in 2016, when the Council of Grand Justices was studying the marriage equality case.
"Some people just need to see that you are normal, and not so different from them," she says.
Yet, if many members of the gay community do not get the word out, same-sex marriage activists face an uphill climb.
"We need to educate our supporters to calm down, don't get angry," Lu says. "Don't fight the opposition, your parents or your relatives. Try to deliver the right information."
Comments will be moderated. Keep comments relevant to the article. Remarks containing abusive and obscene language, personal attacks of any kind or promotion will be removed and the user banned. Final decision will be at the discretion of the Taipei Times.