Talking about it won't kill you
With just five months to go before the Patient Right to Autonomy Act goes into effect, Taiwan's medical community, patients and their families grapple with cultural attitudes towards death and the concept of holistic care
When Sharlene Cheng (程劭儀) told her patient that her breast cancer had metastasized to her lungs, the doctor and members of the patient's family nearly came to blows.
Cheng, an associate professor in the Department of Family Medicine at National Taiwan University, says that it is common for physicians to receive threats from family members of the terminally ill, resulting in a pervasive culture of fear over medical suits and ambiguous patient-physician relationships.
"We're not in a culture where doctors can freely communicate with patients about their prognosis," Cheng says. "A lot of families think that if the patient knows the truth, they'll suffer psychological trauma or their health will deteriorate further. It's a protective measure for the patient."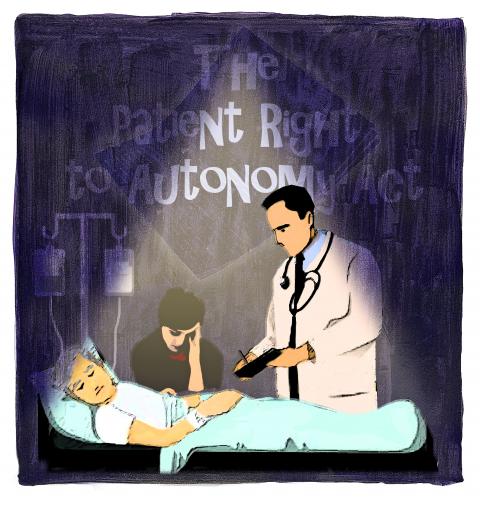 Illustration: Angela Chen
But palliative and hospice care specialists agree that end-of-life conversations lead to higher patient-family satisfaction, less healthcare spending on treatments associated with patient suffering and, rather than exacerbating patient depression or anxiety, relieve emotional burdens on both patients and their families.
With the Patient Right to Autonomy Act (病人自主權利法) and the mandated Advanced Care Planning program for both patients and families set to begin on Jan. 6, 2019, Taiwan's medical community has under six months to address serious challenges with transparency and open communication deeply ingrained in Taiwanese culture.
'BAD THINGS HAPPEN WHEN YOU SAY THEM OUT LOUD'
Punished as children for broaching the topic during weddings, birthdays and other celebrations, Taiwanese are taught from a young age to avoid discussing death.
In many East Asian cultures, where the taboo of talking about death and mental health prevents patients from receiving adequate end-of-life and psychological care, doctors choose medical treatment — no matter how futile in prolonging the patient's life — over communication.
Tsai Jaw-Shiun (蔡兆勳), president of the Taiwan Academy of Hospice Palliative Medicine and Director of the Department of Family Medicine at National Taiwan University Hospital, says that it is difficult for doctors to refuse families who request information to be withheld from the patient. But if families are allowed to obstruct communication between physician and patient, they run the risk of future regret.
Tsai says it is common for families to bring in treatment and symptom management advice from the Internet to counter professional opinions, underlining widespread distrust of healthcare providers in palliative and hospice care because families and patients aren't receiving proper consultations from physicians about future healthcare decisions.
"There's also the issue of low health literacy, especially in more rural areas," he says. "Patients won't ask about their prognosis themselves. They think that what they don't know, they won't fear."
But Taiwanese are especially unwilling to take part in end-of-life discussions, leaving healthcare providers worried about implementing Advanced Care Planning once the Patient Right to Autonomy Act goes into effect.
In a cross-cultural study across palliative care clinicians in Taiwan, Japan and South Korea, Cheng found that 70 percent of Taiwanese doctors reported that they often experienced reluctance on the part of family members to discuss end-of-life issues — compared to just 50 percent and 59 percent in Japan and South Korea respectively.
Under the new act, healthcare professionals won't be able to keep their patients in the dark.
The law allows patients with one of five clinical conditions to refuse life-sustaining treatment or artificial nutrition and hydration once they have gone through consultations with a medical team. With their family as witness, the patient expresses their final wish through written instructions or by designating a proxy with no conflict of interest to carry out their healthcare decisions.
In a society shaped by a Confucian emphasis on death as a family issue rather than a personal one, healthcare professionals must prioritize earning the trust of families.
"It's equally important to take care of the family's psychological well-being as well as the patients, and they're usually related," Tsai says. "If the family sees that the patient is confident in the doctor, they'll get on board too."
TIME CONSTRAINTS
But building trust takes time physicians just don't have.
Since the Patient Right to Autonomy Act was announced in 2016, Taipei City Hospital has conducted 240 end-of-life planning sessions through a pilot program. On average, each consultation required 1.5 hours with patients and families who already had prior knowledge of the act.
The nation's National Health Insurance is famously affordable, and healthcare providers say that hospitals and medical centers are overrun with Taiwanese who request medical attention for minor issues. Cheng often sees more than 60 patients in one morning, with just a few minutes to give each one.
Advanced Care Planning would be an additional burden on top of the teaching and administrative demands physicians at larger hospitals like Cheng face along with their regular clinical responsibilities.
With hardly enough time to address their biological needs, Cheng does not have the opportunity to address the psychological and spiritual issues central to Advanced Care Planning or build a relationship with the patient where they feel comfortable discussing end-of-life care.
"Taiwanese aren't used to talking about their problems with strangers," Cheng says. "And the law currently allows just about anyone with hospice training to do Advanced Care Planning."
OVER-SPECIALIZED AND UNDER-TRAINED
Health experts in Taiwan agree that physicians don't have the experience to provide the holistic care that the Patient Right to Autonomy Act requires even if they are given the time.
Superintendent of Taipei City Hospital Huang Sheng-Jean (黃勝堅) says that doctors believe their responsibility is to keep people alive, more concerned with avoiding lawsuits and upsetting the patient's families.
"Physicians believe they train for cures, not for death," Huang says. "But we train for comfort. The issue with doctors everywhere is that everyone is so specialized as a neurosurgeon, gastroenterologist or whatever that people have become experts of organs or diseases rather than experts of health."
Huang says that doctors who do not consider themselves specialists in palliative care often want nothing to do with patients' end-of-life care.
Joanna Hsu (徐愫萱), a family medicine and hospice care specialist at Taipei City Hospital, has given several lectures to social workers and healthcare professionals about the act. She has found that most doctors she has worked with are unfamiliar with the legislation, let alone the general public.
Hsu says that between now and when the act rolls out in January, hospitals should focus on partnering with nonprofits for community outreach, conducting home visits with patients in end-of-life stages and sharing testimonials to convince healthy people that planning ahead isn't just for the terminally ill.
There is much to accomplish by the end of the year, with the Advanced Directives form not finalized and budgeting and payment to hospitals from the National Health Insurance Administration for the Advanced Care Planning programs not yet settled. But the Patient Right to Autonomy Act's success depends on whether doctors, patients and families can have the end-of-life conversations necessary to actualizing patient-family beliefs and preferences.
"It's very important for doctors to make patients and families feel like they are going to face the disease together, rather than delivering a death sentence," Tsai says.
Comments will be moderated. Keep comments relevant to the article. Remarks containing abusive and obscene language, personal attacks of any kind or promotion will be removed and the user banned. Final decision will be at the discretion of the Taipei Times.