Exploring what lies inside
For his solo show, Inca Pan has repurposed commissioned works into an imaginary, introspective world of caves
You may recognize some of Inca Pan's (潘昀珈, artist name 川貝母) work from local and international publications, but the illustrator has completely repurposed them for his solo show.
Even though many of the pieces were commissioned for specific articles, their abstract nature makes them highly adaptable.
Pan selected more than 20 illustrations for "Becoming a Cave" (成為洞穴) at Songshan Cultural and Creative Park, each one accompanied by a new short story surrounding the theme of caves -- a recurring motif in his artwork in addition to mountains and plants.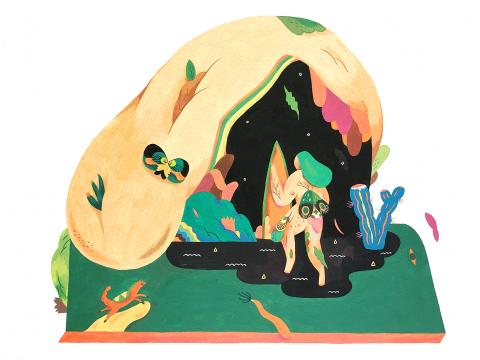 Inca Pan, My Cave.
Photo courtesy of Inca Pan
"I developed the concept of the cave as a metaphor for the state of a person's heart and mind," Pan says.
In his imaginary world, each person has a cave that develops as they age. However, the cave's location is unknown to its owner.
"Just like how some people are more reserved, some caves are well-hidden. Others are easy to find since some people are more open and willing to share," Pan adds.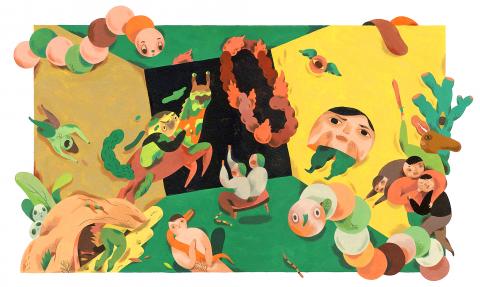 Inca Pan, Paper Pen.
Photo courtesy of Inca Pan
The Pingtung native fell in love with illustration after coming across a copy of the Bologna Illustrators Annual in his high school library, and began his career in 2002 by submitting illustrations to local newspapers. Since then, he has published a book of poems and has seen his work appear in the New York Times and Washington Post.
Pan's unique illustration style is distinguished by his muted color palette, unconventional use of white space and use of abstract forms. His detailed and careful compositions often depict magical landscapes filled with strange creatures or a lone humanoid figure and includes nature-inspired motifs.
The stories in Pan's exhibition grapple with introspective questions regarding identity, self-examination, and self-doubt. His characters tend to fear revealing their true selves and put up external barriers to guard against the outside world.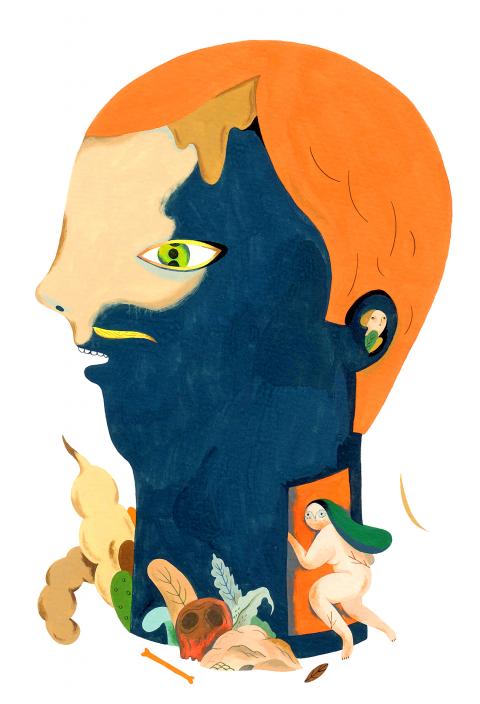 Inca Pan, Statue.
Photo courtesy of Inca Pan
Letting others into one's cave is equivalent to letting them understand one's inner self. In My Cave, the protagonist finally finds her cave at the top of the hills near her hometown after years of searching. However, its prominent location causes her to panic and she worries that others have already discovered her cave and entered. Before she gets a chance to go inside the cave herself, she seals up its entrance with rocks. In Illusion, the main character rents three caves as a front since he is unable to find his true cave but still wants to fit in.
"I wrote these stories because I want to encourage people to examine themselves. I think people need to open up their dark side or negative aspects in order to find their creations," Pan says, adding that he uses the process of creating art to ponder such questions. "When I'm creating art, I'm mostly communicating with myself. While I'm drawing, I'll revisit my past experiences, as if I'm mining my own heart for inspiration."
Several of Pan's pieces challenge traditional notions of gender and marriage in Taiwanese society. Statue includes a character that boldly states the desire to "love whomever I want" and "be a multi-gender person." Pan's personal favorite, Uncle, describes how Taiwanese relatives typically look down on a man who is unmarried. In the story, everybody introduces the character by saying "this is the unmarried uncle" and nothing more.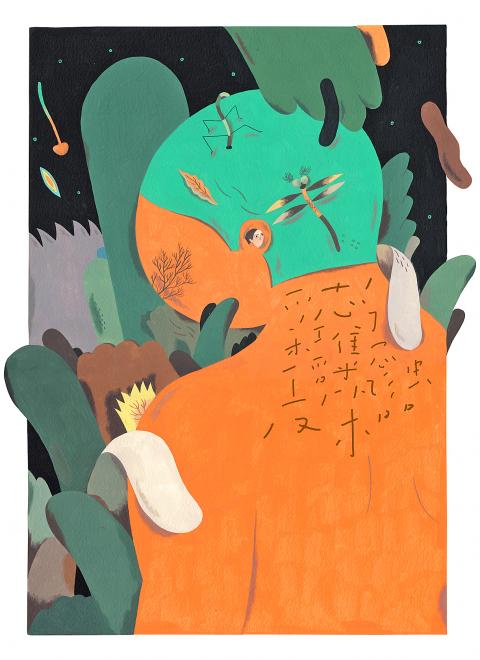 Inca Pan, Uncle.
Photo courtesy of Inca Pan
"I thought of this piece because I remember reading the phrase, 'In every family there is an unmarried uncle.'" Pan says. "After you're 25 or 30 everyone in your family asks if you're married and if you're not, it's as if there's nothing more to say. It's like they cannot further understand you as a person."
Pan hopes the pieces in his exhibition will incite new ways of thinking about one's identity or place in society.
"I actively look for ideas that oppose my previous assumptions. In my creative work and writing, there's always room for improvement so I'm constantly seeking new questions and answers," he says.
Creating illustrations for newspapers is one way that Pan pushes himself as an artist. "When I read other people's articles, I'll encounter topics that I wouldn't normally draw, such as tea ceremonies or cooking," Pan says. "Although it is more difficult, I'll research the topic and force myself to create, which often leads to new discoveries. This is very different from creating my own artwork, where I'll draw things I'm already familiar with."
"Becoming a Cave" will remain open until Friday. Pan plans to further develop his body of work before exhibiting at the Taipei Illustration Fair this September.
Publication Notes
Exhibition Notes
What: Becoming a Cave (成為洞穴)
When: Until Friday. Open daily from 11am to 6pm.
Where: Art Space B at Songshan Cultural and Creative Park (松山文創園區藝思空間). 133, Guangfu S Rd, Taipei City (台北市光復南路133號)
Admission: Free
On the net: https://www.songshanculturalpark.org
/cms/en/index.aspx
Comments will be moderated. Keep comments relevant to the article. Remarks containing abusive and obscene language, personal attacks of any kind or promotion will be removed and the user banned. Final decision will be at the discretion of the Taipei Times.