Taiwan Tourism Bureau in New York apologizes for social media fiasco
Director says texts, photos will be vetted before publication following criticism of misspelled words, grammatical errors, factual inaccuracies
The head of Taiwan Tourism Bureau in New York apologized last week for content on its social media platforms that included misspelled words and grammatical errors in English, saying that measures have now been put in place to review posts before they go up.
Director Claire Wen (溫佳思) addressed the controversy stemming from an article last month on the blog Tricky Taipei, which criticized the bureau's social media campaigns, including on Twitter and Instagram.
"If there are parts that we didn't handle well, we are sorry," Wen, speaking in Mandarin, told the Taipei Times in a phone interview on April 30.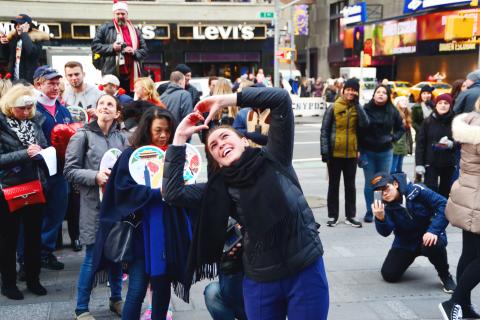 A woman makes the shape of a heart in front of a billboard in New York that was linked via livestream to one in Taipei as part of a tourism ad campaign.
Photos courtesy of Taiwan tourism bureau in new York
The Tricky Taipei posting quickly ignited a firestorm of debate on English and Chinese-language social media platforms, centered on how the Taiwanese government promotes the country overseas and whether its methods are up to par.
"I think the professionalism of the bureau as a government-funded organization is something that we should be questioning as taxpayers," Kathy Cheng, who runs Tricky Taipei and wrote the article, said in an interview.
Cheng's April 18 piece referenced the Twitter account @triptotaiwan and the Instagram account of the same handle and featured screenshots of a number of since-deleted postings. The accounts are managed by Tiger Party, a design and development company based in New York whose contract ends on May 31.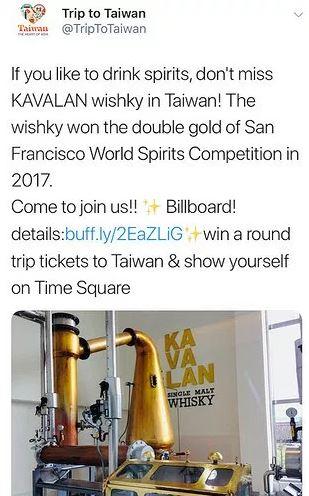 Even though the proper spelling of whisky is clearly visible in this picture, the caption still repeatedly spells it "wishky." The company that came up with the post is based in New York.
Screen grab courtesy of Tricky Taipei
The Taiwan Tourism Bureau in New York paid Tiger Party US$313,500 for its work, Wen wrote in Chinese in a follow-up e-mail.
That price tag, among other things, covered two promotional events, related equipment and site rental fees, interactive backend software design and virtual reality filming costs. It also included an official Web site and establishing a fan base and marketing on Instagram, Twitter and Facebook, according to Wen.
She added that there aren't plans to renew the contract.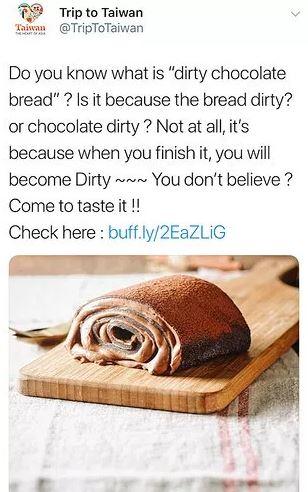 One in a series of posts, created by a New York-based company that was paid US$313,500 for an ad campaign for the Taiwan Tourism Bureau of New York, that has been criticized for its poor grammar and spelling.
screen Grab courtesy of Tricky Taipei
QUESTIONABLE CONTENT
Among the questionable social media posts was one on Twitter featuring a photo of Kavalan Whisky with the spirit incorrectly spelled "wishky" two times, according to a screen capture on Tricky Taipei.
Another read in part, "Oh!! you don't like noodles...it' okay ! we have Chinese Burrito, it's different between Mexico, no spicy, no sour, everything inside is delicious and healthy."
Times Square, the physical location of events promoting Taiwan, was also misspelled multiple times as "Time Square."
"Basically [we] didn't pay attention when [we] were spelling, so there were spelling mistakes," said Rafale Chang, Tiger Party's CEO, speaking in Mandarin during the April 30 joint phone interview with Wen.
Cheng, the blogger, said she was blocked by the Twitter account after sharing the posts on Facebook.
One, according to Tricky Taipei, promoted something called dirty bread (髒髒包), a fad in Asia that has become popular in Taiwan. The bread gets its name from the fact that your hands and face become dirty from the cocoa powder while eating it.
"People are lining up for it," Cheng said. "But that's not a reason for somebody to buy a plane ticket to Taiwan."
She called the posts "just very unprofessional, to the point of being comical."
"Typos happen, but it was so obviously not written by somebody who's fluent in English, and then somebody who wasn't thinking about how to represent Taiwan," she said.
One post promoting Jiufen (九份), the popular mountain town in northeastern Taiwan, appeared to assert that the location had inspired the Japanese animation Spirited Away, according to Tricky Taipei. The blog article, however, said that the posting was inaccurate, pointing to a video clip from one news outlet that appeared to show the director taking issue with that claim.
Chang, of Tiger Party, said the editor responsible for that post had seen a news report in a different outlet than the one cited in the Tricky Taipei story.
"Because [the editor] didn't actually verify this, it is indeed our mistake," he said. "We corrected this part after that and deleted the post."
CORRECTIVE MEASURES
Asked his opinion about whether a native speaker of English should be overseeing the social media posts, Chang said, "It doesn't matter if it's a Taiwanese, an ethnic Chinese person or an American ... the most important part is that it has to be correct, whether it's spelling or grammar. This is the part that we need to strengthen and together correct."
Wen said the tourism bureau has taken corrective measures in the wake of the controversy.
In the past, Wen said her office would primarily look at statistics associated with the social media platforms, such as the number of likes and followers, to gauge how well they were doing. The postings, she added, were skimmed through irregularly.
"In the future, whether handled in-house or outsourced, all of the posts and photographs will first be checked by our office," Wen said. "After being approved, only then will they be posted."
Asked in a follow-up e-mail whether she was concerned that the new measures may slow down the rate at which information is posted to social media, Wen said her "office will implement a review mechanism that will ensure the quality of the posts and, at the same time, the timeliness of the content."
SOCIAL MEDIA CAMPAIGNS
Tiger Party — whose contract, according to Wen, began on Aug. 22, 2017, and ends on May 31, 2018 — spearheaded several campaigns during that time for Taiwan's tourism bureau in New York.
One in December involved a billboard set up in Times Square and another in Taipei that were linked via livestream. A YouTube video of the event, viewed more than 23,000 times, showed people at both locations making the shape of a heart with their hands, while viewing their counterparts on the big screen halfway around the world doing the same.
Another in April, also in Times Square, featured a virtual reality bike tour of Taiwan. Participants were able to mount a stationary bike and pedal through parts of the nation, according to a press release from the Taipei Economic and Cultural Office in New York.
In addition, the Web site taiwantourism.guide provides directions for entering a contest to win a round-trip flight from New York City to Taiwan.
Chang, in a follow-up interview in English, said he believes the campaigns his company ran were very successful.
"In six months, we have a huge amount of followers," he said, adding they amassed more than 150,000 likes across all social media platforms.
Asked in a follow-up e-mail why the tourism bureau hired Tiger Party, Wen, responding in Chinese, cited in part the company's experience and its big screen interactive advertising technology.
She said that together with an electronic billboard in Times Square, an important landmark location with many tourists, they could carry out an interactive campaign that would expand the effectiveness of promoting Taiwan.
Asked about the procedures for contracting out to Tiger Party, Wen said they were in accordance with Taiwan's procurement laws, adding that the bureau conducted what is known as limited bidding.
Unlike selective or open bidding, limited bidding does not go through a public notice process, according to Article 18 of Taiwan's procurement laws. Two or more vendors may be invited and their bids compared, the law states. Alternatively, only one vendor may be invited and the price negotiated.14
Wen did not say how many businesses had bid on the contract awarded to Tiger Party.
The Tourism Bureau in New York also cited other events held in the US to promote Taiwan. Those included the New York Times Travel Show (紐約時報旅展), the Chicago Travel and Adventure Show (芝加哥旅展), The Outdoor Adventure Show in Toronto (多倫多旅展) and "Taiwan Market Night" (台灣美食之夜)at the Smithsonian in Washington DC, among others.
Wen said the funds budgeted for those events ranged from US$30,000 to US$60,000. The dollar amounts varied depending on the scale of the exhibition as well as the design and arrangement of the exhibit, among other things.
Wen, in an e-mail, noted that the New York office does not have its own independent budget. Annual funding is based on tourism policy objectives, she said, and is applied for when projects are proposed.
Data provided by the Taiwan Tourism Bureau in New York, meanwhile, showed a rise in the number of American and Canadian visitors to the island.
In 2017, more than 560,000 Americans traveled to Taiwan, an increase of around 7 percent compared to the same period last year, while the number of Canadians was close to 120,000, an 11 percent growth, the figures showed.
From January to March of this year, roughly 135,000 Americans visited Taiwan, up 5 percent compared to the same period last year. Around 34,000 Canadians did the same, an increase of close to 25 percent, according to the bureau.
However, it wasn't immediately clear from the figures alone what was driving the growth in tourism.
The Tricky Taipei blog posting scraped a nerve with both English and Chinese-speaking netizens, with many saying there's room for improvement in how Taiwan is promoted overseas.
Suggestions included using native speakers of English, including expats enthusiastic about Taiwan, to help write posts.
Wen, when asked, did not respond directly to that recommendation. She also did not say whether she was satisfied with or regretted Tiger Party's work.
"Our outsourcing is done according to the relevant provisions of this government's procurement laws," she replied. "We will continue to incorporate and consider the recommendations of netizens."
GATEKEEPERS OF TAIWAN'S BRAND
Blogger Cheng said she believes all of this extends beyond just the handling of social media accounts to "being good gatekeepers of the Taiwan brand."
"It feels like every time there's a new promotion, there's a new Web site, there's a new Twitter account, there's a new Instagram account being promoted," Cheng said. "And it means that the keys are not being handed from one agency or one account holder or one social media account manager to the next person."
That could be problematic, Cheng noted, when people following one account suddenly learn that it's no longer active, while new ones are being started up.
Asked during the phone interview whether the social media accounts would be closed after Tiger Party's contract expires, Wen replied, "We will take appropriate measures to let this group of netizens who want to learn about Taiwan be able to continue to follow information about Taiwan tourism. But this [contract with Tiger Party] ends on May 31."
In addition to the controversy surrounding Tiger Party, the Tricky Taipei article cited examples of what it said were neglected social media accounts on the Web, as well as questionably run Taiwan tourism campaigns in other parts of the world.
A search on Twitter, for instance, revealed a UK tourism bureau handle whose last tweet appeared to be in April 2012 about winning plane tickets to Taiwan.
But other accounts, despite having relatively few followers, remain active in Turkey, the Middle East and India, all with recent tweets. None as of press time had the blue checkmark Twitter assigns to verified accounts.
Facebook, compared to Instagram and Twitter, appeared in some cases to fare better when it came to followers. The tourism bureau's page in India, for instance, had more than 633,000; in the UK over 11,000; in the Middle East more than 6,000.
Cheng, who previously worked as a copywriter at a design agency and has experience with social media outreach, said she believes the tourism bureaus need professional experts to come in and educate them on how to use social media to their advantage — "to make Taiwan shine."
Having consistency and standardization throughout the various bureaus, she added, would help.
"Taiwanese people are really proud of Taiwan, and the national embarrassment kind of took a life on of its own, just with this coming out," she said.
Comments will be moderated. Keep comments relevant to the article. Remarks containing abusive and obscene language, personal attacks of any kind or promotion will be removed and the user banned. Final decision will be at the discretion of the Taipei Times.