Taking risks pay off for troupes and audiences
Artistic gambles by the directors of Cloud Gate 2, the Butterfly Effect Theatre Company and Dark Eyes Performance Lab led to three productions that challenged their performers — and those watching them
Cloud Gate 2 (雲門 2) artistic director Cheng Tsung-lung (鄭宗龍) wanted to do something different for this year's Spring Riot, the troupe's annual spring showcase for young (and young-ish) choreographers that opened last Friday at the Cloud Gate Theater.
He succeeded.
However, that is not to say that the two works on the program were unqualified successes.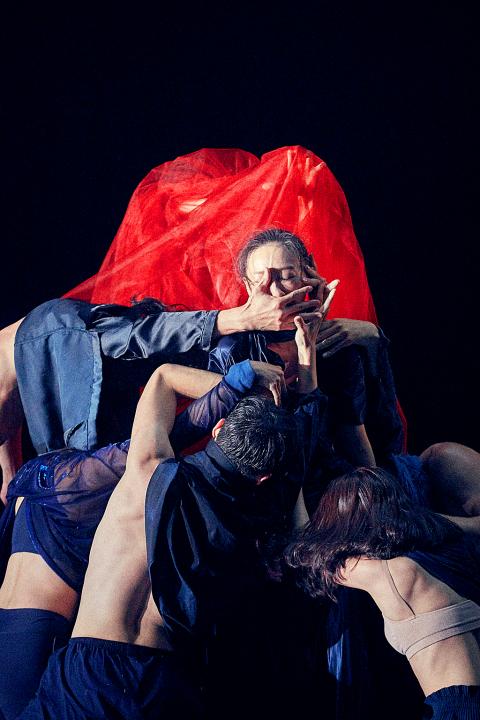 Tsai Pao-chang created Aller Simple for Cloud Gate 2's "Spring Riot 2018," which premiered last Friday at the Cloud Gate Theater in New Taipei City's Tamsui District.
Photo courtesy of Chen You-wei
While Taishin Arts Award Performing Arts award winner Liu Kuan-hsiang's (劉冠詳) Superbeing (變態) showed a welcome expansion of his choreographic repertoire in terms of dancer numbers and staging, he did not venture very far from the visual style seen in his two most recent works, Kids (我知道的太多了) and Karma (棄者).
However, Superbeing shows that Liu is developing an unusual movement style as idiosyncratic as the late Wu Kuo-chu (伍國柱), whose 70-minute Oculus was a masterpiece and remains one of my favorite works of the company. Superbeing could prove to be a contender for remaining in Cloud Gate 2's repertoire.
Friday night's opening was also memorable for being the company premiere of shaven-head Li Wei-han (黎偉翰), who used to dance with WCdance (林文中舞團), and had the lead in Superbeing. Liu certainly challenged Li's physical dexterity, his stamina and his acting chops, and Li proved up to the task.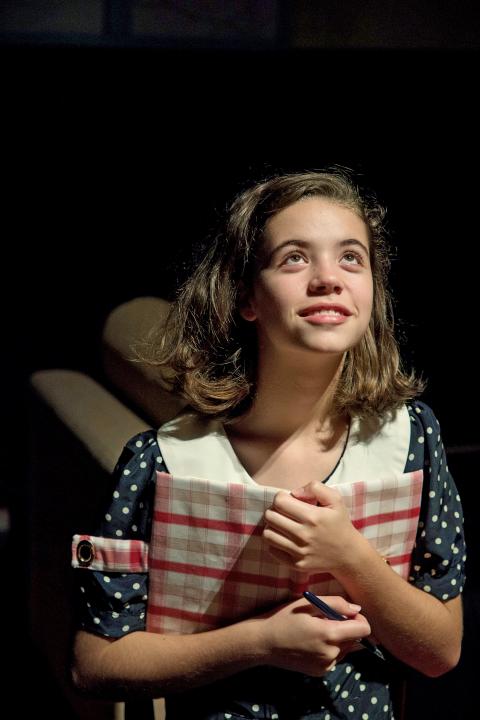 Camryn Rowe excels in the lead role of the Butterfly Effect Theatre Company's production of The Diary of Anne Frank. The show will be at the Tainan E-Warehouse for three performances next month.
Photo courtesy of Lee Hsin-chee
Also new to the company, but not to Cloud Gate Dance Theatre (雲門舞集) fans was Lee Tzu-chun (李姿君), who I remember for a very funny solo in Lin Hwai-min's (林懷民) How Can I Live On Without You (如果沒有你). She's a terrific dancer and it was great to see her again.
Other standouts in Superbeing were Huang Yung-huai (黃詠淮), Lee Yin-ying (李尹櫻) and Su I-chieh (蘇怡潔).
The second work on the program, Tainaner Ensemble (台南人劇團) co-artistic director Tsai Pao-chang's (蔡柏璋) Aller Simple was visually stunning, but not very filling. It could be best described as Cloud Gate 2's "Pina Bausch moment."
It was a series of vignettes, great props, bursts of color and movement, and a lot of spoken words about journeys and departures.
What I remember are Yang Ling-kai (楊淩凱), striding and shouting in a long dark blue dress, yellow umbrellas, lots of big ripe tomatoes and a man in a wheelchair rolling back and forth across the stage.
What did it all mean? Who knows? While it was never boring, it was not so much dance telling a story, as a story being told with bits of dance thrown in.
The show also served as a good introduction to the company to several new artists: London-based designer Chen Shao-yen (陳劭彥), who made the costumes, musician/composers Chung Bo-hsun (鍾柏勳) — MAD — who did the sound design for Superbeing and Blaire Ko (柯智豪), who worked on Aller Simple, and German freelance lighting designer Jurgen Kolb.
The company also broke with its Spring Riot tradition by deciding not to tour the show immediately, but instead do a second weekend at home, which is already sold out.
Butterfly Effect Theatre Company, however, is planning to go on tour with its latest work, Wendy Kesselman's version of The Diary of Anne Frank.
The company premiered the production at The LAB Space in December last year, and then opened it again last weekend at the Umay Theater at Huashan 1914 Creative Park.
I've seen several plays in The LAB Space, and although I missed the December production, having a larger stage to work with certainly benefited the production.
Ridge Studio Production Design (山峸製作設計) delivered a great set, designed by Yang Chih-yi (楊之儀), for the multi-level secret annex where the Frank family and four others hid.
For those in the front rows in the three-sided seating area, the closeness to the performers heightened the intensity of an already gripping play.
Director Brook Hall's production was proof that even if one is familiar with a play, and the story behind it, a new version can still pack a punch.
Camryn Rowe as Anne, D.C. Rapier and Sarah Brooks as her parents and Barry Hall as Hermaan Van Daan were especially good, and Rapier's final soliloquy left me — and many others in the audience — in tears.
The Diary of Anne Frank will be performed twice on May 19 and once on May 20 at the Tainan E-Warehouse in Tainan.
A more light-hearted, but ultimately deadly take on the horrors of war was delivered by Dark Eyes Performance Lab's (黑眼睛跨劇團) interpretation of Spanish playwright/author and filmmaker Fernando Arrabal's 1961 one-act, Picnic on the Battlefield (戰場上的野餐).
As with The Diary of Anne Frank, the intensity of Picnic on the Battlefield was heightened by director Hung Hung's (鴻鴻) decision to have just two rows of seats on all four sides of the National Experimental Theater, with some audience members seated on picnic blankets on the floor, and cast members having to move in and around them.
The absurdity of a couple deciding to visit their son in the middle of a battle for a picnic — and their at first harsh, and then embracing treatment of an enemy soldier — brings home the fruitlessness of war.
Dancer Yu Yen-fang (余彥芳) made her Taipei acting debut — and showed off her comedic chops — as the overbearing mother, while Hsu Hua-chien (徐華謙) was his usual terrific self as the self-important father.
Comments will be moderated. Keep comments relevant to the article. Remarks containing abusive and obscene language, personal attacks of any kind or promotion will be removed and the user banned. Final decision will be at the discretion of the Taipei Times.