Southbound down under
Two Australian leaders from government and business shed light on how the country can make the most of the New Southbound Policy to broaden its partnership with Taiwan
When Ross Maddock led an Australian delegation to meet President Tsai Ing-wen (蔡英文) the day after her inauguration in 2016, the first topic she raised was pension reform.
"I told her that we can do this," says Maddock, former head and council member of the Australia-Taiwan Business Council. Maddock told Tsai that Australia has both the governmental experience to set up an efficient superannuation system and the business know-how to create new services around that system that will boost the finance sector.
Indeed, Australia was ranked first in the world in Allianz's 2016 Pension Sustainability Index.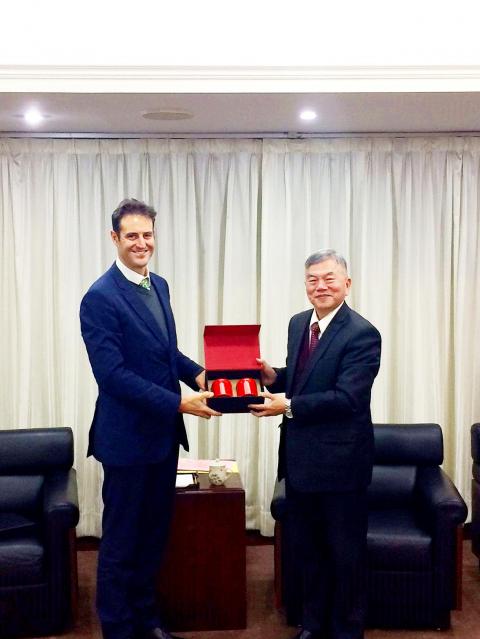 Australia's newly appointed Representative Designate Gary Cowan meets Minister of Economic Affairs Shen Jong-Chin earlier this month in Taipei.
Photo courtesy of Australia Office Taipei
Gary Cowan, the newly appointed Representative Designate of the Australia Office Taipei, says Australia is known here mostly as a resources supplier and a great holiday destination, but adds that the country has a lot more to offer Taiwan. Central to his vision for expanding the two countries relations in the years ahead is raising Australia's profile as a partner for collaboration in an ever widening range of fields.
"The timing's great," Cowan says. "Australia is looking north to the Indo-Pacific right at the same time that Taiwan is looking south through its New Southbound Policy… There is a policy symmetry that's going to work for us."
GREEN and GOLD ENERGY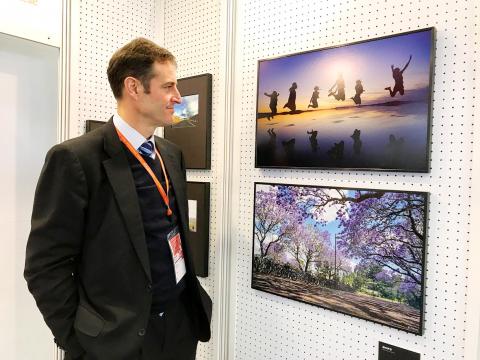 Australia's Representative Designate Gary Cowan taking in the entries into the Down Under Working Holiday Maker Photo Exhibition which showed at 2018 Taipei International Book Exhibition in Taipei this month.
Photo courtesy of Australia Office Taipei
Australia, one of Taiwan's biggest energy providers and its largest supplier of thermal coal, is now looking to provide greener alternatives to Taiwan's transforming energy sector.
Cowan applauds the major energy reforms Taiwan is currently undergoing and says the transition challenges faced by the nation, especially power reliability and pricing, mirror Australia's own experience.
He says his country has a lot to share with Taiwan both commercially and in terms of policy.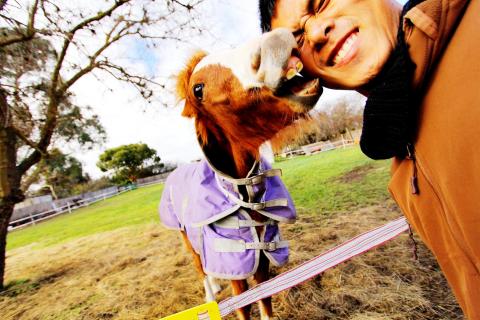 Chewing your ear off. Photo entry submitted by finalist Chen Hu-jun into the recent Down Under Working Holiday Maker Photo Exhibition held by the Australia Office for returned Taiwanese working holiday makers.
Photo courtesy of Chen Hu-jun
"Our [renewable energy] companies have an enormous amount of skill… and a commitment to Taiwan which has been enabled by the determination of the [Taiwanese] government to move into this arena," Cowan says.
Australia's liquefied natural gas exporters and renewable energy companies stand to benefit from new opportunities opening up in Taiwan's shifting energy market.
Maddock says many Australia-Taiwan business council members are keen to get involved with new opportunities in Taiwan's energy sector and names Macquarie Taiwan as one example which has evolved its investment strategy, becoming an operator of windfarms and solar plants.
In 2016, the Australian multinational announced plans to invest US$791 million, becoming the chief stake holder in the Formosa 1 offshore wind farm project.
Cowan says Australia's strength in scientific research and biotechnology also has great potential to compliment Taiwan's efforts to develop its biotech sector into an engine of innovation.
Indeed, already the Taiwan Blood Services Foundation (台灣血液基金會) regularly sends blood to Australia to create blood preparations for medical use in Taiwan. As the world's leading plasma producer, the firm audits the blood service's laboratories in Taiwan, which are also approved by the Australian government's Therapeutic Goods Administration.
Maddock says there are many more opportunities like this in the biotech sphere, cancer treatment and hearing-aid technology having particular potential.
FOSTERING NETWORKS
The two countries have also begun to collaborate on agriculture research projects. Last year, Taiwan Agricultural Research Institute signed a Memorandum of Understanding with the Queensland state government and sent four local varieties of lychee to be grown in tropical state, taking advantage of the complementary climates to extend the fruit's short growing season.
Maddock says joint-projects like this should be a priority for Australia as Taiwan's superiority in tropical and subtropical horticulture is undisputed.
Yet despite these promising developments, it seems building awareness in Taiwan of the potential for partnership with Australia remains a challenge.
"We [Australia] shut Taiwan off for a long time," says Maddock, referring to decades of little to no diplomatic contact that began after Australia ended formal ties with Taiwan in 1972.
He adds that although migration, travel and direct flights in recent years have greatly improved levels of understanding, some gaps still remain.
Cowan aims to close these gaps by fostering communities of Taiwanese who have a strong Australian connection. The trade office recently established an Australian alumni association and held a photo competition for returned working holiday makers.
The alumni association has already created some very special connections — a newly wedded couple who first met at an alumni get-together recently gifted the Australia Office a box of customary cookies and thanked them for creating the opportunity for them to meet.
Building upon the joint lychee research project, a young farmers exchange program was launched last year with a group of Australian fruit growers coming to learn farming techniques for lychees and bananas in Taiwan. Cowan says the second round is getting under way with a Taiwanese cohort heading to Australia later this year.
"In looking south, we hope Taiwan thinks of Australia in a broader range of fields than it has before," Cowan says.
Australia will have to work hard to have Taiwan see it as a natural partner in sectors where the two countries' collaboration has been previously limited, especially in service sectors outside of education and tourism, such as finance or healthcare. Yet being included in the New Southbound Policy rubric may offer Australia just the chance it needs to refashion its image and give Taiwan's government and business leaders cause to head even further south — down under.
Comments will be moderated. Keep comments relevant to the article. Remarks containing abusive and obscene language, personal attacks of any kind or promotion will be removed and the user banned. Final decision will be at the discretion of the Taipei Times.