'New Southbound Policy' partnerships: New Zealand
Having reaped the benefits of a close trading partnership and a free-trade agreement, New Zealand and Taiwan now look to further expand their links
Students and graduates of New Zealand's leading university have unprecedented access to information on internships, job opportunities and career pathways in Taiwan. Yet information sharing isn't all the Memorandum of Understanding (MOU) on talent exchange promises to bring. The agreement, signed between Taiwan's Ministry of Economic Affairs and the University of Auckland on Oct. 31 last year, contains a framework for future talent exchange programs, joint projects and industrial visits.
Perched atop tectonic fault lines along the Pacific's "Ring of Fire," the two island nations share not only physical, but also human geographical connections, with New Zealand's Maori said to share a common ancestry with Taiwanese Aborigines. With a free trade agreement (FTA) — Taiwan's first with a developed country — providing the economic foundation for an already vibrant relationship, and with more projects like the recent MOU planned within the New Southbound Policy, ties between the two Asia-Pacific democracies seem set to reach new heights in the coming years.
UNOFFICIAL MISSIONS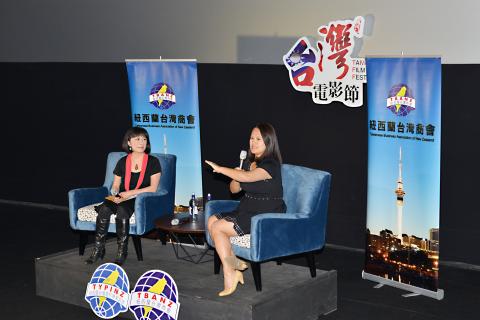 Atayal film director Laha Mebow, right, discusses her creative process with master of ceremonies Hu Chih-hua in July at the New Zealand Taiwan Film Festival at Hoyts Sylvia Park Cinema in Auckland.
Photo: CNA
After the UN General Assembly passed Resolution 2758 in 1971, thus excluding the Republic of China (ROC) from many international organizations, New Zealand ended the formal ties it had held with the nation since its founding in 1911. Yet in 1973, the East Asia Trade Center, (東亞貿易中心) was established in Auckland and worked to maintain unofficial ties, in 1982 becoming the Taipei Economic and Trade Center in Auckland. In turn, New Zealand established the New Zealand Commerce and Industry Office in Taipei in 1989.
While New Zealand was not a part of the initial three-year work plans for Taiwan's first "Go South" policy launched under former president Lee Teng-hui (李登輝) in 1994, Taiwan and New Zealand's representative offices coordinated together through the 1990s to ratify several important bilateral agreements. These included a pact regarding the application of competition and fair trading laws in 1997 and an arrangement on the reciprocal protection and enforcement of copyright in 1998. These milestones laid the foundation for further deepening of trade ties through the aughts that culminated in the history-making free trade deal in 2013.
BREAKTHROUGH FTA
On July 10, 2013 New Zealand became the first developed country to sign a free trade agreement with Taiwan by ratifying the Agreement between New Zealand and the Separate Customs Territory of Taiwan, Penghu, Kinmen and Matsu on Economic Cooperation (ANZTEC).
This ambitious deal set in motion the process of eliminating 100 percent of trade tariffs between the countries over time, with 99 percent having been eliminated as of last year. Bilateral trade received an instant boost with New Zealand's apple sales to Taiwan, soaring beyond 200 percent, and cherries 150 percent over the following two years with overall exports to Taiwan increasing 22 percent during the period. Taiwan's exports to New Zealand also rose 11 percent over the following three years.
What made ANZTEC most remarkable, though, was that New Zealand had already signed an FTA with China in 2008, proving that a trade deal with nations on both sides of the Taiwan Strait could be achieved. Despite the economic gains, the agreement was more viewed as a political success, with US think tanks at the time advocating the agreement as a template that could open the door for other countries to make similar deals with Taiwan.
The Taiwan-New Zealand economic relationship has continued to grow under the current government's New Southbound Policy framework with total trade volume reaching new heights of US$1.85 billion in September last year. With a now mature trade partnership, and true to its people-centered policy approach, the government aims to raise levels of interpersonal exchange between Taiwan and New Zealand.
AUSTRONESIAN CONNECTION
Projects ranging from medical diplomacy to cultural tourism are now in full swing, with each aiming to draw on the links between the two nations indigenous peoples.
Democratic Progressive Party (DPP) Legislator Chen Ying (陳瑩) last year put forward a proposal for former chief of the Ministry of Health and Welfare's Chinese Medicine Bureau, Huang Lin-huang (黃林煌), to compile a pharmacopoeia of traditional Maori medicine. The project has now been launched and on Aug. 20 last year Chen became the first foreign person to be awarded an honorary royal medal from Maori King Tuheitia Paki for her contributions to bilateral medical development.
As for cultural industries, Atayal film director Laha Mebow was the guest of honor at last year's New Zealand Taiwan Film Festival in Auckland, where she held a Q&A session with the audience and two of her films, Finding Sayun (不一樣的月光) and Lokoh Laqi (只要我長大), were both screened.
In 2016, the Council of Indigenous Peoples together with Aboriginal community tour operators visited New Zealand to promote Taiwan's indigenous cultural tourism and council minister, Icyang Parod, will be hosting a visiting Maori group in Taiwan later this year.
Enjoying sustained bilateral trade growth in the wake of ANZTEC, Taiwan-New Zealand relations are now developing people to people links, especially in educational and cultural exchanges.
Just as overseas Chinese have been sought out as a link for Taiwanese businesses in Southeast Asia in the past, building closer ties between Taiwan's Aborigines and New Zealand's Maoris now shows especially great promise to create joint projects across a variety of sectors. Overall, of the countries of the New Southbound Policy, New Zealand is a stand out partner and its ties with Taiwan look set to grow from strength to strength in the years ahead.
Comments will be moderated. Keep comments relevant to the article. Remarks containing abusive and obscene language, personal attacks of any kind or promotion will be removed and the user banned. Final decision will be at the discretion of the Taipei Times.