Chinese law at Hong Kong rail station prompts legal battle
Heavyweights from Hong Kong's legal community are going into battle with the city's government as fears grow that the rule of law is under threat from Beijing
Hong Kong's imposing new harborfront rail terminus promises a high-speed link with China but for some the station represents an existential crisis for the city, with nothing less than its cherished freedoms under threat.
Joint immigration checkpoints at the West Kowloon Station are set to become special port areas, patrolled by mainland Chinese security and subject to Chinese law.
Officials on both sides say it is for the convenience of travelers but opponents see it as further eroding the semi-autonomous status that was guaranteed for the former British colony on its handover in 1997.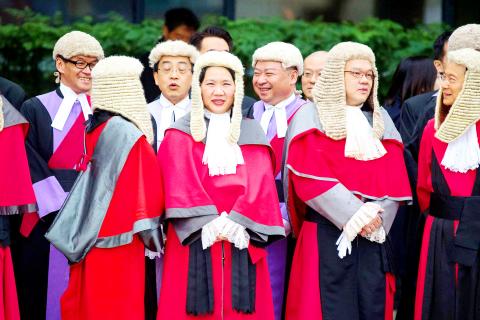 Judges wear robes and horsehair wigs earlier this month while attending a ceremony held to mark the opening of the legal year in Hong Kong.
Photo: AFP
Hong Kong enjoys liberties unseen on the mainland, including freedom of speech and an independent judiciary, with rule of law a bedrock of its culture and success as a business hub.
A string of incidents including the disappearance of five Hong Kong booksellers and the ousting of six elected rebel lawmakers have fueled concern that Chinese authorities are undermining that status. The rail terminus controversy goes to the heart of those fears.
It has prompted questions over how Hong Kong citizens will be required to behave in those zones, whether they will be free to use sites such as Facebook and Twitter which are banned on the mainland, or targeted for wearing clothing with political slogans.
The Hong Kong Bar Association said it was "appalled" by Beijing's decision last month to approve the plan and leading lawyers have questioned its legal basis.
"The restlessness [in the legal community] comes from the continued and relentless challenges to the rule of law as we understand it," barrister Randy Shek said.
Hong Kong's mini-constitution — the Basic Law — clearly cites that national laws do not apply to the city apart from in limited areas, including defense. Barrister Johannes Chan said Beijing had bypassed the usual process for adding a mainland ruling to the Basic Law and that its powers should not be "unlimited and absolute." "This is basically rule without law," he told AFP.
The checkpoint plan has been backed by Hong Kong's pro-Beijing government and is likely to be passed by the legislature which is weighted towards the establishment.
'POLITICAL REALITY'
The disappearance of the five booksellers in 2015, including one who went missing from a warehouse in Hong Kong, triggered concern that Beijing security agents were clandestinely operating in the city.
A year later, an intervention by Beijing to make a special "interpretation" of the Basic Law forced the dismissal from parliament of publicly elected pro-independence and pro-democracy lawmakers who staged protests while taking their oaths of office.
That Beijing ruling prompted more than 1,000 lawyers dressed in black to march silently through the city.
The jailing last year of student activists who led mass pro-democracy rallies in 2014, which were an unprecedented rebuke to Beijing, also led to protests and accusations of "political prosecution" from their supporters. Officials on both sides of the border insist that rule of law has not been compromised with the joint checkpoint proposal.
City leader Carrie Lam (林鄭月娥) accused opposing lawyers of adopting an "elitist mentality" for judging Hong Kong's legal system as taking priority over the mainland's. "They are unwilling to accept the political reality that China is the sovereign state of Hong Kong," solicitor and pro-Beijing lawmaker Junius Ho (何君堯) said, adding that China "must have the ultimate say on Hong Kong affairs."
But other lawyers are mobilizing to defend Hong Kong's status.
Prominent British lawyer Philip Dykes, seeking election this month as chairman of Hong Kong's Bar Council said the organization has a "duty to uphold the rule of law and should speak out" when it is perceived to be under threat.
Barrister Shek, who is running with Dykes for a role in the council, said they are not taking a political stance, but trying to defend the city's established legal system.
"The bar must speak up at any sign of attack on this very fundamental principle that made Hong Kong what Hong Kong is," Shek said.
"Warning signs are everywhere."
Comments will be moderated. Keep comments relevant to the article. Remarks containing abusive and obscene language, personal attacks of any kind or promotion will be removed and the user banned. Final decision will be at the discretion of the Taipei Times.