A weekend of excellence
Three disparate productions were calling cards for the talents of their creators — a Greek painter-turned-director, a Taiwanese dancer/choreographer and a rising Chinese dancer/choreographer
This past weekend saw amazing talent and breadth of vision on display at Taipei's National Theater, the Experimental Theater and the Experimental Theater in the newly opened Taiwan Traditional Theatre Center in Shilin District (士林).
Dimitris Papaioannou's The Great Tamer (偉大馴服者), Chinese choreographer Gu Jiani's (古佳妮) Exit (插銷) and Wu Chien-wei's (吳建緯) The Floating Space (浮域誌異) provided such rich performances that it feels almost miserly to nit-pick, but there were small niggly things that kept distracting me as I watched the shows.
The first is that all three could do with a bit of judicious trimming. Papaioannou's piece came in at about 105 minutes with no intermission, Gu and Wu's each ran about an hour, but there are either repetitions that could be reduced or digressions that seem to lead nowhere.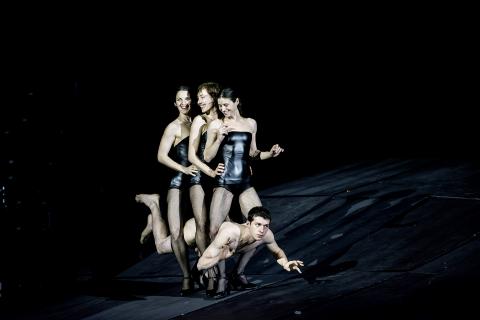 Greek artist-turned-choreographer Dimitris Papaioannou's The Great Tamer stunned audiences at the National Theater in Taipei last weekend.
Photo Courtesy of Julian MommertJCM
The second concern is that there is a reason theaters give parental advisories and other warnings: so that ticket buyers will know what they are letting themselves in for. However, sometimes the warnings are not clear enough.
The Great Tamer came with the advisory that the show contained partial nudity, but did not give any age restrictions. It should have.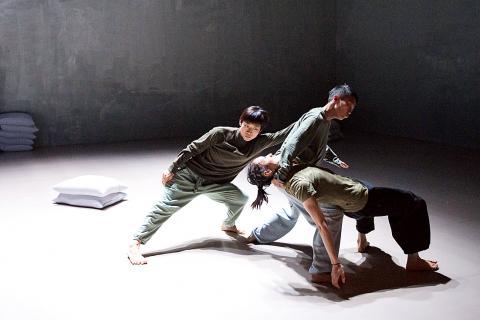 From left, Wang Yuan-qi, Gu Jiani and Lei Yan perform Gu's Exit at the NTCH's Experimental Theater during a news conference on Thursday last week.
Photo courtesy Cheng Chen-chou
It was not just that there was full nudity and a lot of it, but that several of the scenes contained nightmarish imagery.
FLESH IT OUT
One scene inspired by Rembrandt's The Anatomy Lesson of Dr Nicolaes Tulp had the "doctors" extracting organs from a nude man on top of a table and dropping them onto a large platter before a cloth is draped over the man, plates and glassware passed out and the cast begins "dining" on the extracted offal.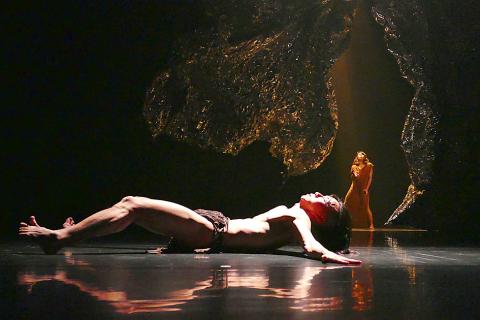 Wu Chien-wei , front, and Wang Yuan-li appear in Wu's The Floating Space, performed by his Tussock Dance Theater at the Taiwan Traditional Theatre Center in Taipei last weekend.
Photo Courtesy of Zhang Xiao-xiong
Another scene finds a partially clothed woman standing on a pedestal peeling off strips of "skin" to feed the flock of men clustered at her feet like hungry fledglings, while in other scenes limbs are dug up or emerge from under the floorboards of the set.
A small boy two seats away from me spent the first 10 minutes or so of the show loudly whispering to his father: "Why is he doing that?" and "Where are they going?" Luckily, he was napping by the time the dismemberments began.
Most people in the audience were probably asking themselves the same questions, but silently.
Age advisories serve not just to spare youngsters, they help spare those who might be seated around them. A 100-minute-plus show without intermission is a long time for a child to have to sit still.
However, The Great Tamer is a terrific piece of theater, a slow progression of images and meditation on life and death inspired by classic Western paintings, Stanley Kubrick's 2001: A Space Odyssey and Greek legends, which ends much as it opened — with a comedic bit about a nude man and a sheet.
Even if you did not catch all the references, it was still mesmerizing to watch the work unfold, and the set — a wooden wave made from layers of plywood with lots of moveable boards, dirt-filled cubbyholes and escape chutes — was a delight.
Which brings up the third concern. The Great Tamer is a terrific work, and Friday night's audience rewarded the 10 cast members and Papaioannou with long rounds of applause, but it is not dance, even if the performers all have dance training.
MOTION SICKNESS
I found myself thinking of names for festivals that would be better suited for works like The Great Tamer, something like "Indefinable," perhaps. While Papaioannou incorporates different media and blurs genres, the work is more about creating images than movement or dance. Additionally, the performance takes away programming money and festival space that could be spent to bring actual dance troupes and shows to Taipei.
Perhaps the NTCH's programmers want to challenge audience expectations of what dance is or could be, but there are better ways of doing so.
Like Papaioannou, Gu is also a painter, but while her Exit was also about carefully shaped images and scenes, it had so much movement it was almost exhausting to watch, leaving viewers feeling as drained as the gray-toned set. Whether it was "dancing" per se is another matter.
Exit begins slowly, with Gu, Wang Yuan-qi (王宣淇) and Lei Yan (雷琰) casually adopting a series of poses as the audience enters the theater.
EMERGENCY ENTRY
An alarm sounds and there was the roar of a very loud engine revving up — ushers handed out ear plugs as you entered the theater — and the action begins. Part of the experience of the show is the seating — no chairs, just bleachers so your body can feel the sound vibrations.
Exit is supposed to be about interlocking movements and flows of energy between the dancers, but much of the action seemed to be inspired by children's play: games of tag, tossing pillows, teeter-totters and trust falls.
Every move is carefully calculated so there is really no sense of danger, even when a women picks up a long ladder and begins spinning it around.
The only danger — apart from the threat to one's eardrums if the earplugs were not used — was the strobe effect used by Malaysian-born, Taipei-based Goh Boon-ann (吳文安), which seemed unnecessary and marred his otherwise beautiful lighting.
Interestingly, Goh also did the lighting for Wu's The Floating Space and it was much more subdued, but really helped create the otherworldly atmosphere Wu was trying to achieve.
Designer Sophie Hong's (洪麗芬) bronze, rust and brown-hued costumes were eye-catching, as were the giant crumpled silver cloth sculptures by Li Hui-qiu (李慧秋) and James Teng (滕孟哲) that hung from the rafters. But the real standout, was Wu's choreography: a series of solos, duets and trios perfectly executed by a very talented cast made up of Wu, Wang Yuan-li (王元俐), Shen Ying-ying (沈盈盈), Chen Jia-hong (陳佳宏) and Lin Yu-hua (林鈺華).
Wu's Tussock Dance Theater (野草舞蹈聚落) is only three years old, but each of its productions so far has been a gem, and The Floating Space continues that tradition.
Comments will be moderated. Keep comments relevant to the article. Remarks containing abusive and obscene language, personal attacks of any kind or promotion will be removed and the user banned. Final decision will be at the discretion of the Taipei Times.