Dreams and visions
Cheng Tsung-lung's latest work for Cloud Gate 2 explores the upside-down world of dreams and snippets of time
"I dream of painting and then I paint my dreams," Vincent van Gogh was quoted as saying.
Cheng Tsung-lung (鄭宗龍) dreams of dancing and movement, and in his newest work for Cloud Gate 2 (雲門 2), Dream Catcher (捕夢), 10 dancers dance their dreams — and his.
Asked about the inspiration for his latest project, which premieres tomorrow night at the Cloud Gate Theater in New Taipei City's Tamsui District (淡水), Cheng said: "Suddenly one day, I felt that life is like a dream. I had the desire to hold onto something. Could there be a way to hold onto time and stop it? Just like a dream-catcher, I wanted to capture it."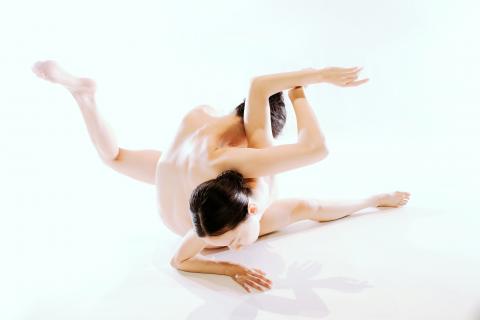 Dream Catcher, Cloud Gate 2 artistic director Cheng Tsung-lung's newest work, premieres at the Cloud Gate Theater tomorrow night.
Credit: Courtesy of Yo Yang
Interviewed at the theater on Friday last week, during what should have been his dinner break during a long day of rehearsals, Cheng said it was the fleetingness of dreams, the way we try and hold on to fragments of them when we are awake, that intrigued him.
Working on Dream Catcher brought him closer to his dancers, he said.
"The dancers shared their dreams with everyone. Dreams are so personal. When we look at dreams, we learn secrets from them," he said.
Cloud Gate 2 artistic director Cheng Tsung-lung rehearses the cast for his latest work, Dream Catcher, at the Cloud Gate Theater in New Taipei City's Tamsui District on Friday last week.
Credit: Sofia Kuan, Taipei Times
Trying to unlock the secrets of dreams, however, is a whole other story.
Cheng said he had been fascinated to discover that today so many people turn to the Internet to share their dreams and try to decipher their meanings — especially in China and Taiwan.
"In dreams everything is upside down," he said, adding that traditionally Chinese have turned to a book written about 1,000 years ago: The Interpretation of Dreams by the Duke of Zhou (周公解夢).
Through sharing their dreams, he said he felt that he and his dancers now have a better understanding of each other.
COSTUMES AND SOUNDTRACK
One person's dream could be another's
nightmare, something that was certainly reflected in the snippet of Dream Catcher that Cheng and his cast were working on on Friday afternoon last week.
The 10 dancers were clad in a wide variety of costumes that ranged from casual athletic wear to a lacy couture gown to a partial gorilla suit. Some had their faces obscured, faceless creatures being a stock character in dreams.
The costumes are the work of Taipei-born, London and Milan-trained designer and stylist Fan Huai-chih (范懷之).
Cheng said he has known Fan for nine years, but they had never worked together until she did the costumes for the piece he choreographed for the Sydney Dance Company earlier this year, Full Moon.
He was so impressed by her creations for that show, all of which were hand-sewn, that he wanted to work with her again.
Just as Fan's designs help populate Cheng's dream world, the score, by Chinese-American avant-garde musician and composer Li Daiguo, is much slower than the soundtracks he usually works with, which helps give the show a dreamlike feel.
The 36-year-old Oklahoma-born Li has established himself as a prominent proponent of experimental and traditional Chinese music since moving to China 13 years ago. He plays more than a dozen instruments ranging from the violin, cello, bass to the erhu and pipa, and often incorporates throat-singing and beatboxing into his work.
In addition to his own work, which includes concerts, recordings and street busking in China, Li has also worked with several famous Chinese musicians and composed for dance companies.
Cheng said a friend sent him a link to one of Li's videos and told him that he had to listen to the musician's works.
"He was playing in traditional dress, hair in a bun and his face was very serious," Cheng said. "'Who is Li Daiguo?' I thought. He was playing a pipa while beatboxing with a microphone. His music is very now."
Cheng e-mailed Li and asked him if he was interested in collaborating. Months later, he said he is very happy with the results.
"The flow is good for performing to," he said.
The portion that I heard sounded like electronic or techno sounds had been mixed with strings, but Cheng assured me that all the sounds were vocalized or played by Li himself.
Dream Catcher is Cheng's second full-length work for Cloud Gate 2 after last year's 13 Tongues (十三聲), and his third overall counting his independent piece On the Road (在路上), which won Best Group at Premio Roma Danza's 1st International Choreographic Competition in 2011.
Asked if it is getting easier to create long pieces, Cheng replied emphatically: "No."
PONDERING THE FUTURE
Once Dream Catcher's two-weekend run is over, he will be taking a bit of a break, creatively speaking, with no new work, short or long, scheduled for the company next year so he can focus on another full-length piece for 2019, which will be the company's 20th anniversary.
Cheng is thinking a lot about the future of the company. He wants to keep a balance between theater appearances and the troupe's residency programs around Taiwan.
When Cloud Gate 2 was formed in 1999 by Cloud Gate Dance Theatre (雲門舞集) founder Lin Hwai-min (林懷民) and Lo Man-fei (羅曼菲), the idea was to provide a platform for young Taiwanese choreographers, not just be a junior company to the main troupe, and to share dance with people living in small towns and communities around the nation who might never have the chance to go to a real theater.
Cheng said the concept of bringing people closer to dance would continue to be vital for the company, but as the government and other institutions are doing more to promote young choreographers and provide platforms for their works, he is not sure if that should still be a focus for the troupe going forward.
As for international tours — the company has performed in New York City, London and Singapore — but he said he does not think about them much.
"If we get asked, then good. There is so much to do at home, he said, adding: "We are still growing together."
Publication Notes
Performance Notes
WHAT: Dream Catcher
WHEN: Tomorrow and Saturday at 8pm, Saturday and Sunday at 3pm, Oct. 20 and Oct. 21 at 8pm, Oct. 21 and Oct. 22 at 3pm
WHERE: Cloud Gate Theater (淡水雲門劇場), 36, Ln 6, Zhongzheng Rd Sec 1, Tamsui District, New Taipei City (新北市淡水區中正路一段6巷36號)
ADMISSION: NT$600 to NT$1,400 are left for the two Friday night shows, NT$500 to NT$1,600 for the rest; available at NTCH box offices, online at www.artsticket.com.tw or www.service@cloudgate.org.tw and at convenience store kiosks nationwide.
Comments will be moderated. Keep comments relevant to the article. Remarks containing abusive and obscene language, personal attacks of any kind or promotion will be removed and the user banned. Final decision will be at the discretion of the Taipei Times.