A seat at the table
The goal of full representation is alive and strong as hundreds rally in New York calling for Taiwan's inclusion in the UN
Hundreds marched in New York City last weekend to call attention to Taiwan's exclusion from the UN and to what they say is continued oppression from the Chinese government.
Shouting "UN for Taiwan" and carrying homemade signs with pro-Taiwan slogans, participants on Saturday afternoon made their way from outside the Chinese consulate on New York's West Side to Dag Hammarskjold Plaza, a few blocks away from the UN building.
The annual event, organized by Keep Taiwan Free, a grassroots movement, attracted a mix of young and old Taiwanese Americans and Canadians, overseas Taiwanese, supporters of Tibet and others.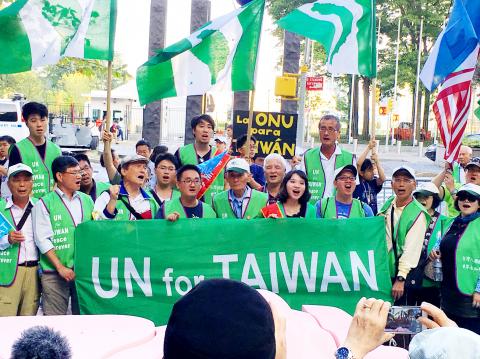 Around 500 people took part in the annual UN for Taiwan rally in Manhattan on Saturday of last week.
Photo: Chris Fuchs
Lily L.W. Hsu (徐儷文), director general of the Taipei Economic and Cultural Office in New York (駐紐約台北經濟文化辦事處), also joined the rally.
Organizers said turnout appeared higher than in recent years, with around 500 people showing up.
"We definitely got all these communities to come out and highlight the [Chinese Communist Party's] oppression," said co-organizer Jenny Wang (汪采羿).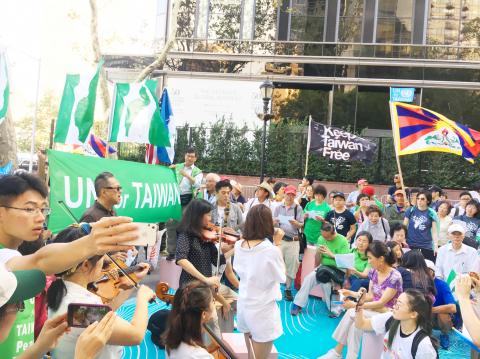 Ralliers listen to a music performance from youth of the Taiwan in Action for Sustainable Development.
Photo: Chris Fuchs
The march and rally, held annually for more than 20 years, comes as the 72nd regular session of the UN General Assembly convened on Sept. 12. One of just a few countries left out of the UN, Taiwan lost its seat to China in 1971.
Beijing has repeatedly opposed Taiwan's entry into the intergovernmental organization, claiming the country as its own and saying Taiwan is not a sovereign state.
Michael Tsai (蔡明憲), former national defense minister and delegation head of The Taiwan United Nations Alliance (TAIUNA, 台灣聯合國協進會), said the effort to join the UN is a human rights movement, as well as a campaign for the people of Taiwan to "rescue themselves."
Signs that protest China's oppression of Taiwan rest against a tree during a rally in New York for Taiwan's inclusion in the UN on Saturday of last week.
Photo: Chris Fuchs
A NATION UNITED
"More than 80 percent of Taiwanese hope Taiwan can join the UN under its name," Tsai told the Taipei Times. "The demands of the people of Taiwan are very strong."
In an open letter to UN secretary-general Antonio Guterres and representatives of member states, TAIUNA said Taiwan's entry into the UN would "facilitate Taiwan's cross-strait dialogue [and] promote stability and peace between Taiwan and China."
"No nation should be allowed to restrict and abridge 23 million people's right of participation in the international community," reads the letter, signed by Tsai and Reverend William Lo (羅榮光), TAIUNA's secretary-general.
"Bringing Taiwan into the UN system will also help strengthen peace and stability in the entire Asia-Pacific region and make the UN better represented," the letter adds.
As old hands of the annual UN rally came out in full force Saturday afternoon, so too did younger Taiwanese concerned over the nation's fate.
Oliver Tsai, a 36-year-old Taiwanese-American engineer born in Charleston, South Carolina, said he hopes Taiwan can someday gain recognition and status on the global stage.
"We're not talking about taking anything away from China," he said. "But we want Taiwan to be able to make their voices heard and be able to determine issues that matter to the people who live there," he said.
Gloria Hu (胡慧中), a 24-year-old Taiwanese-Canadian who works in pharmaceutical market research, said advocating for Taiwan's inclusion in the UN remains an important goal, even if some think it's an old fight.
"I think there's this narrative out there that Taiwan is provocative or that Taiwan is war mongering, and really what we want to show is that we just want to continue as we are, fighting for our rights. It's the [Chinese Communist Party's] increasing aggression that makes us look so confrontational," she added.
CAUTIOUS GOVERNMENT
Michael Tsai said President Tsai Ing-wen (蔡英文) could be more proactive in supporting a UN bid for Taiwan.
"The government has only gone through its allies to ask them to speak on our behalf," he said. "But the government itself needs to raise its demands for joining the UN."
An anonymous government official cited the "highly political" nature of the UN and the government's evaluation of international and domestic environments as major considerations in deciding against requesting diplomatic allies to submit a formal resolution, the Taipei Times has previously reported.
Meanwhile, members of TAIUNA met in the US with academics, think tanks and elected officials ahead of Saturday's rally.
Also on the minds of marchers was the fate of Taiwanese human rights activist Lee Ming-che (李明哲), who has been detained in China by authorities since March.
Lee pleaded guilty last week in a Chinese court to a charge of "subversion of state power" and is to be sentenced at some point in the future. Premier William Lai (賴清德) has called for Lee's swift release.
Tsering Lhundup, a Tibetan living in the US who attended the rally in a show of solidarity with Taiwan, said China hides the truth from the world as it tries to display itself as a global superpower.
Tibetans have long claimed religious and political oppression at the hands of China, a charge Beijing has denied. Chinese forces invaded Tibet in 1950, turning it into an autonomous region of China.
"The Chinese problem is a global problem," said 58-year-old Lhundup, as speakers at Dag Hammarskjold Plaza, fenced in by New York Police Department metal barricades, took turns addressing the crowd.
Lhundup also pointed to geopolitical skirmishes involving China and other countries. Recently, the governments of China and India were locked in a standoff over contested land where Beijing wants to build a road.
ACTIVIST ART
As leaders and diplomats from around the world converge on the UN, Taiwan supporters hope people took note of an art installation that was temporarily on display at Dag Hammarskjold Plaza.
Taiwan Matters consists of six objects representing the Eurasian and Philippine tectonic plates that form the island. Fully movable, the plates symbolize Taiwan's connection to the world and its unsettled position.
Wang said that when the pieces are put together, the resultant shape looks like Taiwan from a bird's eye view.
"By moving around the tectonic plates, visitors can experience the heaviness of the relentless pursuit of international recognition by Taiwanese," the description reads.
The installation is expected to be brought to parts of Lower Manhattan early this week, including City Hall Park and Bowling Green.
Wang said there are also pockets inside the movable pieces for handouts to be stored that discuss different goals Taiwan is helping to achieve or is achieving in sustainable development.
The UN lists 17 such goals, which include ending poverty, ensuring clean water and sanitation and combating climate change.
Hu, who began volunteering for Keep Taiwan Free last year, said Taiwan doesn't get sufficient acknowledgment as a leader in East Asia and the world on issues like democracy and LGBTQ rights, among others.
"As youth we have a responsibility to keep speaking out not only to the regular audiences and lobbying Capitol Hill, but also at the grassroots level, reaching out to progressive organizations and organizations across the political spectrum, just so we all realize there's a uniting theme around Taiwan," she said.
Comments will be moderated. Keep comments relevant to the article. Remarks containing abusive and obscene language, personal attacks of any kind or promotion will be removed and the user banned. Final decision will be at the discretion of the Taipei Times.