Ian's Table: Be it ever so humble
It is the simplest of root vegetables, but the potato is also one of the most useful and can be put to a multitude of uses
In western cuisine, few things are as fundamental as the potato. But here in Asia, the potato doesn't have the same kind of stature as it does in Europe and America and this can be frustrating for the potato lover. Despite the fact that there are said to be upward of 3,000 varieties of potatoes, and any Western text dealing with the culinary uses of potatoes might list 10 or so varieties that the author has easy access to, the sad fact in Taiwan is that a potato is pretty much just a potato, and little distinction is made between varieties, so that it is often difficult to know when purchasing local potatoes exactly what you are getting.
And the simple fact is that a potato is absolutely not just a potato. It is a vegetable that has an ancient history, with evidence of cultivation dating back more than 5,000 years. It originated in South America and was a relatively late arrival on the European culinary scene. Not only that, it had a particularly hard time getting established, which is ironic given how it is such a popular favorite today. It is now one of the top five crops grown in terms of world production, and can be found around the world, often playing an important part in local cuisines.
Brought back from the New World by the Spanish forces of Jimenez de Quesada in 1537, the potato became a small if not particularly popular crop in Spain and Italy, and gradually spread throughout Europe. In the early days before careful hybridization, the potato was small and had a tendency to bitterness.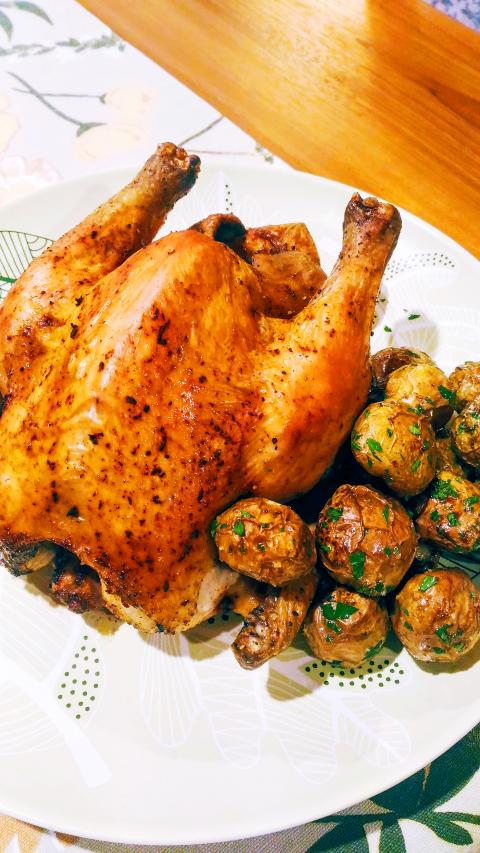 Nothing is simpler or more satisfying that a roast chicken with a side of roast potatoes.
Photo: Ian Bartholomew
Indeed, according to Alan Davidson in The Oxford Companion to Food, the new legume was regarded with such suspicion by the Catholic Irish, for whom it eventually became a staple crop, that seed potatoes were often sprinkled with holy water and planted on Good Friday to dispel their heretical nature (the fear was that potatoes were not mentioned in the Bible, a book not known for its culinary sopust histication). It did not help that portions of the potato plant, and the potato itself if not properly stored, is toxic and can lead to physical discomfort when ingested.
Much of the success in promoting the potato was given to a Frenchman, Antoine-Augustin Parmentier, an army pharmacist in the latter half of the 18th century and a fascinating figure in the history of food and nutrition. He saw the potato as an excellent source of food for starving European peasants and engaged in a wide range of amusing stunts which ultimately led to the French nobility and general populous accepting the potato for what it is: one of the greatest foodstuffs in all of nature's bounty.
Parmentier's name is forever associated with the potato through the classic French dish Hachis Parmentier, a dish of baked potato and diced meat that might be considered a Gallic version of the English shepard's pie.
The potato may be humble, and while tremendously versatile in the kitchen, also can taste amazing all on its own.
Photo: Ian Bartholomew
As it spread through Europe, the potato diversified into a huge variety of cultivars, each suited to different culinary uses. Fortunately matters can be simplified, cutting through the tangle of Desiree, Jersey Royal, Maris Piper, Pentland Crown, Nicola, Yukon Gold and a bewildering array of equally strange and seemingly random names.
MEALY AND WAXY
At its simplest, potatoes can be divided between those that are more mealy and those that are more waxy. Mealy potatoes are generally regarded as better for mashing but unsuitable for boiling, tending to fall apart before they are cooked, while waxy potatoes hold their shape better, and are ideal for various European dishes such as the French gratin dauphinois or German potato salad.
I have rarely been able to get much detail from my local grocer other than differentiating potatoes between locally grown and those imported from America. As a general rule, the imported variety, usually unlabled for type, tends to be more mealy, with local potatoes tending toward waxy. But be prepared for surprises and adjust your cooking method accordingly.
There is another great distinction between potatoes: those that are organic (or at least naturally grown) and those that are produced in large scale commercial operations (the vast majority). Potatoes have a very subtle flavor, but many supermarket potatoes seem to have virtually no flavor at all, and must rely on all kinds of flavorings to give them gastronomic interest. As the Irish food writer and culinary instructor Darina Allen writes in her Forgotten Skills of Cooking, many "modern varieties [of potato] are bred for shelf life and ease of packaging rather than flavor and texture."
So if you can get good local organic, or at least "naturally grown" potatoes, you will find that it more than repays the higher cost (imported potatoes are almost invariably cheaper than locally grown in my experience).
It should be noted that the potato is a member of the nightshade family and is only a very distant relative of the sweet potato that is so popular in Taiwan. While sweet potato leaves are very delicious, the leaves and stem of the potato plant (solanum tuberosum) are toxic due to the presence of compounds known as glycoalkaloids, which produce a burning irritation at the back of the mouth and throat when eaten.
It is important to store potatoes in a dry environment away from the light as photosynthesis will cause the tubers to produce these substances as well. Cooking at temperatures over 170c will partly break down these compounds, but green sections of potato tubers are best cut away before cooking.
Potatoes are suitable for preparation in almost every known cooking method, and with its wide distribution it crops up in countless forms in many regional cuisines. Potato dishes are also subject to strong passions, and the superiority of boiled potatoes over baked, hash browns against Swiss rosti, mash potatoes or butter enriched scalloped potatoes provide an endless supply of sparks for argument.
My dictum for potato preparation is that the better the potatoes the simpler the preparation should be: nothing beats steamed baby potatoes tossed in good butter, salt and chopped parsley, unless it is to roast them in the fat of a roasting chicken.
Roast chicken with baked baby potatoes
Recipe (Serves four)
Roast chicken is one of those dishes for which people have a personal method and this covers a wide range of cooking times and temperatures, quite apart from preparation. Some people take it low and slow, others season the chicken well in advance, or dry the skin in the refrigerator overnight. Some truss it, others slash it. All have their benefits, but this is my own rough and ready way of putting a delicious bird on the table quickly, with its side of roast potatoes. If you are feeling virtuous, have a nice cool leaf salad on the side, or pop a bottle of red and make it a party. Other than salt and pepper, everything else is optional, as a good bird will taste perfectly fine with just the basics, but there's no harm in a little finesse if you have the means available.
Ingredients
1 medium local chicken
Salt and pepper
1 tbsp smoked paprika (sweet or spicy, depending on taste), optional
Half a lemon, optional
Small bunch of basil, optional
Stem of rosemary, optional
12 baby potatoes, well scrubbed
Small bunch of parsley, minced
Directions
1. Clean the chicken well, removing wing tips, feet head and neck (these can be set aside for making stock).
2. Rub salt and pepper over and inside the bird, seasoning generously. Also season with paprika if using.
3. Stuff the chicken cavity with the lemon, basil and rosemary, if using.
4. Preheat the oven to 230c. Place a baking pan with a little oil into the oven for five minutes.
5. Place the seasoned bird into the hot baking pan breast side up. Toss in the potatoes and roast for 45 minutes, opening the oven once or twice during the roasting process to stir the potatoes about a little.
6. Remove from oven and place the chicken on a plate and allow to rest for 15 minutes at least. Put the potatoes in a bowl and add a little of the chicken oil and parsley. Toss.
7. Carve the chicken and serve with potatoes.
Ian Bartholomew runs Ian's Table, a small guesthouse in Hualien. He has lived in Taiwan for many years writing about the food scene and has decided that until you look at farming, you know nothing about the food you eat. He can be contacted at Hualien202@gmail.com.
Comments will be moderated. Keep comments relevant to the article. Remarks containing abusive and obscene language, personal attacks of any kind or promotion will be removed and the user banned. Final decision will be at the discretion of the Taipei Times.