Dance review: Home makes you feel like singing
Two of the artists in this year's Meimage Dance Company's New Choreographer Project sang as part of their solos, but the highlight was the match-up between a Taiwanese and Slovakian
The Meimage Dance Company's New Choreographer Project (鈕扣New Choreographer計畫) show at Taipei's Huashan 1914 Creative Park last weekend once again demonstrated the power and allure of one of Taiwan's premier exports — its professional dancers and choreographers.
The project's seventh edition featured Tung Po-lin (董柏霖), a dancer with London-based Company Wayne McGregor; Liu I-ling (劉奕伶), who is with the New York City-based Bill T. Jones/Arnie Zane Company and Tu Lee-yuan from GoteborgsOperans Danskompani in Sweden.
The program opened with Tung's reflective solo, Why does he want to leave? (為甚麼他要離開), which began with him seated on the floor at the front of the Umay Theater's small stage singing and playing guitar, before a short video projected onto the rear wall started.
Tung Po-lin, a dancer with Company Wayne McGregor in London, was one of the three Taiwanese dancer/choreographers featured in Meimage Dance Company's New Choreographer Project at Huashan 1914 Creative Park last weekend.
Photo: Courtesy of Terry Lin
The rather quiet and unconventional beginning to the dance belied the dynamism of Tung's choreography, which made full use of his arms, precise footwork and ballet training.
It was interesting to reflect how after just a year of working with McGregor, the British choreographer's penchant for sharply articulated legs, feet and arms appears to be rubbing off on Tung.
Liu's piece, Gung (更), also saw her singing a bit, but her years in New York, straddling different cultures, both societal and dance, made for a work that began as soft and funny, even wistful, before turning into a provocative dance of assertive empowerment.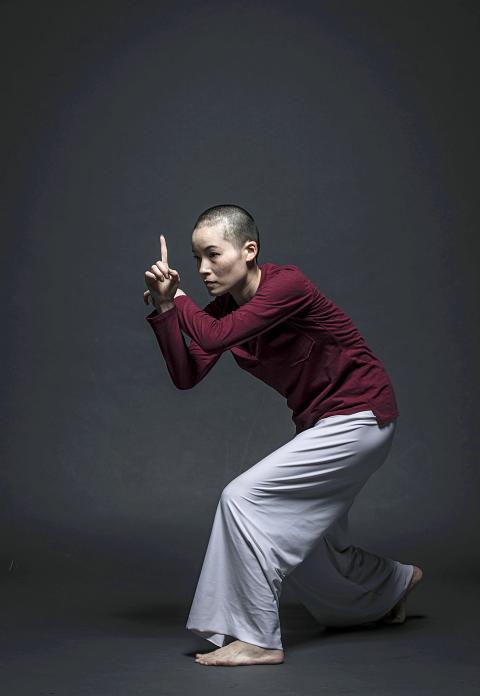 Liu I-ling, a dancer with the Bill T. Jones/Arnie Zane Company in New York City, was one of the three dancer/choreographers in this year's Meimage Dance Company's New Choreographer Project.
Photo: Courtesy of Terry Lin
The transformation was highlighted by the costume change from a very girlish pink dress (with matching shorts), red belt and strappy red sandals that the shaven-headed Liu wore before discarding them in favor of a crimson jersey top and grey sweatpants.
Jones' sometimes confrontations story-telling style was also reflected in Liu's piece.
The standout on the program was the final work, Tu's It Takes Two to Tango, which he performed with one of his Goteborg colleagues, Jan Spotak, a Slovakian-born dancer/choreographer.
There was no singing, at least by the two men, but a lot of comedic and physical interplay based on the pair's height differential, along with a tea cup and saucer, plus some very fine dancing.
Tu set his piece to a score that ranged from Caetano Veloso's Cucurrucucu Paloma to Woodkid's Run Boy Run and Arcade Fire's Song on the Beach.
It Takes Two to Tango opens with Tu and Spotak kneeling facing one another, one arm raised across their chest and pressed against the other's, a cup and saucer balanced atop the two limbs.
Their torsos swayed and bodies circled one another without ever losing contact or the cup and saucer, before they effortlessly rose, still locked to one another and the porcelain.
Initially they always stayed in close contact, with Spotak lifting Tu, raising him over his shoulders and around his body, dragging him around or carrying him in his arms like fallen angel.
The pace shifted from slow and relaxed to fast and fluid and Tu also had a chance to manipulate his taller partner.
The alternating dynamics between the pair, their physical exuberance and the playfulness of the choreography made for a very engaging piece and a great introduction to Tu's works. I would like to see more.
The New Choreographer Project show will be performed in Yilan County tomorrow and Saturday at the Chung Hsing Cultural Creative Park (中興文化創意園區) in Wujie Township (五結). The shows start at 7:30pm and are free.
Last weekend also proved to be a good one for Taiwanese choreographer Benson Tsai (蔡博丞) and his B.DANCE (丞舞製作團隊) troupe, with Tsai scoring yet another win in an international choreographic competition, this time in Switzerland.
First prize at the Tanz-Plattform Bern was awarded to Tsai's Innermost and L'aveuglement by the Belgian-based duo of Victor Launay and Sara Olmo, who are collectively known as Les Vikings.
The first place win comes with a commission to create a work about by Albert Einstein for the Dance Company Konzert Theater Bern to premiere in May next year.
The Bern jury praised Innermost's "colorful, exciting and also humorous choreography."
Comments will be moderated. Keep comments relevant to the article. Remarks containing abusive and obscene language, personal attacks of any kind or promotion will be removed and the user banned. Final decision will be at the discretion of the Taipei Times.