Highlight: Canada turns 150
The poutine-loving nation will celebrate with a huge bash at Taipei's Hakka Cultural Park
Canadians all around the world know well to enjoy the summer, and one good way is by joining a party to celebrate Canada Day on July 1st. This year is very special, as the nation marks 150 years of Confederation.
"Canadians are generally patriotic, and it really shows on Canada Day," said William Hetherington, a journalist working in Taiwan who hails from Halifax, Nova Scotia.
Graduate student Yannis-Adam Allouache, who hails from the nation's capital of Ottawa, told the Taipei Times that celebrating Canada in Taiwan is a little different from that of his hometown.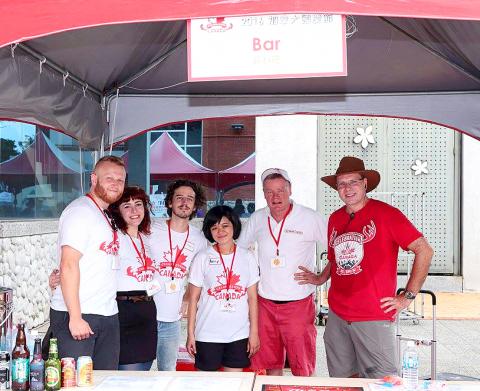 Yes, there will be a bar with Canadian brews.
Photo courtesy of Canadian Chamber of Commerce
"Ottawa is always the center of the Canada celebration. From the daytime concert on parliament hill to the fireworks in the late evening, thousands of people of all ages take to the streets to celebrate, walk and partake in activities downtown," he said.
That being said, Taipei's Canada Day celebrations typically attract a big crowd.
For the past decade, Taiwanese have joined Canadians, along with people from other nationalities for the July 1st party in Taipei, which has become the largest foreign National Day celebration in Taiwan.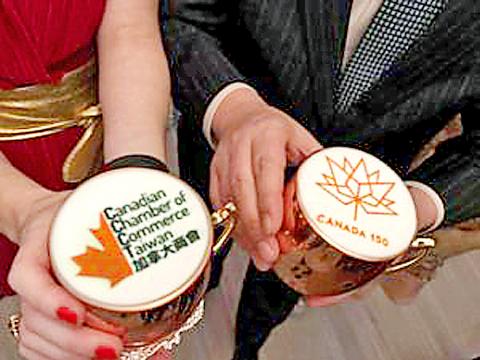 Yes, there will be a bar with Canadian brews.
Photo courtesy of Canadian Chamber of Commerce
This year's "Canada 150" event will have an immense program, with Canadian food and drinks, cultural activities and live music featuring Tony Taylor and the Rockits, The Canadian All-Stars, The Last Minute Band, Twangover and Mary Bites Kerri.
Prominent club DJ Marcus Aurelius, along with The Uppitys, NeKBRACE and Cross Cutz will heat up the dancing crowd at the Ford DJ Stage, while ICRT with DJ Joey will broadcast live starting in the evening.
Publication Notes
Event Notes
What: Canada Day in Taiwan — Canada 150th Year Anniversary When: July 1 from 1pm to 9pm Where:Taipei Hakka Cultural Park (客家文化公園), Tingzhou Rd Sec 3, Taipei City (台北市汀州路3段2號) Taipower Building MRT Station, Exit 5 Admission: Free On the net: www.canchamtw.com Note: There is no smoking in the park, but there are designated smoking areas outside the park
Comments will be moderated. Keep comments relevant to the article. Remarks containing abusive and obscene language, personal attacks of any kind or promotion will be removed and the user banned. Final decision will be at the discretion of the Taipei Times.