Art exhibition listings
Misty (墨嵐) is an exhibition of recent works by Lo Chan-peng (羅展鵬). Unlike his previous oil paintings, Lo has developed a simple balance between ink and acrylic. The result is a series of monochromatic portraits of biblical figures: Jesus Christ, Paul the Apostle, Moses and Joshua. The use of negative space cleverly converges realism with sensual abstraction. Brisk strokes on the surface create a melodious flow, exploring ideas and qualities of divinity such as omnipotence and omniscience through an art lens that is poetically liturgical.
■ Daguan Gallery (大觀藝術空間), 16, Ln 69, Jingye 2nd Rd, Taipei City (台北市敬業二路69巷16號), tel: (02) 8501-5677. Open Tuesdays to Sundays from 10:30am to 6:30pm
■ Opens tomorrow. Until July 30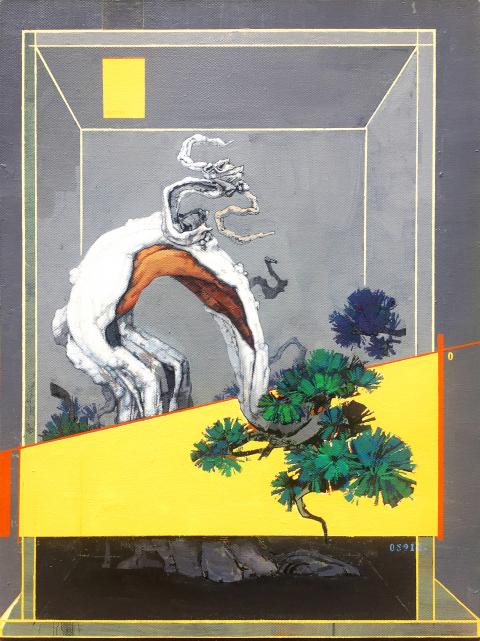 Lin Hao, ES MUSS SEIN (2017).
Photo courtesy of Soka Art Center
Chinese artist Shen Liang (申亮) takes tradition to a new level with acrylic, neon lighting and digital print on paper in Neon Landscapes (山水也霓虹). The tiny light bulbs on the paintings can be interpreted as an analogy of society's obsession with progress and technology. This reflection on social and cultural issues in China results in a humorous series of works with found images from classical Chinese art history. Consumerism, counterfeiting and the abuse or misuse of cultural heritage suggest a distortion of past and future, issues that Shen and his peers are constantly pondering.
■ Lin & Lin Gallery (大未來林舍畫廊), 16 Dongfeng St, Taipei City (台北市東豐街16號), tel: (02) 2700-6866. Open Tuesdays to Sundays from 11am to 7pm
■ Opens tomorrow. Until July 30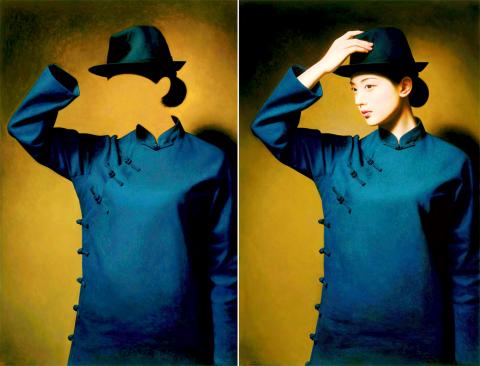 Chen Cheng-wei, Being and Nothingness (2016).
Photo courtesy of Chini Gallery
Chou Yao-tung's (周耀東) acrylic and oil paintings in Carnal Conditions in Mystic Lands (人 · 性 秘境) explore the boundaries between humans, deities and animals. The faceless figures exist in a mysterious tableau that is neither heaven, hell or the Garden of Eden, while the black and red coloring suggest carnal desires. Contrary to his explicit paintings of sex and metamorphic genitals, his concept here is clear: to depict a liminal state where nothing is impossible.
■ Tang Feng Gallery at Meet Art Space (唐豐藝術中心 藝聚空間), B1, 4 Alley 17, Ln 170, Sec 4, Zhongxiao E Rd, Taipei City (台北市忠孝東路四段170巷17弄4號B1), tel: (02) 8773-0633. Open daily from 1pm to 9pm
■ Opens tomorrow. Until June 30
Lo Chan-peng, In the Beginning was the Word (2017).
Photo courtesy of Daguan Gallery
Chinese artist Chen Cheng-wei's (陳承衛) surreal oil paintings bear stylistic qualities similar to 20th century Chinese master Chen Yi-fei (陳逸飛). In Being and Nothingness (存在與虛無), Chen Cheng-wei uses delightful storytelling skills to cultivate an ambiance of grace from a bygone era. This nostalgia serves as a time capsule that has preserved the complex emotions of nationality and identity. His use of chiaroscuro generates a dramatic effect, a dialogue with a flawless world. This is a good example of how realism can create the best fictions.
■ Chini Gallery (采泥藝術), 48, Ln 128, Jingye 1st Rd, Taipei City (台北市敬業一路128巷48號), tel: (02) 7729-5809. Open Tuesdays to Sundays from 10:30am to 7pm
■ Opens tomorrow with opening reception on June 24 from 3pm to 5pm. Until Aug. 6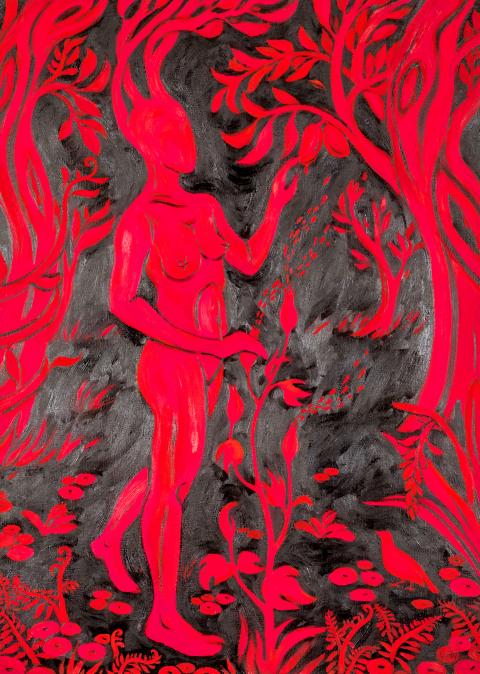 Chou Yao-tung, The Gaze (2017).
Photo courtesy of Tang Feng Gallery
Unit (單元) is a painting exhibition featuring new works by Fujian-based Chinese artist Lin Hao (林昊), who draws on music, literature and philosophy in his acrylic works. Lin's sharp and soft textures and broad palette of color calls attention to the intricate details of life.
■ Soka Art Center Tainan, 446 Chingping Rd, Tainan City (台南市慶平路446號), tel: (06) 297-3957. Open Tuesdays to Sundays from 10am to 7pm
■ Until July 23
Comments will be moderated. Keep comments relevant to the article. Remarks containing abusive and obscene language, personal attacks of any kind or promotion will be removed and the user banned. Final decision will be at the discretion of the Taipei Times.