Art exhibition listings
Chinese artist Hong Ling's (洪凌) solo show marks the debut of his lesser known ink on paper works. After his tour in museums in Europe, the veteran artist will have a showcase in Beijing in the near future. The new series, Seclusion (冥然歸隱), at Taipei's Soka Art Center skillfully connects contemporaneity with tradition from both the East and the West, combining the styles of literati painting with modern masters like Jackson Pollock. Hong's delicate balance of reality and hyper-reality truthfully reflects the tradition of Chinese art, while experimenting with fusions of different media he has successfully transformed the poetics of nature into a unique vantage point of a hidden paradise with little human trace.
■ Soka Art Center (索卡藝術中心), 350 Tiding Blvd Sec 2, Taipei City (台北市堤頂大道二段350號), tel: (02) 2533-9658. Open Tuesdays to Sundays from 10 am to 7pm
■ Until June 11
Louis Wu, Taipei Impression — Renai Road (2007).
Photo courtesy of National Museum of History
There is a je ne sais quoi factor in Louis Wu's (吳敏興) paintings, constantly filled with paradoxes of the beauty and ugliness of life. As a tormented protagonist in and out of hospitals, he is a warrior of life in his own narrative, bearing scars and melancholy on his face in his self-portraits. Wu's still lifes, among other works, are mostly white and green, as he describes these two colors as tranquil and serene. To him, painting is a spiritual portal that directs him away from the darkness of death. Script (劇本), a survey of his works, serves as a kind of hope and peace that infects the viewer.
■ National Museum of History (國立歷史博物館), 49 Nanhai Rd, Taipei City (台北市南海路49號), tel: (02) 2361-0270. Open Tuesdays to Sundays from 10 am to 6pm
■ Until Sunday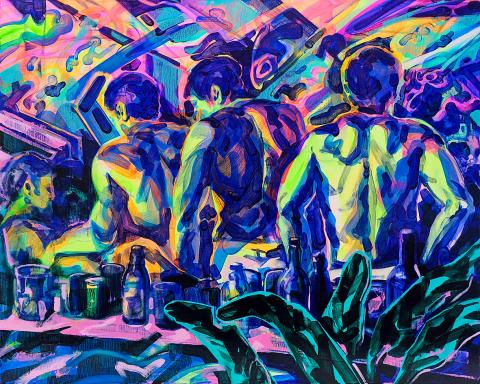 Chen Hung-chi, Connection Failed (2017).
Photo courtesy of Open Space
Bold eroticism and sensuality are key words to describe the work of Chen Hung-chi (陳泓圻), so visitors are reminded that viewer discretion is advised. His obsession with the male body falls within the tradition of portraiture and still life painting, the metaphorical floral structures evoking the flowers by Georgia O'Keeffe, though packing more punch with brightly contrasting colors. The subtle sexual tension in The Banality Beneath the Skin (他們的庸俗花絮) is filled with longing and desire. While the compositions may seem direct and in your face, Chen's poetic symbolism and motifs are well composed, combining classicism with a contemporary twist. Taboo is no longer the pressing issue in these works. There seems to be an anxiety reflected in his works, suggesting future climaxes or rejection while redefining the male gaze, a refreshing rendition of exploring sexuality in the tradition of Egon Schiele, Robert Mapplethorpe and Allen Jones.
■ Open Space, Song Shan Cultural & Creative Park (松山文創園區), 113 Guangfu S Rd, Taipei City (台北市光復南路113號), tel: (02) 2766-6822. Open Tuesdays to Sundays from 10 am to 6pm
■ Until June 20
Upon first inspection, Chen Shiau-peng's (陳曉朋) mesmerizing geometric canvases in The Integral Map III: My Taipei · The Sequel (指鹿圖 III:我的台北 · 續篇) follow an enigmatic sequence, which turns out to be her abstract psycho-geographical memory of Taipei City. Mapping boarders and boundaries, her visual style is logical and sensible. While the implicit process of adventure and discovery of the unknown may seem understated, her clear analytical process serves as a pivotal cross-section in her delicate virtual cartographer's manuscript. If maps are typically viewed as tools to determine boarders or reveal destinations and locations of hidden treasure, Chen's paintings are epic poems, inviting viewers onto a virtual journey through the maps she has created in a world that is the Taipei she once knew.
■ Main Trend Gallery (大趨勢畫廊), 209-1, Chengde Road Sec 3, Taipei City (台北市承德路三段209-1號), tel: (02) 2587-3412. Open Wednesdays to Saturdays from 1pm to 6pm
■ Until June 24
Dancing with dinosaurs is perhaps the best way to sum up Lin Tzu-Huan's (林子桓) A Survival Guide to Icebreaker (破冰指南), a solo show at Yiri Arts, which delves into the sheer awkwardness of socializing. Lin's playful approach to this subject of existentialism and the human condition has an oddly psychedelic effect, with its neon lights and various installation parts; all of which surrounds the main projection video work titled A Survival Guide to Icebreaker. Humorous phrases like "dancing heats you up and beers cool you down," and "the dinosaurs went extinct because they were cold blooded," incite further investigation and interrogation of the ways people interact with each other. Risque imagery of dinosaurs copulating with empty beer bottles and death-like figures appear in his works on paper. In Molly, Lin riffs off of Dance, Henri Matisse's classic composition from the early 20th century. This mixture of macabre comedy along with the implied fragility of human civilization and art appreciation all add up to a rewarding gallery experience.
■ Yiri Arts (伊日藝術), 4-1, 5, Ln 768, Bade Rd Sec 4, Taipei City (台北市八德路四段768巷5號4樓之1), tel: (02) 2786-3866. Open Tuesdays to Sundays from 1pm to 7pm
■ Show Until June 25
The surreal atmosphere emanating from the low saturation of Chou Ming-yi's (周明誼) works on paper appear to float off the wall of Waley Art at his solo show titled SPACE Garbage (太空垃圾). As the title suggests, the artist draws a connection between technological detritus left in space and intangible cultural debris, hinting at mankind's selfish ways and suggesting that the damage humans inflict on the environment goes beyond our planet. With no way of telling the appearance of the original structure, Chou has initiated a conceptual interaction with the viewer by inciting the curiosities of what kind of event that has led to the wreckage of such edifice in the first place.
■ Waley Art (水谷藝術), 6, Ln 322, Wanda Rd, Taipei City (台北市萬大路322巷6號), tel: (02) 2301-1821. Open daily from noon to 7:30pm
■ Until June 18
Comments will be moderated. Keep comments relevant to the article. Remarks containing abusive and obscene language, personal attacks of any kind or promotion will be removed and the user banned. Final decision will be at the discretion of the Taipei Times.