Highlight: Taiwan International Percussion Convention
The triennial Taiwan International Percussion Convention (TIPC) returns for a ninth year of percussion music. Sponsored by the Taipei-based Ju Percussion Group (朱宗慶打擊樂團), this year's convention will include for the first time a competition section —Taiwan International Percussion Convention Competition — held in conjunction with the festival, which sees top-notch percussionists from around the world holding concerts and seminars.
This year's lineup includes three Taiwanese groups and 13 international groups.
The Ju Percussion Group will open the event tomorrow at Taipei's National Concert Hall, followed on Sunday afternoon with a "Master's" performance by France's Emmanuel Sejourne and Jean Geoffroy, Japan's Momoko Kamkiya and Michael Burritt and Casey Cangelosi, both from the US.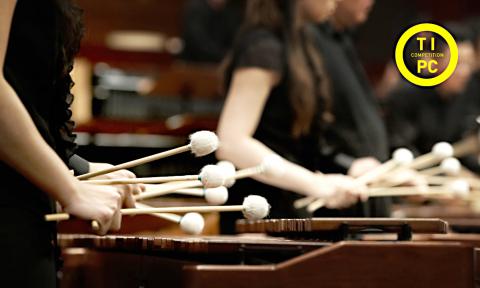 The Taiwan International Percussion Convention begins tomorrow with a performance by Ju Percussion Group at Taipei's National Concert Hall.
Photo courtesy of Ju Percussion Group
Other performances to watch out for include Knock Out by Percossa, Magic Genius by OREKA TX & NanaFormosa Percussion Duo and, of course, the TIPC Competition Winners, which will be announced on May 27.
The festival ends with a performance by the Emil Richards Quartet.
■ For a complete list of performances and venues throughout Taiwan, go to their Chinese and English Web site: 2017tipcc.jpg.org.tw
■ Tickets for all venues are NT$500 to NT$1,800, available through NTCH ticketing or online at www.artsticket.com.tw
Comments will be moderated. Keep comments relevant to the article. Remarks containing abusive and obscene language, personal attacks of any kind or promotion will be removed and the user banned. Final decision will be at the discretion of the Taipei Times.