Highlight: Even the Gods are crazy
The Neihu Community College has joined forces with the Dream Community (夢想社區) of New Taipei City's Shijr District (汐止) and Canadian author, photographer and director Alexandra Lefebvre to produce a cross-cultural light show, Even the Gods Are Crazy (神明也瘋狂), in Taipei's Neihu District (內湖) next week.
The hour-long shows are being offered at two "historic" locations — a traditional courtyard home and a clan hall — for two nights each.
Lefebvre, who has been in Taiwan working on the project for three months, will utilize the walls of the buildings as well as screens to project photographs and video footage to tell a story based on local Neihu stories, Taiwan's traditional religious cultures and her own experiences. Musical accompaniment will be provided by a traditional Chinese orchestra.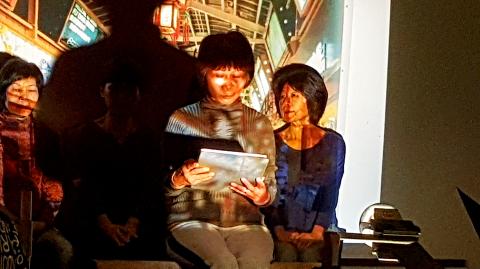 There will be a cross-cultural light show, centered around two traditional buildings in Taipei's Neihu District, starting on Wednesday next week.
Photo Courtesy of Dream Community
There is no parking near the venues, so organizers are strongly encouraging people to take public transportation.
Festivalgoers are also urged to monitor the weather forecasts and check the college's Web site (www.nhcc.org.tw). If there is more than a 60 percent chance of evening rain, that night's show will likely be canceled.
■ 7pm to 8pm, Wednesday, May 10 to Saturday, May 13
■ May 10 and May 11 at the Lin family house (林宅三合院), 2, Alley 113, Lane 66, Wende Rd, Neihu District, Taipei (台北市文德路66巷113弄2號). May 12 and May 13 at the Guo family estate (郭子儀紀念堂), 19, Lane 267, Wende Road, Neihu District, Taipei (台北市文德路267巷19號)
■ Admission is free, but seats are limited and must be reserved in advance by calling Kim Chen at the Neihu Community College at (02)8751-158
Comments will be moderated. Keep comments relevant to the article. Remarks containing abusive and obscene language, personal attacks of any kind or promotion will be removed and the user banned. Final decision will be at the discretion of the Taipei Times.