A night of short comedy
The LAB Space will perform six short plays by David Ives as part of the Creative Expo Taiwan this weekend at Taipei's Huashan 1914 Creative Park
If you missed LAB Space's performance last year of Ives' Shorts, the theater troupe will be performing the six one-act comedies as part of the Creative Expo Taiwan, which kicks off this weekend in Taipei — and the Friday dress rehearsal is free.
Some 200,000 visitors are expected to take part in the many events of this year's expo at Huashan 1914 Creative Park, which provides LAB a chance to reach out to a wider audience.
The six Ives' one-act plays LAB will be doing are, Words, Words, Words, followed by Universal Language and Variations, then after the intermission Sure Thing, Time Flies and Degas C'est Moi.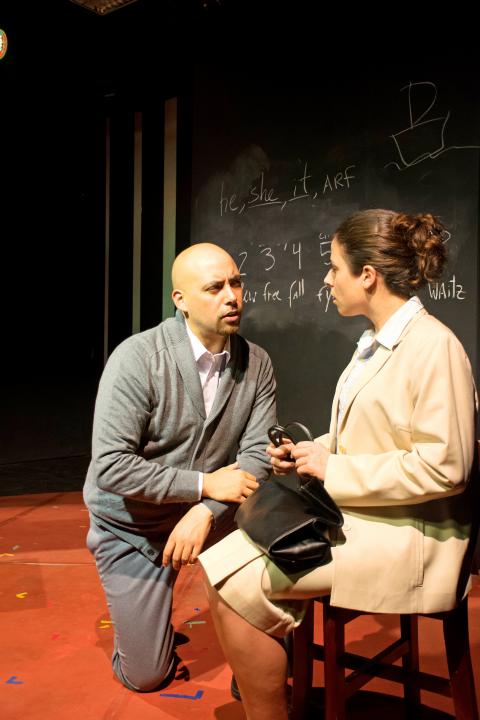 Victor Stevenson and Angela Collenberg in a scene from Universal Language, one of six short comedies by David Ives that will be performed this weekend by the LAB Space.
Photo courtesy of Lee Cheng-yi
The cast will include Angela Collengberg, Sharon Landon, Carrie Mo (莫少宣), James Lo (羅濟豪), Charlie Storrar and Victor Stevenson.
They also are delighted to showcase their talent in this new venue in Taipei and working on a larger stage and theater in addition to connecting with a new audience.
Even if you saw the performance last year, it's worth seeing again with its new setting and timing. Director Brook Hall and set designer Yang Chih-yi (楊之儀) have started from scratch.
And for the audience, this is a good chance even for families to see English theater. All shows are in English with Chinese subtitles.
Publication Notes
Performance Notes
What: Ives' Shorts
When: Friday and Saturday at 8pm and Sunday at 2:30pm
Where: Huashan 1914 Creative Park (華山1914文化創意產業園區), Umay Theater (烏梅劇院), 1, Bade Rd Sec 1, Taipei City (台北市八德路一段1號)
Tickets: Friday night's performance is free because it is a dress rehearsal; NT$500 on Saturday and Sunday, available at the door or through www.thelabtw.com/go/ives
On the Net: creativexpo.tw
Comments will be moderated. Keep comments relevant to the article. Remarks containing abusive and obscene language, personal attacks of any kind or promotion will be removed and the user banned. Final decision will be at the discretion of the Taipei Times.