A multidisciplinary party
The Brussels-based Needcompany will give a uniquely Taiwan version of its 2014 production, 'The Time Between Two Mistakes,' at the National Theater this weekend
The National Theater Concert Hall has listed the Needcompany's The Time Between Two Mistakes in the dance category for this year's Taiwan International Festival of Arts (TIFA), but that is a bit deceptive.
As with most of the Brussels-based troupe's works, The Time Between Two Mistakes is hard to define as it is truly a multidisciplinary mix of dance, theatre, live music, video and art — where each makes an equal contribution to the whole.
The show, which opens tomorrow night for three performances, will be the company's second appearance at the National Theater. The troupe made its Taipei debut in October 2013, when it presented Isabella's Room, the "musical play" that has been called director Jan Lauwers' signature piece.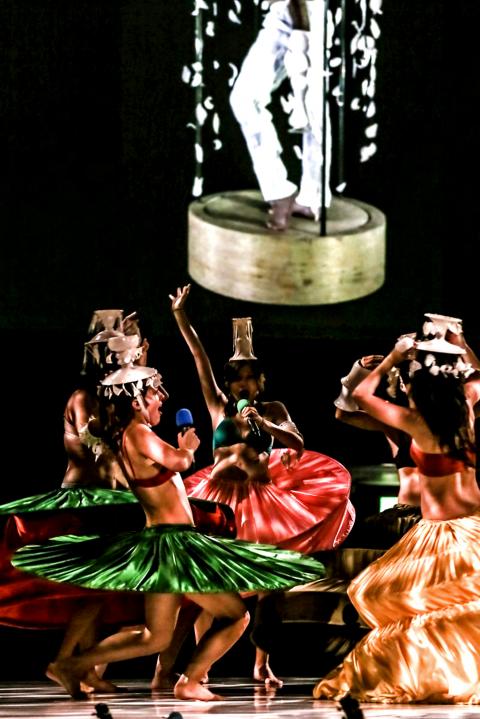 The Needcompany will perform The Time Between Two Mistakes for three shows at the National Theater, starting tomorrow night, as part of the Taiwan International Festival of Arts.
Photo courtesy Wolfgang Silveri
The troupe actually had been scheduled to perform Isabella's Room in 2008 as part of the Taipei Arts International Association World Drama Series, but had to cancel its trip. However, the five-year wait proved worthwhile, and the show was a hit with local audiences.
Luckily, Taipei has not had to wait quite so long for the company to make a return engagement.
Needcompany was formed by painter and director Jan Lauwers and dancer-choreographer-actress Grace Ellen Barkey in 1986 as a multidisciplinary, internationally focused artists' collective. Artist/musician Maarten Seghers joined in 2001 and is now considered part of its leadership core, although the three have also formed other alliances, such as Barkey joining up with Lot Lemm to form Lemm&Barkey and OHNO COOPERATION, which is Lauwers and Seghers.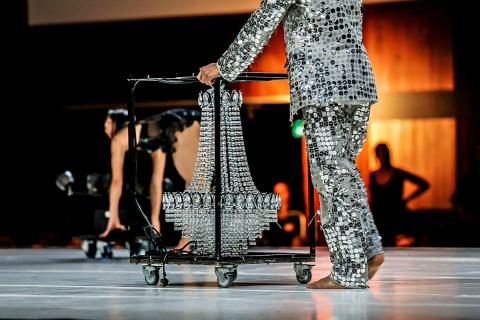 The Needcompany will perform The Time Between Two Mistakes for three shows at the National Theater, starting tomorrow night, as part of the Taiwan International Festival of Arts.
Photo courtesy of Wolfgang Silveri
The Time Between Two Mistakes, which premiered at Austria's Steirischer Herbst Festival in 2014, was created as a commentary on English theater and film director Peter Brook's seminal 1968 book The Empty Space. The book was adapted from a series of four lectures Brook gave on the development of Western theater and what he called the four aspects, or points of view, of theater: deadly, holy, rough and immediate, as well as various styles of acting.
In it, Brook declared: "I can take any empty space and call it a bare stage."
With The Time Between Two Mistakes, Lauwers and company examine the role of the artist in society and the audiences' view of art and theater. Basically, the cast starts with an empty stage and then has to fill it — with storylines, props, action, text, songs and dance.
The idea is that the cast is building a home on stage. Their goal is to raise a lot questions — but not try to provide all the answers.
From the video clips that I have seen, it looks and sounds like a riotous party.
For each of its incarnations — Austria, Berlin and now Taipei — the company recruits young local artists to join a masterclass and then perform in the production, meaning the show is unique to each city.
The 12 Taiwanese that Lauwers chose are a mix of dancers, choreographers and actors: Fang Yu-ting (方妤婷), Wang Wen-lin (王玟甯), Fan Ting-yu (范庭瑜), Kao Yung-chieh (高詠婕), Chang Ya-wei (張雅為), Fangas Nayaw, Yeh Huan-jun (葉喚軍), Liao Chien-shun (廖健舜), Liou Chun-te (劉俊德), Cheng Hao (鄭皓), Lu Tzu-han (盧子涵) and Lai Hao-zhe (賴澔哲).
They have been working on the production for almost a year and at a news conference at the National Theater on Monday, Lauwers said he had been impressed by the level of their technique and had fallen in love with all of them.
The Needcompany cast consists of 11 performers, including Barkey and Seghers, who also composed the score along with Hans Petter Dahl and Rombout Willems.
The show runs 90 minutes without intermission and will be performed in English, with Chinese subtitles.
There will be a pre-show talk starting 30 minutes before every performance at the lobby of National Theater and a post-show discussion after Sunday's matinee.
Publication Notes
Performance Notes
What: The Time Between Two Mistakes
When: Tomorrow and Saturday at 7:30pm, Sunday at 2:30pm
Where: National Theater (國家戲劇院), 21-1 Zhongshan S Rd, Taipei City (台北市中山南路21-1號)
Tickets: NT$500 to NT$2,500, available at NTCH box offices, online at www.artsticket.com.tw and at convenience store ticketing kiosk
Comments will be moderated. Keep comments relevant to the article. Remarks containing abusive and obscene language, personal attacks of any kind or promotion will be removed and the user banned. Final decision will be at the discretion of the Taipei Times.