A green future for Taiwan?
John Mathews, a professor of management at Macquarie University, will discuss his new book, 'Global Green Shift,' and Taiwan's role in the global green economy at a series of public lectures this week and next in Taipei and Hsinchu
Taiwan is known for being a green oasis in Asia. The New York Times has touted initiatives such as the Beitou Public Library's solar panels which generate electricity and the indoor garden at Da-an Forest Park metro station. But to those of us who live here, the term "green oasis" can sometimes seem far from reality. Beaches and hiking trails are littered with trash and sights like Ma-anshan Nuclear Power Plant (馬鞍山核能發電廠) on Nanwan Beach (南灣) in Pingtung County, for instance, are not just an eyesore, but a constant reminder of potential health risks.
For those interested in learning more about where Taiwan stands in terms of green technologies and economic growth, John Mathews, professor in management at Macquarie University in Sydney and author of the newly-released book Global Green Shift, will speak about the topic at a series of lectures in Taipei and Hsinchu taking place tomorrow and next week and organized by Hu Mei-chih (胡美智), a professor at National Tsing Hua University in Hsinchu.
In his book, Mathews posits that Taiwan was one of the "Asian Tigers" to industrialize rapidly over the last few decades by targeting key industries such as IT and semiconductors, though it's China that is investing in green infrastructure such as solar farms, wind farms and electric vehicles. Despite this, Mathews sees Taiwan moving away from nuclear power and fossil fuels as a promising sign.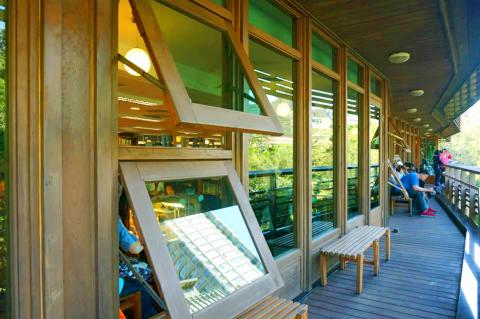 Beitou Public Library uses solar panels to generate electricity.
Photo: Dana Ter, Taipei Times
"Taiwan already knows very well how to build new high-tech industries as an industrial latecomer," Mathews tells the Taipei Times. "There are very good reasons for Taiwan to pursue a green strategy with all speed and dispatch."
Hu agrees, th ough she thinks that there's still some catching up to do in the realms of civic consciousness and environmental awareness.
"We cannot expect the environmental awareness in a latecomer country such as Taiwan to immediately advance to the level of Western countries," Hu says.
However, she adds that the way in which young people are turning to technology to voice concerns over environmental pollution and promote sustainability is a positive change.
Looking to the future, Mathews proposes that one way forward would be to build "eco-cities" in Taiwan, perhaps following the Singapore model of building not only parks, gardens and green spaces but also making use of renewable resources to eliminate carbon waste.
"Taiwan has dense urban development but as a semi-tropical island, it is also blessed with much greenery," Mathews says. "This could provide incentive to create new urban eco-spaces."
He adds that the views expressed by US President Donald Trump have so far been in favor of maintaining fossil fuels while derailing green industries such as renewable resources.
"There is a historic opening now for countries in East Asia to seize the initiative and create world-leading new green industries," Mathews concludes.
Publication Notes
Event notes
What: The Role of Taiwan in the Global Green Shift, talk by John Mathews, Macquarie University When and where: ■ Tomorrow from 1:30pm to 2:30pm at Taiwan Institute for Economic Research (台灣經濟研究院), 16-8 Dehui St, Taipei City (台北市德惠街16之8號), Room 208 ■ Monday from 9:30am to 11:30am at Chung-hua Institute for Economic Research (中華經濟研究院), 75 Changxing St, Taipei City (台北市長興街75號), Room 322 ■ Tuesday from 10am to 12pm at National Tsing Hua University (國立清華大學), 101, Guangfu Rd Sec 2, Hsinchu City (新竹市光復路二段101號), TSMC Building R901 Admission: Free
Comments will be moderated. Keep comments relevant to the article. Remarks containing abusive and obscene language, personal attacks of any kind or promotion will be removed and the user banned. Final decision will be at the discretion of the Taipei Times.