Has the art market become an unwitting partner in crime?
Experts say anonymity is not only quaint but also reckless when art is traded like a commodity and increasingly suspected in money laundering
When you sell your home, the paperwork details the sale, including your name, and the title search lists the names of the people who owned the property before you. But when someone sells an artwork at auction — even something worth US$100 million, much more than your house — the identity is typically concealed.
Oh, the paperwork might identify the work as coming from "a European collection." But the buyer usually has no clue with whom he or she is really dealing. Sometimes, surprisingly, even the auction house may not know who the seller is.
Secrecy has long been central to the art world. Anonymity protects privacy, adds mystique and cuts the taint of crass commerce from such transactions. But some experts are now saying this sort of discretion — one founded in a simpler time, when only a few wealthy collectors took part in the art market — is not only quaint but also reckless when art is traded like a commodity and increasingly suspected in money laundering.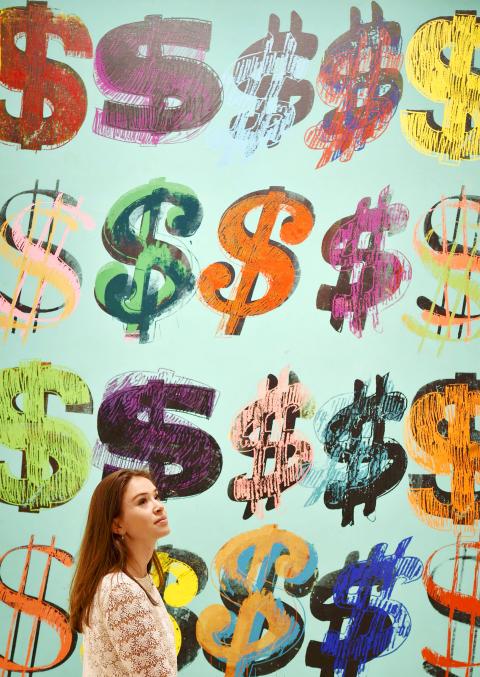 A Christie's employee poses in June 2015 beside Dollar Signs by Andy Warhol at Sotheby's auction house in London.
Photo: REUTERS
"The art market is an ideal playing ground for money laundering," said Thomas Christ, a board member of the Basel Institute on Governance, a Swiss nonprofit that has studied the issue. "We have to ask for clear transparency, where you got the money from and where it is going."
MONEY LAUNDERING
The debate about anonymity in the art world has intensified over the past year, fed in part by the release of the so-called Panama Papers, which detailed the use of corporate veils to conceal ownership, dodge taxes and enable crime, its authors say. Now various expert groups, like the Basel Institute, are coming forward with ways for dealers and auction houses to curb secrecy and combat money laundering. In a significant change, Christie's said last week it has strengthened its policy in recent months and now requires agents looking to sell a work through the auction house to tell it the name of the owner they represent.
"Where it has concerns, Christie's declines the transaction," the company said in a statement.
The stakes have risen alongside the soaring value of art, with an estimated US$63.8 billion worth of sales in 2015.
In one current money-laundering case, US authorities have accused Malaysian officials and associates in a civil complaint of converting billions of dollars of embezzled public funds into investments like real estate and art. Masterworks by Basquiat, Rothko, van Gogh and others were purchased, many at Christie's, according to a complaint filed by federal prosecutors. Later, a Cayman Island company owned by one of the accused launderers took out a US$107 million loan from Sotheby's in 2014 using some of those artworks as collateral, authorities say.
Another recent dispute seems to reveal that auction houses themselves do not always know whose art they are selling. In this instance, a collector has accused Sotheby's of selling his US$16 million painting by Henri Toulouse-Lautrec without knowing who actually owned it.
The Toulouse-Lautrec work, Au Lit: Le Baiser, consigned for sale at Sotheby's in London in 2015, depicts two women embracing on a bed. The Swiss dealer who brought the work to Sotheby's, Yves Bouvier, signed the standard paperwork surrounding such a sale, which requires the consignor to indicate he or she either owns the painting or is authorized to sell it. After the sale, he was given the proceeds.
But the real owner was a trust controlled by Dmitry Rybolovlev, a Russian billionaire who had been using Bouvier as his art adviser. Rybolovlev agrees he had authorized the sale but says Sotheby's should have checked who the real owner was before turning over the money.
"It is extraordinary that such a rare and high-value work could have been sold at auction without the auction house knowing the identity of the true owner," Tetiana Bersheda, a lawyer for the Rybolovlev family office, said in a statement.
Actually, experts said, it is not that rare.
"Do auction houses know who the principal is?" asked Amelia Brankov, a lawyer who specializes in the art market. "I don't think they always do."
LEGAL WOES
Rybolovlev, who himself has used offshore shell companies that obscured his ownership of art, is now engaged in a sprawling legal battle in several courts with Bouvier, over matters that include the money from the Sotheby's sale.
(Bouvier, who is also a leader in the international art storage business, said he has not turned over the money because, he said, Rybolovlev had told him to keep it to partially settle a debt from another transaction.)
Sotheby's declined to comment on whether it believed Bouvier to be the owner. But it says it knew him very well as a customer and that he had represented to them that he had the legal right to sell the property. As to its policy of learning the identity of ultimate owners, Sotheby's said it takes a risk-based approach — sometimes requiring disclosure depending on the specific facts and circumstances of each situation.
Auction houses live off the fees they earn for brokering sales, so it makes sense that auction houses would both value and trust customers who bring in a lot of business like Bouvier, who bought hundreds of millions of dollars of art at sales.
Other valuable customers for the auction houses and dealers were Malaysian businessmen who, beginning in 2013, bought more than US$200 million in art, usually operating as the Tanore Finance Corp, including eight works at Christie's. The US government contends in a civil complaint that the art was purchased with money that had been embezzled from Malaysian government accounts and that the ultimate beneficiary was Jho Low, one of the businessmen. Low, who has denied any wrongdoing, has not been criminally charged.
Art was far from the only asset into which Low transferred funds, and the art world has pointed out that he passed muster with other entities such as banks and law firms before federal officials here last year identified him in its complaint.
Christie's and Sotheby's said they each have long had rigorous programs to curb money laundering and that until the investigation became public, there had been no reason to suspect anything was amiss with Low.
"Before extending a loan to Low, we conducted extensive due diligence in accordance with our Anti Money-Laundering and Know Your Client procedures," Sotheby's said in a statement.
Artworks are particularly suitable vehicles for money launderers, experts said, because they transfer easily and store quietly, perhaps in a basement or in an offshore tax haven. Unlike the real estate market, where lightning escalations in price are rare, values in art can be suddenly boosted by intangibles such as fads and personal taste.
ANONYMITY
Beyond the question of money laundering, some experts say the anonymity of buyers and sellers hinders their ability to track ownership, a key element in establishing a work's authenticity.
Anonymity was certainly a factor in the success of the scam that took down the estimable Knoedler gallery in New York after 165 years in business. Some US$80 million was turned over by collectors to purchase unknown, albeit fake, "masterpieces" that were brought to market by a Long Island art dealer and her boyfriend. They said all the work had come from a mystery collector who became known as Mr X. In fact, they were being created by a forger in his Queens garage.
Jeanne Greenberg Rohatyn, a New York gallerist and art adviser, said there are situations, as when a scholar is putting together an academic inventory of an artist's work, where collectors do acknowledge ownership. "We work with the collector," she said, 'Would you like to cooperate?' If they say no, we respect that."
But she said she would resist a more general turn away from secrecy. "The move toward transparency is always there, but a collector's private collection is their private collection," she said. "It is in their home. It is not in the public domain."
Regulators in other financial sectors have been working to eliminate veils.
In finance, Treasury officials last year began asking banks to identify customers who set up accounts in names of shell companies. In real estate, they introduced a pilot program that requires the full identification of people who buy expensive properties in New York and Miami using cash and shell companies.
But efforts to reduce anonymity in art sales have gone nowhere. In 2012, a New York appeals court ruled that auction houses did have to let buyers know the identity of sellers. But the decision was overturned on appeal.
The auction houses and some experts say that money laundering is rare and the threat overstated.
Sometimes, they said, the names of prior owners are carried in auction catalogs and even in situations where owners sell through an agent, the houses often know their identity because of their broad knowledge of the market.
Many in the art world believe that eliminating anonymity would damage the market and invade privacy. Some sellers, they say, are families only looking to avoid the embarrassment of crushing debt. Others may be museums seeking to quietly de-accession works from their collection without causing a big fuss.
Imposing rules on auction houses, some experts argue, would only push the business toward less regulated markets abroad or into the hands of private dealers — who are not required to announce sales or publish prices.
"We have to tread lightly" said Evan Beard, who advises clients on art and finance at US Trust, "unless we start to see that art is being misused in various ways. You have got to do it without throwing too much sand in the gears."
Comments will be moderated. Keep comments relevant to the article. Remarks containing abusive and obscene language, personal attacks of any kind or promotion will be removed and the user banned. Final decision will be at the discretion of the Taipei Times.