When the rooster croaks
From career advice to the best direction to face while trying to conceive a child, words of wisdom from Taipei's fortune tellers for the Year of the Rooster
The Year of the Rooster is upon us, which means that Taipei's fortune tellers are dusting off their tarot cards and crystal balls — or, in Cheng Ya-yun's (鄭雅勻) case, gourds and gold purses.
Cheng's house is littered with various items when I visit, including white lilies to improve her love life and the statue of a horse made from jade to ensure that she will travel to faraway places. The diminutive psychic is not one to hold back from giving sex advice, either.
"If you're trying to conceive a child this year, do it facing southwest," she tells me.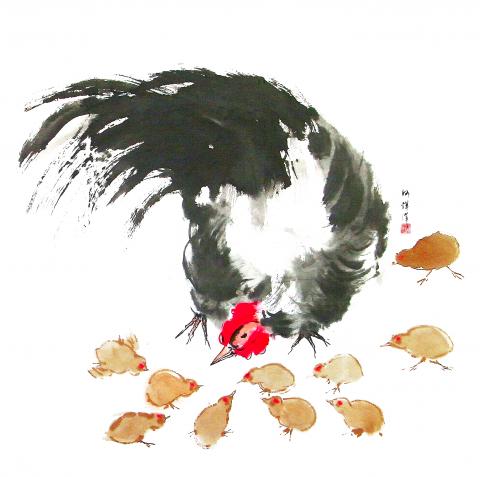 Illustration: Courtesy of Ho Huei-tse
Now I know which direction to avoid.
LOVE IS A BATTLEFIELD
It doesn't take a psychic to tell me that I've been unlucky in love, but Cheng does it anyway.
"Better for dragons to spend some time investing in friendships, rather than jumping from one romantic relationship to the next," she says.
I'm not alone this year. Cheng predicts that not too many zodiac signs will find love. While those born in the year of the horse, ox or rat might — emphasis on might — get hitched, sheep will face problems in their marriages or relationships. Monkeys and roosters will discover that their spouses are cheating.
Wisdom Tsai's (蔡上機) love forecast is equally grim. The white-haired fortune teller who drives a Mercedes-Benz tells me to be extra careful this year as dragons will encounter a lot of drama in their relationships — no surprise here as dragons are usually the instigators. According to Tsai, dragons should also be aware of potentially violent lovers — this I find harder to fathom as dragons are usually the violent ones.
He adds that tigers who have a "complicated sex life" better use protection because they have a higher chance of catching a sexually transmitted disease (STD).
If your love forecast isn't particularly promising this year, don't feel bad as Tsai also predicts Taiwanese actors and actresses having more extra-marital affairs — but when are celebrities ever not doing that?
BEWARE OF SPIKED DRINKS
While both psychics predict that snakes and rabbits will enjoy a relatively drama-free year, other aspects of their lives aren't looking as chipper.
From being more prone to illnesses such as the common cold to their cars breaking down in the middle of nowhere and electrical appliances short-circuiting, Cheng says that rabbits should brace for an unfortunate string of bad luck. To add insult to injury, Tsai says that to cope with their misery, rabbits will turn to over-eating (carrots?) and develop numerous digestive problems.
Both Cheng and Tsai predict that snakes will be backstabbed or swindled, especially via social media. Tsai adds that snakes should be careful of playing with water or fire, especially when traveling overseas.
Other zodiac signs that need to be more vigilant are monkeys and pigs, Tsai says. Monkeys should be vigilant about hitting people when driving, and pigs should be careful of getting into car accidents.
Good health befalls those born in the year of the dog and pig. Both zodiac signs, Cheng says, will be blessed with physical strength and energy.
Tsai's health predictions are a bit more foreboding — tigers have a higher chance of developing kidney stones and bladder problems and those born in the year of the ox should be careful of having their drinks spiked by strangers. He also predicts a general increase in diabetes, skin diseases and STDs.
Seeing as there's not too much to look forward to this year, it's understandable that people might want to lash out and Tsai foretells another wave of student activism taking place in Taiwan.
REELING IN THE BIG BUCKS
It's not all bad news, though. Those born in the year of the dragon, tiger and ox will do well in their careers.
Both Cheng and Tsai predict that dragons will be presented with plenty of new job opportunities though they should not let their thoughts and indecision consume them.
It will be smooth-sailing for tigers without micromanaging bosses and annoying colleagues, says Cheng. Though Tsai adds that some tigers might get bored with their work and feel that what they are doing is redundant. He adds that those born in the year of the ox will find good mentors at work.
It's mostly roosters who should be more careful in the workplace, Cheng says. Their colleagues will gossip about them and spread rumors. The worst that it'll get for snakes is encountering a few annoying new colleagues.
Cheng and Tsai agree that it'll be a good year for horses financially and that they should invest in businesses overseas.
But it seems like it's China that all the money is flowing too. Tsai foresees an increase in unemployment rates in Taiwan and companies in China recruiting Taiwanese employees, especially those from the upper-middle class.
Tsai adds that the New Taiwan dollar will plummet in value, but the silver lining is that so will housing prices — perhaps a good opportunity to buy a new home, then?
If buying property, however, heed the advice of Cheng and be sure to decorate your new home with white lilies to improve your love life.
GET DECORATING
In addition to decorating your home with white lilies to boost romance, fortune teller Cheng Ya-yun gives a few other interior design pointers to improve your luck in the Year of the Rooster:
■ Place a plant in your home facing northeast to bring good luck to your studies. Use a sculpture of a brush pen to substitute if allergic to plants.
■ Place a gourd by your bed or in your bathroom for good luck. If your bathroom is facing northwest, you might develop skin problems, so you'll want to invest in a bigger gourd.
ACCESSORIZE
Words of wisdom by fashion guru Cheng Ya-yun:
■ Red, purple, brown and gold are considered lucky colors for both men and women this year.
■ Ladies, in particular, should wear red undergarments and carry a gold or purple purse (men are also not discouraged from carrying gold or purple purses).
■ Both men and women should wear green or brown clothes — or gold, but only if they can pull it off.
Comments will be moderated. Keep comments relevant to the article. Remarks containing abusive and obscene language, personal attacks of any kind or promotion will be removed and the user banned. Final decision will be at the discretion of the Taipei Times.