Singing the blues from Mississippi to Tokyo
Japan-based musician Rambling Steve will play his brand of American roots and blues born out of his home state of Mississippi at Tiger Mountain Ramble, the annual outdoor music festival in Taipei, on Saturday
Growing up in Mississippi in the '60s and '70s, blues musician Steve Gardner remembers having to don his "big leg" pants – formal attire – whenever his family went out, no matter how big or small the occasion.
"Nobody went out or played music dressed like they were going to do yard work," Gardner, who now goes by the moniker "Rambling Steve," tells the Taipei Times.
Currently based in Tokyo, Rambling Steve will be flying in to Taipei to play his brand of big leg acoustic and American roots and blues, alongside local bands such as the Muddy Basin Ramblers and 88Balaz at this year's Tiger Mountain Ramble, the annual outdoor music festival featuring musicians from across Asia.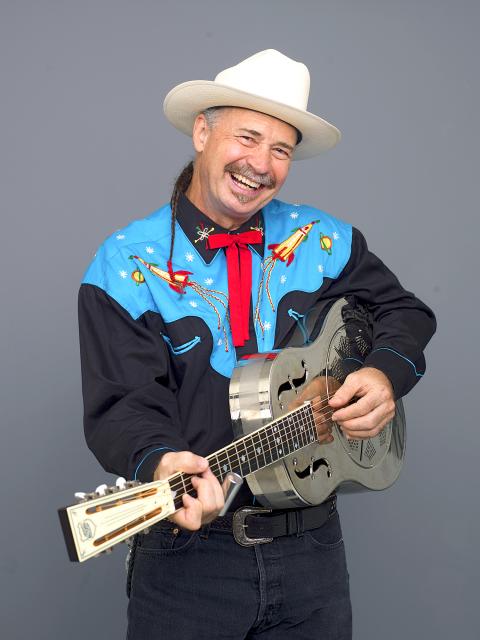 Mississippi-bred, Tokyo-based blues musician Rambling Steve.
Photo courtesy of Rambling Steve
Though he picked up music at a young age, mastering the guitar when he was nine years old, and the harmonica soon after, Gardner majored in photojournalism at the University of Southern Mississippi.
"Thinking of playing music for a living back then was like planning on opening up a watermelon stand on Mars," he chuckles.
During this time, Gardner was still known as "Little Steve." His father, who used to improvise by making music with four kitchen knives, beating them together like they were Irish rhythm bones, was called "Big Steve."
The Muddy Basin Ramblers will perform at the Tiger Mountain Ramble music festival on Saturday.
Photo courtesy of Craig Fergusson
It was a musician friend who suggested that Gardner call himself something other than "Little Steve" in order to differentiate himself from all the other "Steves" and "Stevies" out there. Fancying himself a good storyteller like his grandmother, he decided on "Rambling Steve."
TOUCHING HEARTS
Having lived in Japan on and off since 1980, Rambling Steve says he's noticed some surprisingly similar characteristics in Japan's culture with that of the American South.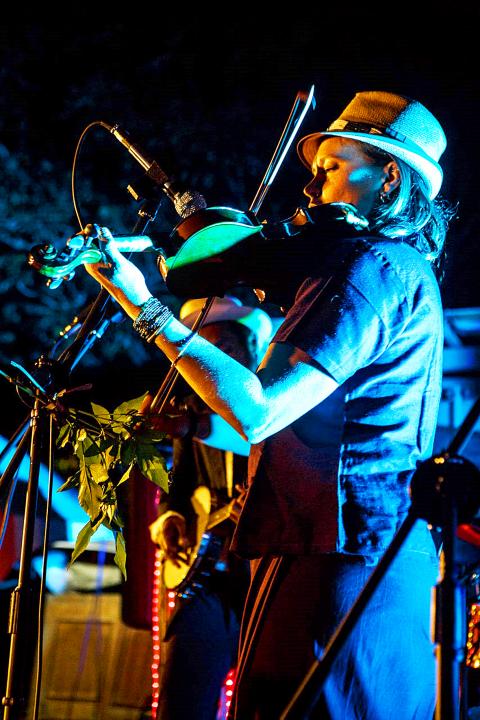 Muddy Basin Ramblers violinist Cristina Cox will perform at the Tiger Mountain Ramble music festival on Saturday.
Photo courtesy of Craig Fergusson
Both cultures, Rambling Steve explains, "are very guilt motivated" and possess "an exaggerated sense of pride coupled with guilt and inferiority that is designed to keep everyone in their place."
Living in Japan, he adds, has only solidified his resolve to continue on the path he set forth from the beginning — sharing stories about life and about where he's from, through the blues.
His time abroad, he muses, "has given me the perspective of distance to focus on my roots, my life, along with the hard history that defines the American South."
Along the way, Rambling Steve has also managed to touch a few lives. For the 11 years that he played acoustic at a Tokyo club, he noticed at almost every show, a young mother with her two sons in the audience.
Years later, he was playing at a concert to raise money for the March 2011 earthquake and tsunami that hit Japan when he spotted the mother, now with gray hair, and her grown-up sons in the audience. She approached him and said that after her husband passed away, Rambling Steve's live shows were the only thing her sons showed interest in and that they were both musicians now, dabbling in rag time and jug band music.
"She told me, 'Your music kept me from losing my mind. It kept our small family together.'"
SHARING STORIES
For Rambling Steve, that's what the blues is all about — opening up and sharing your sorrows and joy and in the process of doing so, striking a chord in other people.
"The blues is a song of pain from living too long coupled with a wink and crooked smile of knowing that it wasn't all bad." Rambling Steve explains.
He says the best part of visiting home is always hearing the stories of his family and friends. On Sundays, the men would go camping, and after dinner, they would gather around to tell stories. A common tale was about "the one that got away."
"Most of the stories they told were not about hunting deer, but hunting 'dear!'" Rambling Steve chuckles.
His father, grandpa and uncle told stories too: "Every blues man that I have ever met worth a damn was an over-flowing faucet of stories."
Rambling Steve says he only has one wish when he's long gone and when all that's left of him is his music: That "folks might remember me and say, 'He was the real deal and he sure could tell a good story.'"
Publication Notes
Festival notes
What: Tiger Mountain Ramble Outdoor Music Festival (2016虎山音樂祭)
When: Saturday from 2pm to 12am
Where: Tiger Mountain (微遠虎山), 186-1, Ln 221, Fude St, Taipei City (台北市福德街221巷186-1號)
Admission: Tickets are NT$400 in advance and NT$500 at the door, available at Vinyl Decision, KGB Kiwi Gourmet Burgers and Toasteria Cafe
On the net: www.facebook.com/events/
1154784517948124
Comments will be moderated. Keep comments relevant to the article. Remarks containing abusive and obscene language, personal attacks of any kind or promotion will be removed and the user banned. Final decision will be at the discretion of the Taipei Times.