How to grow a community in under a year
The mobile library for Indonesian migrant workers at Taipei Main Station has become a gathering space for people to socialize and help each other out
Tantri Sakhina keeps a notebook where she writes down the names of fellow Indonesian migrant workers and brides and the phone numbers of their brokers who arranged them to come to Taiwan.
Tantri spends her mornings calling agencies and other entities to try to help the workers with various situations ranging from not being paid on time to physical abuse.
Most people get in touch with Tantri on Facebook, but some also approach her under Taipei Main Station's column F24, where every Sunday afternoon she sits on the floor with a group of her compatriots and Taiwanese, around two open suitcases full of Indonesian books, magazines and leaflets.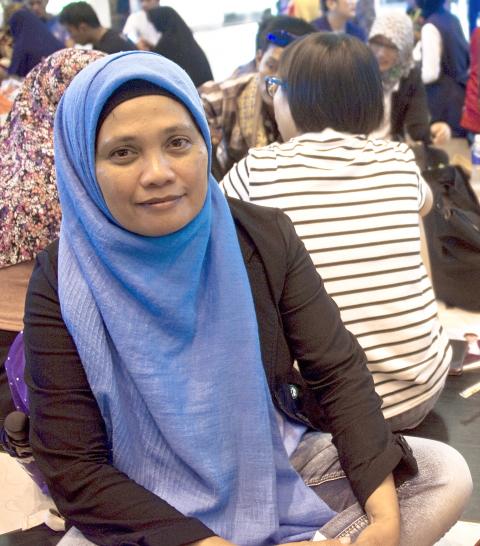 Tantri Sikhina poses for a photo in front of the Indonesian mobile library at Taipei Main Station.
Photo: Han Cheung, Taipei Times
This "mobile library" began last December by Southeast Asian bookstore Brilliant Time (燦爛時光), whose owner Chang Cheng (張正) is a long-time advocate for migrant worker rights. Tantri, who was also bringing books to the station for people to read, joined them a month later. Since then, it has morphed into a gathering space where people share food and make friends, gossip, seek advice, practice their Chinese, organize activities and even receive legal counsel.
"We're sort of creating an urban landscape here under this column," says Wu Ting-kuan (吳庭寬), who helped Brilliant Time set up the library. "It's more about the socializing and less about reading. But they'll check out books and bring them home."
WORKING WITHOUT PROBLEMS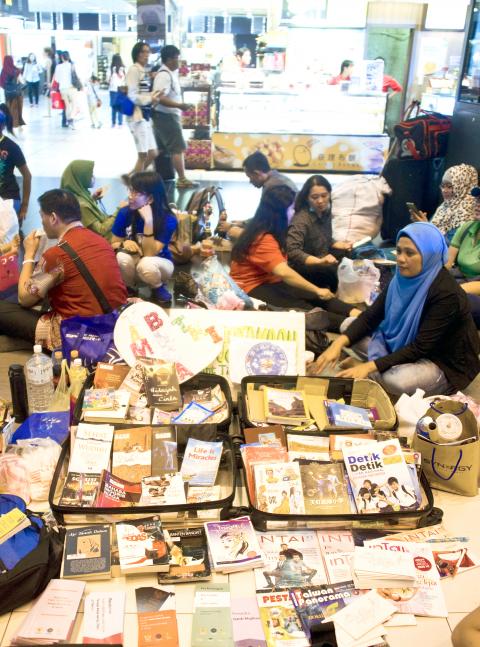 This Indonesian library of two suitcases of books is set up by Brilliant Time bookstore every Sunday at Taipei Main Station.
Photo: Han Cheung, Taipei Times
Wu calls Tantri, who many call "mom," an opinion leader for Indonesians in Taiwan. She is a big proponent of reading, believing that books can stimulate and open the minds of Indonesians working long and repetitive hours.
But there are too many who face more immediate problems.
As a caretaker working in Keelung, she started helping fellow Indonesians several years ago by visiting with fishing boat workers at the port city's docks. Eventually, she cofounded the Indonesian Mariners Association (Komunitas Pelaut Indonesia, 印尼海員聯盟), which not only helps solve the various problems these workers encounter, but also offers classes that count toward junior high or high school diplomas.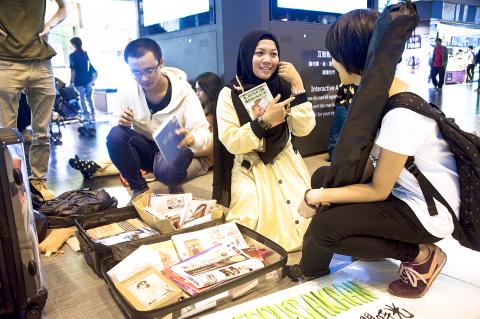 An Indonesian chats with Brilliant Time staff after coming to the mobile Indonesian library to check out a book.
Photo: Han Cheung, Taipei Times
Through the association, Tantri started an Indonesian library with just 10 books in the second floor of a grocery store in Keelung. To reach a larger audience, she started dragging her growing selection in a suitcase to Taipei Main Station. The additional exposure allowed her to start helping other Indonesians, including students, brides, domestic helpers and factory laborers.
The problems vary — one woman came to Taiwan to care for an elderly person but was forced to harvest rice instead. And there was the factory worker who injured his hands in an accident but never received an insurance payment.
When problems like these arise, Tantri says she calls the broker first, and if they are not able to solve the problem within a week, she takes it to the Indonesian Economic and Trade Office. She was able to resolve both cases — and countless more.
Tantri Sikhina, center, discusses a book with a visitor to the Indonesian mobile library at Taipei Main Station.
Photo: Han Cheung, Taipei Times
"I just want them to be able to work here without problems," she says.
A SOCIAL SPACE
Besides functioning as a base for Tantri and others to help people, the library is mostly a free-flowing social space. Throughout the afternoon, visitors constantly drop by, stay a chat and move on. The interaction ranges from labor organization leaders planning a protest, to a group of friends gossiping about others' love lives, Wu says.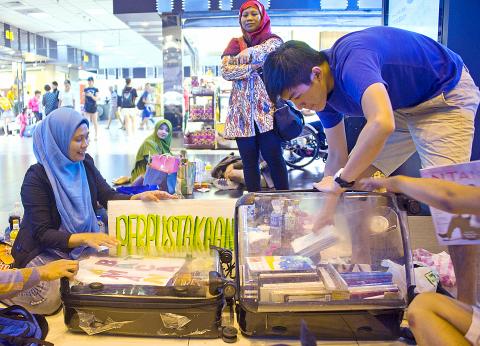 Tantri Sikhina, left, and Brilliant Time staff members pack up for the day.
Photo: Han Cheung, Taipei Times
Yusni, a caregiver working in Sansia, says she visits every week after attending an activity or class in Taipei. She has made many friends through the library, referring to it as a "place to chat."
Everyone is warmly greeted with hugs and handshakes. Wu hands out items he brought back from a recent trip to Indonesia as one lady asks him how to address the parents of a significant other in Chinese. In another corner, an Indonesian is helping a Taiwanese girl try on a hijab. Many linger even after Brilliant Time staff take the books away at 6pm to store in a nearby Indonesian business.
Most of the Taiwanese are associated with Brilliant Time, but some are here for school projects or to practice their Indonesian. Some stop by out of curiosity.
Wu says this environment can help himself and Brilliant Time understand the Indonesian community better as they strive to contextualize and improve the lives of Southeast Asians living in Taiwan.
"There's a lot of information exchanged here, whether it's private or organizational," he says. "We can collect lots of stories here."
Talking to Indonesians there, one will often hear examples of the problems that Tantri deals with. Yusni mentions that she feels lucky to have every Sunday off, as she has a friend who isn't even allowed to leave the house.
Tantri says the conditions for workers have improved much over the past six years she's been here, but the problems remain. On a Sunday afternoon early last month, she hurriedly returned to column F24 after briefly visiting a protest for migrant workers' rights, lest people need to talk to her and cannot find her.
"It doesn't matter if I don't get to see the beautiful sights of Taiwan," she says. "I need to be here."
Comments will be moderated. Keep comments relevant to the article. Remarks containing abusive and obscene language, personal attacks of any kind or promotion will be removed and the user banned. Final decision will be at the discretion of the Taipei Times.