Museum sketches bright future for art in Indonesia
Buoyed by interest at home and international buyers, numerous boutique galleries and artists' communities have sprung up, but critics say a lack of government funding for art museums means many Indonesians are missing out
From Jakarta to Bali and Yogyakarta, the Indonesian art world is flourishing. Buoyed by a growing, affluent middle class at home as well as interest from international buyers, numerous boutique galleries and artists' communities have sprung up, while events such as the Jakarta Biennale, the annual ArtJog fair and Bazaar Art Jakarta have fueled interest.
But critics warn a lack of government funding and high-quality art museums means many Indonesians are missing out. Businessman Haryanto Adikoesoemo is determined to change that: next year he will open the Museum of Modern and Contemporary Art in Nusantara (Museum MACAN).
"The Indonesian art (scene) now is one of the biggest and the best in Southeast Asia but we are lacking institutions to support this," he told AFP.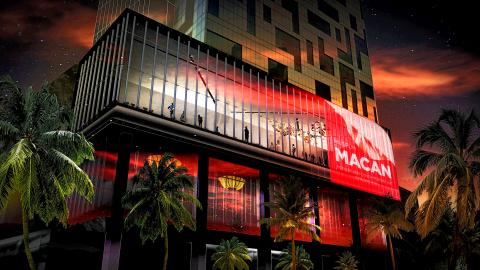 This undated artistic photo illustration released on July 19 by the Museum of Modern and Contemporary Art in Nusantara shows the exterior design for a major museum billed as Indonesia's first dedicated to international modern and contemporary art.
Photo: AFP
He added that while the country was home to a "vibrant" arts industry, it was "lacking very nice museums that are open to the public."
Thomas Berghuis, the former curator of Chinese art at New York's Guggenheim Museum, has been appointed director at MACAN, and the first exhibition is set to include works from Adikoesoemo's collection of about 800 pieces by Indonesian, Asian and Western artists.
It has been a decade since he first had the idea to use his personal collection to help create a world-class art museum open to the public, but feels now is the best time to open such a space in Indonesia. When it comes to art, he believes "more and more people around the world are looking at Southeast Asia."
The 4,000 square meter venue will have an indoor sculpture garden and a special education zone. It is part of a bigger development in Jakarta, still under construction, that will include restaurants, cafes, offices and residences.
Adikoesoemo's collection, built up over a quarter of a century, includes works by S. Sudjojono, considered the father of Indonesian modernism and the expressionist painter Affandi, as well as pieces by well-known Western artists such as Andy Warhol, Frank Stella, Jeff Koons and Gerhard Richter.
ART LOVERS
Adikoesoemo, who is funding the venture, also wants it to be a space for emerging artists to showcase their work. There are hopes too of collaborations with galleries abroad.
"We want to create a platform for cultural exchanges — for Indonesian art to be brought to the world, and for world art to be brought to Indonesia," said Adikoesoemo, who is head of logistics company AKR Corporindo.
The opening of MACAN is hotly anticipated in a country where many private collections are shut away from the public, existing museums are fairly basic, and government-run institutions are mostly of a low standard. ArtJog organizer Heri Pemad said the museum was "the answer that many contemporary art lovers have been waiting for."
"Currently the museum scene in Indonesia is beyond sad. Public taste in art is developing faster than the museums, where time seems to just stand still."
Berghuis also hopes MACAN will encourage young professionals keen on a career in the arts by offering opportunities in areas such as exhibition management, art curation and conservation and legal affairs.
"The vision is about us being part of and helping to foster a healthy art ecology for Indonesia," he said.
The launch comes at a time when the Southeast Asian art scene is rapidly developing.
Singapore, which launched an annual art week in 2013, last year opened a US$376 million National Gallery that boasts the world's biggest public collection of Southeast Asian modern art. It houses more than 8,000 works from the 19th and 20th centuries. The city-state's popular fair, Art Stage, will next week open its inaugural event in Jakarta showing contemporary works from more than 50 galleries. Adikoesoemo hopes MACAN can boost the region's position as an art hub, and bring something fresh to Indonesia's cultural landscape.
He added: "I believe that by appreciating and understanding art we can improve our quality of life."
Comments will be moderated. Keep comments relevant to the article. Remarks containing abusive and obscene language, personal attacks of any kind or promotion will be removed and the user banned. Final decision will be at the discretion of the Taipei Times.