Art exhibition listings
If there's anyone who can make smoke from gunpowder look beautiful and intriguing, it's young painter Lai Yue-hong (賴岳宏). His solo exhibition, entitled Gunpowder Routine (煙硝日常), is currently being held at Taipei's Dynasty Gallery. The protagonist in Lai's abstract paintings appears to be a hero in a space suit, always emerging triumphantly from the flames, whether he's drifting away in a hot air balloon or sprinting from the damage. Lai's color palette varies, ranging from maroon hues to icy blue, the result of which gives the sceneries he depicts an otherworldly feel.
■ Dynasty Gallery (朝代畫廊), 41, Leli Rd, Taipei City (台北市樂利路41號), tel: (02) 2377-0838. Open Mondays to Saturdays from 11am to 7pm
■ Until July 30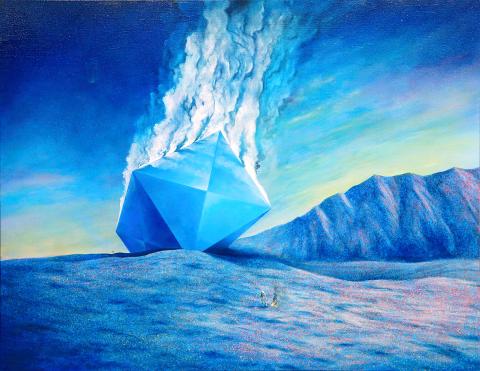 Lai Yue-hong, Gunpowder Routine 8 - The Great Mass (2015).
Photo courtesy of Dynasty Gallery
Aki Gallery is currently featuring The Spiritual Journey of Chinese Photographers (中國青年攝影師的精神之旅), a joint exhibition by young Chinese photographers Zhang Xiao (張曉) and Zhang Kechun (張克純). Both artists deal with water motifs in their photography for this particular exhibition. Images of the former Zhang's work are taken from his book, Coastline, which is a visual documentary of his four-year trip, from 2009 to 2013, along China's coastline from the mouth of the Yalu River (鴨綠江) in Liaoning up north to the Beilun River (北侖河) in southern Guangxi province. He captures scenes of people swimming, farmers tending the fields and gargantuan buildings popping up in construction sites by the coast. The latter Zhang photographs similar scenes along the Yellow River, which is often dubbed China's "cradle of civilization." Factories, sand castles, and fishermen all feature in his pictures. Many inferences can be drawn from the photographs, including criticisms of industrialization and modernization which bring about environmental pollution. Or maybe they just want to capture pretty beach scenes before they become obsolete.
■ Aki Gallery (也趣藝廊), 141 Minzu W Rd, Taipei City (台北市民族西路141號), tel: (02) 2599-1171. Open Tuesdays to Sundays from noon to 6:30pm
■ Until July 31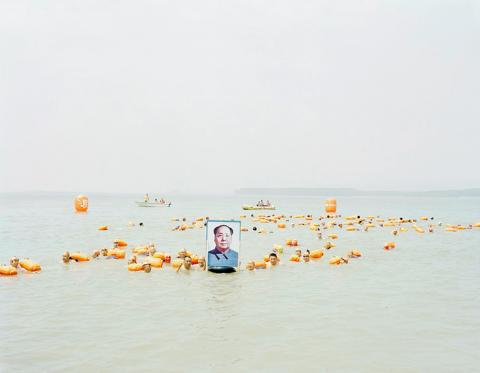 Zhang Kechun, People holding a picture of Mao Zedong across the Yellow River, Henan (2012).
Photo courtesy of Aki Gallery
Sculptor and jewelry-maker Wu Ching-chih (吳竟銍) has a solo exhibition opening at Taipei's A Gallery tomorrow. Entitled Pollen Cluster (孔聚), the exhibition includes a selection of Wu's lovely sculptures made with copper, bronze, enamel and wood to resemble magnified pollen colonies. The "pollen clusters," as he calls them, allude to the stress of urban life and disconnect with nature. We build parks and plant trees but are still boxed in apartment buildings and office spaces. Far from being grotesque or depressing, though, Wu's sculptures are luminous and beautiful, and resemble wearable brooches and pendants.
■ A Gallery (當代一畫廊), 22, Alley 36, Lane 147, Xinyi Rd Sec 3, Taipei City (台北市信義路三段147巷36弄22號), tel: (02) 2702-3327. Open Mondays to Saturdays from 10am to 6pm
■ Opens tomorrow. Until Aug. 20
Wu Ching-chih, The Decay in My Garden (2016).
Photo courtesy of A Gallery
There's a hodgepodge of exhibitions taking place at the National Museum of History this summer, from retro paintings to painted earthenware of silly figurines inspired by characters from Chinese opera. Also on display are the works of jade artist Tu Kuo-wei (屠國威). The exhibition, which is entitled A Heartening Wave: The Jade Art of Tu Kuo-wei (鼓鼓生風─屠國威玉作藝術展), consists of 100 of Tu's jade sculptures, all apparently inspired by — but not necessarily resembling — drums. The sculptures are stunning in their simplicity — no grotesque figures here. They also vary in color, from emerald green to cool beige and greenish-black.
■ National Museum of History (國立歷史博物館), 49 Nanhai Rd, Taipei City (台北市南海路49號), tel: (02) 2361-0270. Open Tuesdays to Sundays from 10am to 6pm
■ Until Sept. 18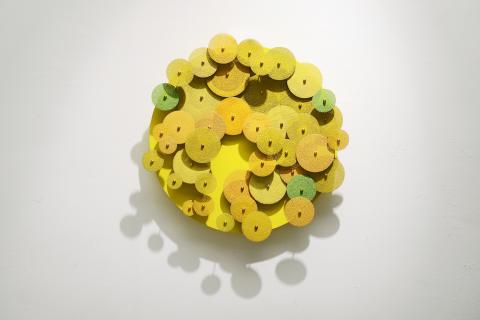 Wu Ching-chih, The Decay in My Garden (2016).
Photo courtesy of A Gallery
The theme of this year's Museum-School Collaborative Exhibition (2016館校合作成果展) organized by MOCA is Assembling the Urban Imagination (拼裝城市的想像). The group exhibition at MOCA Video Underground at Zhongshan MRT station is a collaborative effort between the museum staff and students and art teachers from various elementary, junior and senior high schools around Taipei. As the exhibition title suggests, students were asked to illustrate (or collage, sculpt, film) what urban life means to them. Issues such as community development, urban planning and historical memory were explored, though presumably by older students. The little ones created mostly colorful, cheery artwork.
■ MOCA Video Underground (藝術一條街), Zhongshan Metro Mall Exit R9 TV Corridor (捷運中山地下街 R9 出口電視牆), tel: (02) 2552-3720
■ Until Aug. 28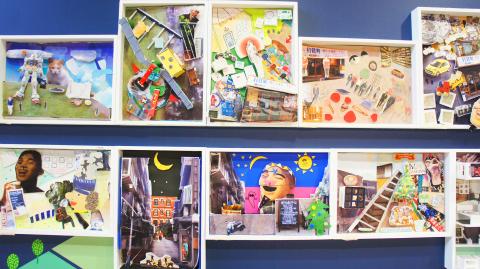 Artworks created by students of Taipei Municipal Jiancheng Junior High School, 2016.
Photo courtesy of MOCA Taipei
Comments will be moderated. Keep comments relevant to the article. Remarks containing abusive and obscene language, personal attacks of any kind or promotion will be removed and the user banned. Final decision will be at the discretion of the Taipei Times.