Big changes to Taipei Film Festival
Breaking its previous focus on cities, the annual film festival presents a more organic screening selection this year based on people and concepts
For the past 14 years, the Taipei Film Festival has placed a heavy focus on individual cities, for example Lisbon last year and Warsaw in 2014.
Aside from the staple International New Talent Competition and Taipei Film Awards, this year's program looks different. There will be no cities, only abstract concepts and people: echoes, visions, wild tales, David Bowie, Ryusuke Hamaguchi, Hitchcock and so on.
Curator Kuo Min-jung (郭敏容) says that film-viewing habits are changing, and with the proliferation of opportunities to view international cinema, they often no longer choose their films based on country of origin.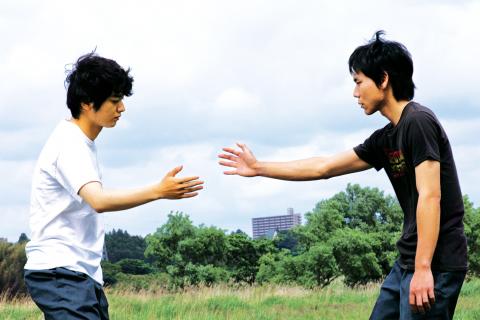 A scene from Touching the Skin of Eeriness by Japanese director Ryuskue Hamaguchi, who is the "Filmmaker in Focus" of this year's Taipei Film Festival.
Photo courtesy of Taipei Film Festival
"We wanted to plan something that's closer to the modern audience experience in viewing movies, focusing on story and subject matter," she says. "I feel that we do not need one theme to define our entire festival. I want to make it more comprehensive, and through our selection and special features let people see a larger variety of independent films."
Kuo adds that instead of focusing on filmmakers, they also present film about cultural icons — such as the David Bowie section of the screenings.
"We not only want to show his movies, but movies influenced by him, or movies that have influenced him," she says. "That way we can find more films related to him and not just look at it from an authorship angle."
Another change is the "Classics Revisited" section has been scattered into the five concept categories.
"We found that if we put all the classic or restored films in one category, it often only attracts older film buffs," Kuo says. "The younger crowd will skip it. But now they can connect the film with the theme of each section and see it in a different light."
The festival also includes a variety of special events, including discussions with directors and actors, free movies for children, and live piano accompaniments of Hitchcock's silent films by British silent film pianist John Sweeney.
Kuo is hesitant to make specific recommendations as to where to start watching, but she notes that some of the films, especially Tsai Ming-liang's (蔡明亮) 35mm productions or those featuring Jeanne-Pierre Leaud, are extremely hard to obtain and may not even be available on the Internet.
"If you can only see one or two films and want something that can only be seen at this festival, you can consider looking in that direction," she says.
Publication Notes
FESTIVAL NOTES
What: 18th Taipei Film Festival
When: Through July 15
Where: Taipei Zhongshan Hall (台北市中山堂), 98 Yanping S Rd, Taipei City (台北市延平南路98號); Shin Kong Cineplex (新光影城), 4F, 36 Xining S Rd, Taipei City (台北市西寧南路36號4樓); Spot — Huashan Cinema (光點華山電影館), 1, Bade Rd Sec 1, Taipei City (台北市八德路一段1號)
Admission: Weekday matinee screenings (before 6pm) cost NT$150 and weeknight and weekend screenings are NT$200, NT$180 for students and NT$100 for seniors. Hitchcock piano performances are NT$280.
On the net: www.taipeiff.org.tw
Comments will be moderated. Keep comments relevant to the article. Remarks containing abusive and obscene language, personal attacks of any kind or promotion will be removed and the user banned. Final decision will be at the discretion of the Taipei Times.