A piece of the Silicon Valley in Taipei
MOX, a Taipei-based mobile-only accelerator, presented its first batch of startups last week and looks to work more closely with Taiwan's Internet startup scene
About halfway through his two-month stay in Taipei, Internet entrepreneur Stefano Roncari decided to start up his new venture here after being based in Beijing for the past decade.
In addition to the city's livability, Roncari found that there wasn't just an abundance of quality engineers and machine learning specialists in Taiwan, but unlike Beijing, where most people want to be part of a huge company, he says a high percentage of them are passionate about startups.
"It's a smaller market, and people [in Taiwan] are used to solving their own problems and making an impact," he says. "They want to be working in a small team."
Stefano Roncari presents his company Bubbleye to interested parties during Demo Day at Taipei's Syntrend Creative Park last Tuesday.
Photo: Han Cheung, Taipei Times
Roncari arrived in Taipei in January as one of eight startups selected by MOX, a Silicon Valley-style mobile-only accelerator, for its first batch of businesses after launching in December. This batch, which includes companies based in India, Israel, South Korea and the US, just concluded demo days in Taipei and Singapore last week where they presented their ideas to potential partners and investors.
The Taipei-based MOX provides capital, industry and business mentors, networking and client resources and other services in exchange for equity and revenue share for companies who want to move into areas like Southeast Asia, Eastern Europe and South America where people primarily access the Internet through their mobile phones.
The eight companies vary in services and stage of development, ranging from MyBrana, an augmented reality video creator to Tappy Toon, a "Netflix" for comics, to Roncari's Bubbleye, which uses machine learning and artificial intelligence algorithms to maximize the performance of mobile ads.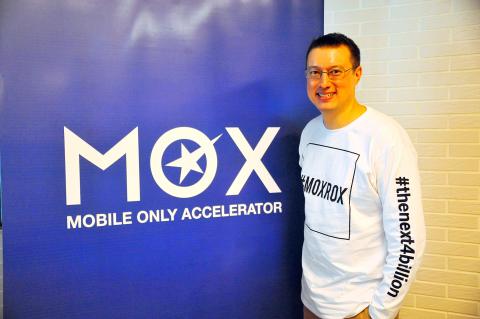 MOX founder William Bao Bean poses for a photo during demo day.
Photo: Han Cheung, Taipei Times
ACCELERATION
MOX comes from a lot of money — it is one of six global accelerators run by SOSV, a US-based US$250 million (NT$8 billion) venture fund. Each accelerator is sector-based. The companies they choose must spend at least two months in MOX's Taipei office, working closely with Bean and other staff who "accelerate" their progress by linking them to a variety of crucial resources or helping them localize their product.
"We look at the team and traction," MOX Managing Director William Bao Bean (賓威廉) says. "We look at users and whether they come back. We don't care about how much money they have because they're not paying."
With local advertising and internet services platform General Mobile Corporation (GMobi, 通用移動) as a partner, MOX's companies receive free advertising to Gmobi's 100 million users in Southeast Asia.
"When you start out, the most amount of money is acquiring the customer," Gift on the Go CEO Alok Singh says.
"With us, all you have to do is make your app awesome," Bean says. "We're trying to flip the model [of having to pay for advertising first]."
Bean says a big part of the work is helping these companies localize to their new target market.
"Southeast Asia is mobile first and mobile only," he says. "You have to change your product, your user experience, how you make money."
For example, one company had to downsize its app from 40mb to 10mb to accommodate local internet resources.
WHY TAIWAN?
Bean hopes to involve some Taiwanese companies in future batches as the company recruits its second batch later this year.
"The future of Taiwan tech is Internet," Bean, who started his technology investment career in Taiwan, says, adding that he can help new local companies move into emerging markets.
As a mentor at Taiwan Startup Stadium, Bean had already been working with some of these locals. But when MOX made offers to several Taiwanese companies for the first batch, Bean says he found that investors were wary of this new model that required sharing equity, which isn't popular here but is the norm in Silicon Valley.
As a global company, MOX could theoretically be based anywhere, and Bean's answer is simple.
"It's nice here," he says, referring to the convenience, good food, reasonable weather and so on.
He adds that it is also a good balance of infrastructure and rent costs — falling somewhere between Hong Kong and Bangkok. Plus, Bean says you can recruit talented staff who mostly speak English for a lower cost.
Bean also hopes to foster somewhat of a local mobile startup community. For example, every week when the companies are in Taiwan and every month otherwise, MOX flies in international experts for a happy hour event that is open to the public, with free drinks and a barbecue afterward — which Bean calls a "Silicon Valley style get-together."
Finally, he hopes to attract more people like Roncori who also find that Taiwan is a great place for an Internet startup.
"They're moving here, they're creating jobs," he says. "You're bringing international expertise from around the world and actually living here as opposed to visiting a few times. It helps create that community."
Comments will be moderated. Keep comments relevant to the article. Remarks containing abusive and obscene language, personal attacks of any kind or promotion will be removed and the user banned. Final decision will be at the discretion of the Taipei Times.