Capturing the faces of urban decay
A documentary photography instructor is organizing a photowalk to record life at Taipei's Nanjichang neighborhood, which is facing demolition due to an urban renewal plan
The last time TC Lin (林道明) tried to organize a photography walk around Zhongzheng District's (中正) dilapidated Nanjichang (南機場) neighborhood, it snowed in Taipei.
A street and documentary photography instructor at Zhongzheng Community College, Lin is hoping for better weather tomorrow as he attempts to gather photographers — amateurs and professionals alike — to capture everyday life in this 52-year-old community of about 2,000 households before it disappears to the city's urban renewal plan.
Once a "model community," the neighborhood has deteriorated over the years and is now largely occupied by elderly living alone or low-income families. The renewal project has been in talks for many years, but progress has stalled due to a number of problems including resident eligibility and the debate on whether to keep the community's elementary school.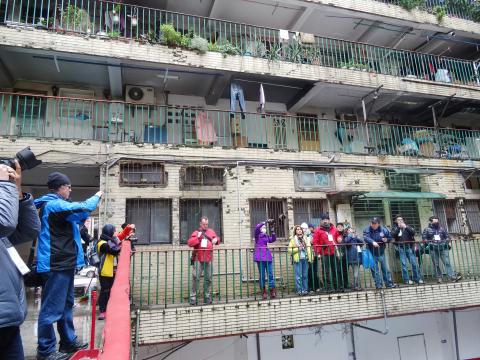 Participants snap away during the previous photowalk at Nanjichang community last month.
Photo courtesy of TC Lin
"I talked to the borough warden and he wants to leave a recording of the people, objects and life in the community," Lin says. "He invited photography students before, but they only took pretty pictures such as flowers and sunsets."
That's where Lin's expertise comes in. He named the event "international photo walk" because he wants to encourage foreign photographers to join in.
"I think it would be interesting to include their point of view in this documentation of the community," he says. "Their angle and style are often different from Taiwanese."
The borough warden will give a presentation on the community and take the photographers on a tour — including places that are not usually accessible to the public. Lin says he will provide translation and answer questions for those who don't understand Chinese, though he hopes that there are more bilingual people on the scene to assist him.
Participants don't need to be too self-conscious about intruding, as the borough warden has notified residents of the photography tour.
However, Lin says the number one key to documentary photography is respecting the subjects.
"You want to record the people and place because you like them and you respect them," he says. "What mentality you use to photograph your subject is important because he or she will feel it too."
Lin hopes to turn the results into an exhibition, set tentatively for late March or early April. He also wants to host a forum with exchanges between local and foreign photographers.
Publication Notes
Event Notes
What: Nanjichang International Photowalk
When: Tomorrow at 10am
Where: Meet between 9:30am and 10am at Chungyi Elementary School (忠義國小), 17, Ln 307, Zhonghua Rd Sec 2, Taipei City (台北市中華路二段307巷17號)
Admission: Free
On the Net: www.facebook.com/events/
1657344501198351
Comments will be moderated. Keep comments relevant to the article. Remarks containing abusive and obscene language, personal attacks of any kind or promotion will be removed and the user banned. Final decision will be at the discretion of the Taipei Times.