Year of the Monkey comes to Dadaocheng
The Lunar New Market in Dihua Street is back with decorations, candy and even wine, though some are not too happy with the commercialization of the yearly tradition
It's 11am on a weekday and my plans to beat the crowds are thwarted. In a lane filled with jostling tourists, shrieking school children and smiling vendors handing out free samples of candy, preserved snacks and gooey delicacies on skewers, I spot a good-looking young man in his twenties with glasses and a shy smile holding a tray of plastic cups. I smell red wine. Finally, something worth sampling.
He pours me a small cup of sweet grape wine from Changhua County and I immediately down it. The wine, which boasts a deep maroon hue, is thick, rich and extremely sweet. Once the initial sweetness dissolves on the palate, the warm grape flavor becomes highly discernible, leaving behind a pungent aftertaste.
After a couple more samples of other wines, I purchase a bottle of the first sweet grape wine I sampled, thank the man and continue walking down the street. A couple of meters away, I spot another young man handing out free samples in a cup.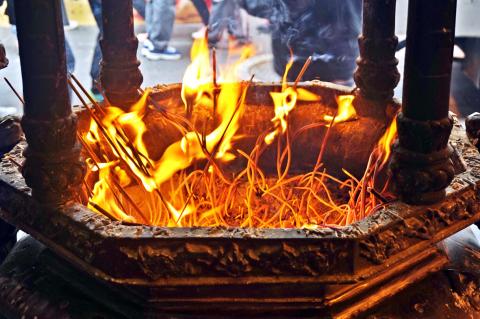 An incense burner sits outside of the Xia Hai City God Temple in Dadaocheng so passersby can light an incense stick and make a wish.
Photo: Dana Ter, Taipei Times
"Is that wine?" I ask.
"It's fruit juice," he says. "Do you want wine? Come! I'll pour you a cup."
He pours me several cups of chilled apple, peach and grape wine. They're all incredibly refreshing. He then tells me that women like the chilled grape wine because it helps to get rid of pimples and improves the complexion. Yeah, right.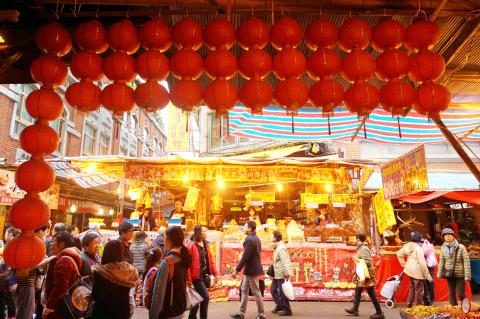 The Lunar New Year market in Dihua Street draws visitors with candy, snacks and other tidbits.
Photo: Dana Ter, Taipei
"Buy this, put it in your fridge and mix it with water when you drink it — it'll give you perfect skin," the seller tells me.
I decline this time, reasoning with him that I had already purchased some wine.
HUB OF DADAOCHENG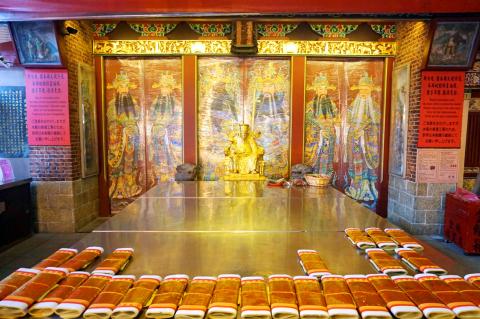 An alter at the Xia Hai City God Temple.
Photo: Dana Ter, Taipei Times
Located in the heart of Taipei's historic Dadaocheng (大稻埕) area, which was once a thriving port for international trade, the tradition of hawking goodies along Dihua Street (迪化街) has been around since the 1850s. It started with a businessman named Lin Lan-tian (林藍田) who traded locally-produced rice, sugar, tea and camphor with merchants who imported goods from China. Remnants of the bygone era can still be seen today, mostly in coffee shops and bookstores in two-story buildings where the outside facade remains largely untouched.
My recent experience was nothing like my first visit to Dihua Street 15 years ago when I was one of those shrieking students there on a school trip before the Lunar New Year. Back then, there were much fewer tourists. Candy shops blasted the kind of screechy Lunar New Year music that makes you cringe, not EDM beats and Pitbull. Most of the vendors were middle-aged or older, and, at least from what I recall, they were selling red paper decorations and fake firecrackers, not wine.
Next to a candy shop blasting Pitbull on their sound system, I find Titan Wu (吳孟寰) outside the Xia Hai City God Temple (霞海城隍廟). He's helping a blind man navigate his way around the temple as a Japanese film crew, stumbling upon a group of school children, is trying to shoot a scene of visitors praying at a giant incense burner by the entrance.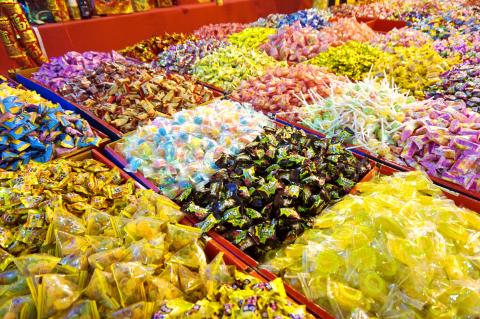 A candy store in Dihua Street.
Photo: Dana Ter, Taipei Times
"Temples in Taiwan have the same resonance as churches overseas," says Wu, who has worked at the temple for over 10 years. "It serves as a peaceful and inviting place for people to pray."
It seems very peaceful, I thought as the Japanese film crew attempts to cut me off by demanding an interview with Wu as well, while the giant incense burner, laden with too many incense sticks, suddenly erupts into flames, much to the horror of passersby.
The temple, which opened in 1859 after three years of construction, still serves as the hub of Dadaocheng. Wu tells me he's seen an influx of visitors coming here to bai bai (拜拜), or pray, throughout the year. While single people pray to the "Old Man Under the Moon" (yuexia laoren, 月下老人), who's also known as the matchmaking god, to help them find a spouse, married people pray to the City God's wife (chenghuang furen 城隍夫人) for anything from continued marital bliss to earning big bucks.
Wu, by the way, is relieved that he doesn't have to pray to the matchmaking god anymore.
REVIVING HISTORY
Unsurprisingly, the temple sees an upsurge in visitors during festive seasons like the Lunar New Year. Except nowadays, it's become more of a tourist spectacle in much of the same way as the rest of Dihua Street.
Wu says there are pros and cons to Dihua Street becoming more commercialized. One good thing that it has done is draw more young entrepreneurs (himself included) — and younger visitors — from other parts of Taipei. For young entrepreneurs, running their own business not only provides them with the freedom to do what they want, but it also helps to keep the tradition of the Dihua Street Lunar New Year market alive. Not to mention their enthusiasm injects new life into the neighborhood.
However, more visitors do not necessarily mean better business. In fact, most come to gawk, take pictures and indulge in free goodies.
"Since people can buy the items they need for the New Year at places like Costco and Carrefour now, Dihua Street has become more of a place for window shopping," Wu says.
Wu thinks that as a result of this, Dihua Street is losing its appeal and becoming very much like a night market instead — gimmicky, crowded and with lots of stores selling the same merchandise.
"We don't want people to come here and think, 'but I can just buy this stuff anywhere else,'" Wu says.
Wu believes that what made Dihua Street stand out in the past were the people who built it. Stores were passed down from one generation to the next (whereas today, stores are mostly rented out) and there was a strong sense of connection to the neighborhood and its history.
That being said, Wu is bent on turning back the tide. He's currently working on a project to revamp the small alleys surrounding Dihua Street by promoting small businesses there such as qipao shops or vintage arts and crafts stores. Late last year, they started holding flea markets. At one flea market, clothes worn by actors on the set of Hou Hsiao-hsien's (侯孝賢) 2005 film Three Times (最好的時光), which was filmed in Dadaocheng, were sold. Wu hopes that this approach will not only drive business but also keep the history of Dadaocheng alive.
It does seem, however, that the commercialized, gimmicky approach will be around for a while, at least during the Lunar New Year. Hordes of visitors suddenly surge their way into the temple, furiously taking pictures of incense sticks and fortune lamps. I thank Wu for his time and make my way out of Dihua Street, content with my New Year's purchase, the sweet grape wine.
Comments will be moderated. Keep comments relevant to the article. Remarks containing abusive and obscene language, personal attacks of any kind or promotion will be removed and the user banned. Final decision will be at the discretion of the Taipei Times.