Drinking Taipei: Twenty-three is a charm
It was his dream to make alcohol like the winemakers of California's Sonoma Valley, and one day, Brett Tieman of 23 Brewing Company finally got the chance — but in Taiwan
While touring California's Sonoma Valley years ago, Brett Tieman felt a mix of envy and reverence for the vineyard owners.
"Their job is to make alcohol. That's just crazy," Tieman says.
Tieman says this while taking a swig of his brewery's citrusy IPA at the Corner Office near Sun Yat-sen Memorial Hall in Taipei. Just a couple of days ago, he was overseeing the entire operation from milling to fermentation at his contract brewery in Hsinchu.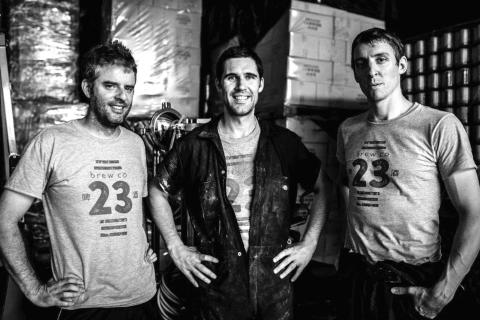 From left, 23 Brewing co-founders Rob Baumgarten, Brett Tieman and Matt Frazar.
Photo courtesy of Robin Serious
When Tieman first visited Taiwan in 2003, he remembers drinking mainly Taiwan Beer, Heineken and Carlsberg. He said it was disappointing since he considers himself to be the type of traveler who prefers to visit restaurants and bars rather than museums. Despite this, however, he fell in love with Taiwan during several short trips here with his wife. Eventually, the couple decided to uproot from New York.
"One of the most rewarding things you can do in your life is to cash out of New York," Tieman tells me.
LUCKY NUMBER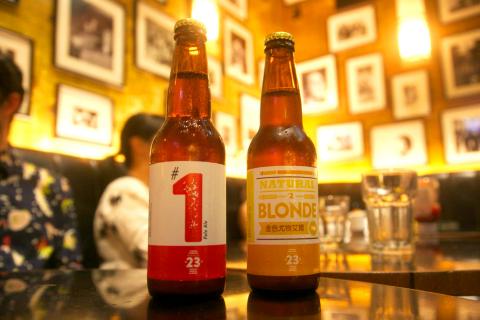 Bottles of 23 Brewing's #1 Pale Ale and Natural Blonde at Carnegie's. Warning: Excessive consumption of alcohol can damage your health.
Photo courtesy of Robin Serious
It was 2012 when Tieman "cashed out." Taiwan's craft beer scene had expanded. Breweries like North Taiwan Brewery, Jolly and Le Ble d'Or were putting out a solid selection of ales and stouts, while Belgian beers were selling like hot cakes. But unlike other Asian cities such as Hong Kong or Shanghai, it was still unusual for a group of friends to hit up a bar for the sole purpose of tasting craft beers, similar to how one samples wine or Chinese tea.
Although Tieman had relocated to Taiwan partly because he wanted to start his own business, it wasn't his initial idea to run a brewery. He never brewed his own beer in the US — there wasn't a need for it. Tieman began to miss the beverage, though, and after joining a Facebook group consisting of homebrewers in Taiwan, he started home brewing as a hobby. Back then, beer kits weren't sold in Taiwan. He relied on a brewing software which did the calculations for him, but it was still a bit tricky without a beer kit which provides you with the malt already in liquid form.
"I jumped straight into the deep end," Tieman says.
It was through the Facebook group that he met Rob Baumgarten and Matt Frazar. In June 2014, the trio founded 23 Brewing Company. The brewery was part of the second wave of craft brewing companies to launch in Taiwan (Redpoint and 55th Street Craft Brewery being other examples).
The name of the brewery was Baumgarten's idea. Not only is the ordinal number a reference to Taiwan's 23 million residents, but it also alludes to the 23 enigma — the belief that bizarre and mystifying events around the world can be traced back to the number 23. More importantly, the Beer Judge Certification Program's guidelines originally included 23 different categories for beer.
Tieman and his partners spend one day a week at their contract brewery in Hsinchu where they talk to the brew master and oversee the process.
As Tieman likes to say, "Brewing is like plumbing — you're basically a plumber."
The process — mill, mash, boil, ferment — seems simple but it's easy to make careless mistakes if you're not focused entirely on one task, like forgetting to close a valve. There is also pressure to continually improve their flavor due to increasing competition in the craft beer market.
Tieman says that although it's certainly exciting to experience firsthand Taiwan's craft beer revolution, he also feels that they have to continuously step above the bar and make each batch better than the next.
HOP TO SUCCESS
Their efforts have certainly paid off. Their three signature beers boast an appealing simplicity (citrusy but not over the top, smooth finish) mixed with a distinct Taiwanese flair (not too bitter), the result of which sits well with both session drinkers as well as those who prefer to take it slow.
"We use a hodgepodge of ingredients from all over the world to make American-style beer in Taiwan," Tieman says.
Made with musky citra hops, the #1 Pale Ale (5.5 percent alcohol) is crisp, refreshing and reminiscent of California pale ales. The citrus flavor is highly evident, with a hint of floral undertones.
The Natural Blonde (5 percent alcohol) has more of a neutral bitterness that's also malty and tropical with a smooth finish. Tieman says the ale was made for those not quite ready for the bitterness of American ales.
If you prefer bold, bitter and hoppy, try the IPA (6.5 percent). The blend of citrus and pine gives it an added kick.
They've also recently released their first collaboration with 55th Street Craft Brewery. The 78 Series Imperial Porter (7.8 percent, and 23 plus 55 is 78), is, as its name suggests, a dark, mocha-flavored porter. Brewed with local raw, unrefined sugar, its deep chocolate taste makes it a good winter brew.
For the most part, 23 Brewing likes to keep it hoppy, and they'll be reverting to hoppy flavors for their next release, their Saison, albeit with some spicy undertones.
I ask Tieman if he still feels jealous of Sonoma's winemakers. While he loves making his own alcohol now, he says the concept of "destination breweries" — the idea of touring a brewery much like you would a vineyard — hasn't exactly latched on yet. In Taiwan, a lot of breweries are located in industrial districts. The exception is Jim & Dad's Brewing Company in Yilan.
Tieman is certain this will change, though.
"It's been a wild ride," he adds.
But the reality is that craft beer in Taiwan is still a nascent industry, and for Tieman, the key is to make small, incremental changes while keeping in mind that other countries have decades of a head start.
"When I come back from a trip to the US, I'm like, our beer sucks. But after a month or so, I think, actually, our beer is pretty awesome."
Warning: Excessive consumption of alcohol can damage your health.
Comments will be moderated. Keep comments relevant to the article. Remarks containing abusive and obscene language, personal attacks of any kind or promotion will be removed and the user banned. Final decision will be at the discretion of the Taipei Times.