Out with the old ...
Some members of a US-based, pro-KMT organization worry that young Taiwanese Americans view the party as being old and out of touch with the youth
John Wu (吳程遠) is a real estate broker in Los Angeles and he's young. That is to say, he's younger than most of the more than 20,000 members of the Taiwan Benevolent Association of America (TBAA, 全美台灣同鄉聯誼會), a pro-Chinese Nationalist Party (KMT) organization with 25 chapters that he served as president of between 2013 and 2014.
And therein lies his quandary — how to attract other young Taiwanese Americans to support a party that some view as being old and out of touch with youth.
"They prefer the [Democratic Progressive Party, DPP] because it is more energetic and provides more opportunities to develop their base," said Wu, who is 41. "They have hope and something they want to accomplish."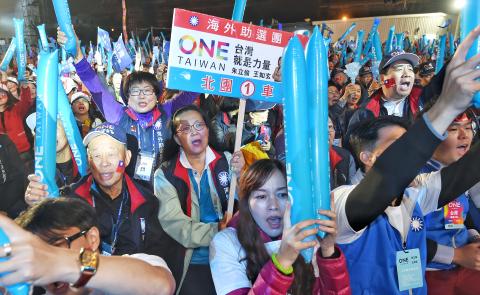 Supporters cheer for KMT presidential candidate Eric Chu at a rally on Sunday in Chungli. Some members of a pro-KMT organization say that the party would benefit from the infusion of fresh blood.
Photo: Liu Hsin-de, Taipei Times
Eric Chu (朱立倫) and Tsai Ing-wen (蔡英文), the presidential candidates for the KMT and DPP, respectively, visited the US last year in part to court Taiwanese-American voters, some of whom will take flights home to vote in Saturday's election.
But just as in Taiwan, younger Taiwanese in the US have tended to gravitate more toward the DPP, and its message of a distinct Taiwanese identity, than to the KMT.
OLD BOYS NETWORK
Wu, who is not a KMT member, said part of the problem is that the KMT is less creative than the DPP. He added that the KMT does not reach out to people who are more capable, but instead generally relies on those who have a "background" with the party, such as people with relatives who are also KMT members.
"In the past two decades, I can see the difference between the DPP and KMT," Wu said. "The DPP is more energetic because they have more new blood."
For David Kwang (鄺迺智), a 35-year-old Taiwanese American who lives in New York, Chu is the better choice to be Taiwan's next president. Kwang, who served as president of the Taiwan Benevolent Association in New York in 2013 and 2014, said he traveled to LaGuardia Airport in Queens to welcome Chu when he visited New York back in November, but Kwang didn't attend any of the events held for him since he's not a member of the KMT.
Kwang says he became interested in Taiwanese politics after learning about missile tests that China conducted between 1995 and 1996. The tests were viewed largely as a response to former President Lee Teng-hui's (李登輝) being permitted to travel to the US in 1995 to give a speech at his alma mater, Cornell University. At the time, Lee's trip infuriated the Chinese government, which saw it as a threat to the one-China policy.
"I said, 'Oh, okay, I should be aware of what happens over there,'" said Kwang, who was born in Taiwan and came to the US when he was nine. "After all, I still have relatives over there, and I certainly don't want anything to happen to them."
KMT BY DEFAULT
When it comes to party choice, some younger Taiwanese Americans have selected the KMT by default, Wu said. Younger members of the association, he explained, join because they don't like the DPP, a feeling Wu said stems from interactions they have with other Taiwanese Americans.
"They may not really like [the] KMT, but they feel the KMT is at least better, safer," said Wu, who was born in Hong Kong and moved to Taiwan when he was eight.
Wu said one vexing issue for some younger Taiwanese-American members of the association is a sticker, created by a pro-independence group last year, that reads "Republic of Taiwan." Some Taiwanese have put those stickers on their passport covers to replace the words "Republic of China," Taiwan's official name.
Taiwan's Ministry of Foreign Affairs said last September that affixing stickers to the cover of a Republic of China passport is against the law.
"When the young people in our association talked about this, they said this should be illegal," Wu said. "We would never change the United States passport to something else."
Wu, however, credited the DPP with being able to channel the energy of young people, both in Taiwan and abroad, and also criticized the KMT for not doing enough to bring fresh talent into the party.
"This is very difficult because I realize that we can see that those second generation of KMT members are actively inside the KMT, but this is just like their own playground," Wu said. "They don't reach out to those people who are more capable and that have passion to support the Republic of China or the KMT issues."
Comments will be moderated. Keep comments relevant to the article. Remarks containing abusive and obscene language, personal attacks of any kind or promotion will be removed and the user banned. Final decision will be at the discretion of the Taipei Times.