Love, blood and watery murder
It may not exactly be your usual Christmas fare, but David Bobee's thunderous production of Victor Hugo's 1833 play 'Lucrece Borgia' is certainly a cracker
Reunions of estranged mothers and sons. Family tensions and squabbles. All that red. Who doesn't feel like a little murder over Christmas?
The programming staff at the National Theater Concert Hall have definitely pushed the envelope with their holiday offering this year, French director David Bobee's production of Victor Hugo's 1833 play about the original bad girl of the Italian Renaissance power family, the Borgias, famed for their sexual excesses and murders.
To play the protagonist — heroine just does not seem the right term — Bobee recruited one of the most famous "bad girls" of French cinema, 51-year-old Beatrice Dalle, who made her stage debut when Lucrece Borgia (烈愛‧波姬亞) opened at the Cheteau de Grignan in France on Aug. 23 last year.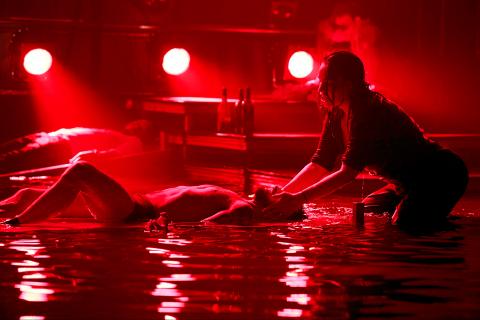 French director David Bobee's production of Victor Hugo's play Lucrece Borgia will be performed tomorrow through Sunday at the National Theater in Taipei.
Photo courtesy of Arnaud Bertereau/ Agence Mona
Lucrece was the illegitimate daughter of Spanish cardinal Rodrigo Borgia, who later became Pope Alexander VI, the grand niece of Pope Callixtus III, and sister to the ambitious Cesare as well as Giovanni and Gioffre. She is remembered for her love life and her success as a poisoner — a true femme fatale, but it would be more accurate to see her as a pawn of her fiercely ambitious and power-hungry father and Cesare.
She was married three times, all alliances that initially benefited her family, but her first marriage (when she was 13) was annulled and her second husband was murdered by one of Cesare's servants. Other lovers met with unfortunate ends, and there have always been a myriad of rumors of incest involving Lucrece and Cesear or with her father. In her later years — she was only 39 when she died — she became known as a patron of the arts in Ferrara and turned to religion after the death of her son, Rodrigo.
While Lucrece's life was full of drama, Hugo embellished it even more as he turned it into a play that centers on a lost son, a jealous husband, a woman seeking redemption through her love for her son and mistaken identities. His Lucrece is a woman, a monster, but in the end, a mother above all else.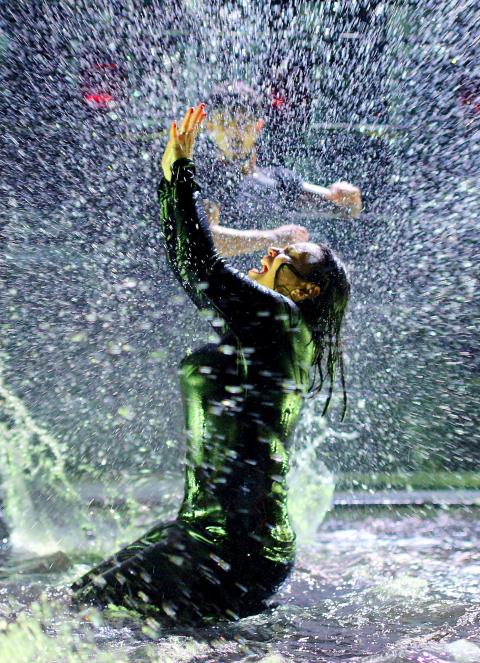 French film actress Beatrice Dalle stars in director David Bobee's Lucrece Borgia at the National Theater in Taipei this weekend.
Photo courtesy of Arnaud Bertereau/ Agence Mona
The play opens in Venice — enemy territory for Lucrece and the Borgias — before carnival, with Lucrece seeking contact with a son, Gennaro, that she had given up to protect his life. He has grown up unaware of his ancestry, only hearing rumors about the Borgias, for whom he has only contempt, and receiveing letters from a mysterious "aunt." Lucrece's husband mistakenly belives the young man is another of his wife's lovers, and plots to kill him. She plots to save him. Before it ends, Gennaro, several of his friends and Lucrece herself are dead.
Given the play's setting in Venice and later Ferrara, Bobbe has come up with an ingenious set: a shallow pool that covers the stage and several moveable wooden boards for the actors to stand on, although they end up spending a lot of time in the water. There is a live rock musician and acrobats and an almost blinding light show, all of which have become signatures of Bobbe, now the director of the National Dramatic Art Center of Haute-Normandie, and the first company he founded, Rictus, in 1999 when he directed his first production, Je T'a(b)ime ("I love/destroy you").
The play is in French, with Chinese surtitles, and runs about two-and-a-half hours without intermission. There will be a post-show discussion after Sunday's matinee with some of the cast.
Performance notes:
WHAT: Lucrece Borgia
WHEN: Tomorrow and Saturday at 7:30pm, Sunday at 2:30pm
WHERE: National Theater (國家戲劇院), 21-1 Zhongshan S Rd, Taipei City (台北市中山南路21-1號)
ADMISSION: NT$1,200 to NT$2,500; available at NTCH box offices, online at www.artsticket.com.tw and at convenience store ticketing kiosks. Only seats left for Saturday and Sunday's shows are in the NT$1,200 and NT$2,000 categories.
Comments will be moderated. Keep comments relevant to the article. Remarks containing abusive and obscene language, personal attacks of any kind or promotion will be removed and the user banned. Final decision will be at the discretion of the Taipei Times.