Straight outta Jhonghe
Taiwanese hip-hop artist Junsheng may have set off a domino effect that ended Taiwan's most popular TV talk show, and laid bare a growing cultural rift between Chinese and Taiwanese TV audiences
In just one month, Taiwanese rapper Junsheng (俊升) has become one of the most name-dropped artists in China, but it's not for his free-style skills.
Since Junsheng's appearance on CTi's (中天電視台) variety show Here Comes Kangxi (康熙來了), he's received threats on Facebook for his rap performance on the show, where he dissed Chinese tourists as zhuangbi (裝屄), a slang expression that roughly translates as "acting like pretentious pricks."
"Shortly after my performance, a huge crowd of people jumped over the great Chinese firewall, and threatened to kill my entire family," Junsheng wrote in a post on Facebook shortly after his appearance.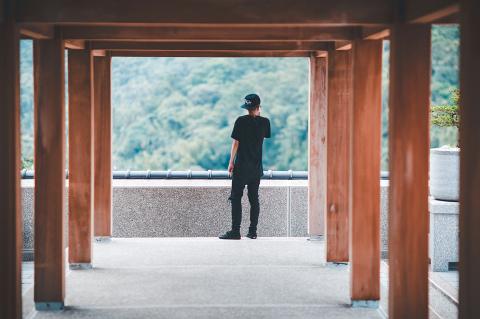 Junsheng, at Jhonghe's White Horse Temple.
Photo courtesy of Gamy Wong
In contrast, he's received widespread praise from Taiwanese fans for his determination to stand up to abuse from Chinese netizens, and his rebuttal diss track, Glass-Hearted Babies (玻璃娃娃), which targets China's hyper-sensitivity to insults and inability to handle criticism.
Junsheng represents a resurgence of self-assured Taiwanese musicians who proclaim their identity as a matter of fact, and are also puzzled by the scrutiny their identity receives from Chinese netizens.
His one-off diss sent the producers of Here Comes Kangxi into crisis mode, later apologizing for Junsheng's "offensive behavior" on the show's Facebook page, and on its Sina Weibo page in China. Media reports have even linked the incident to the resignation of show host Kevin Tsai (蔡康永).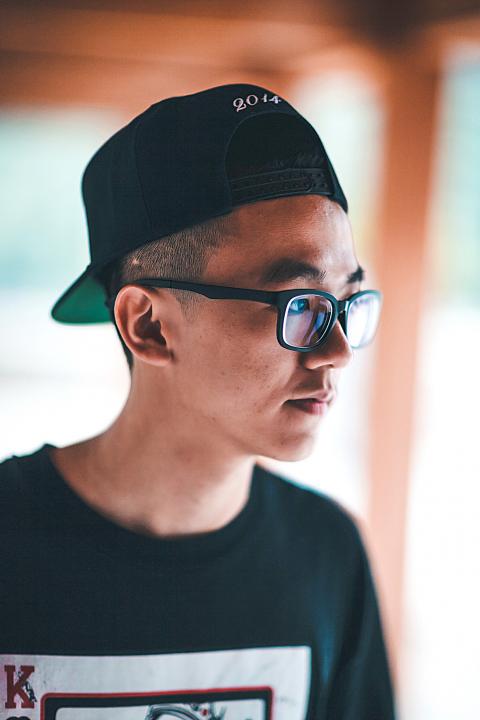 Hip-hop artist Junsheng.
Photo courtesy of Gamy Wong
Not a bad year for an 18-year old hip-hop prodigy.
CHAMPION DISSER
Born and raised in New Taipei City's Jhonghe District (中和), Huang Chun-sheng (黃俊升) performing under the stage name Junsheng, has had a momentous rise in Taiwan's free-style hip-hop battle competition scene.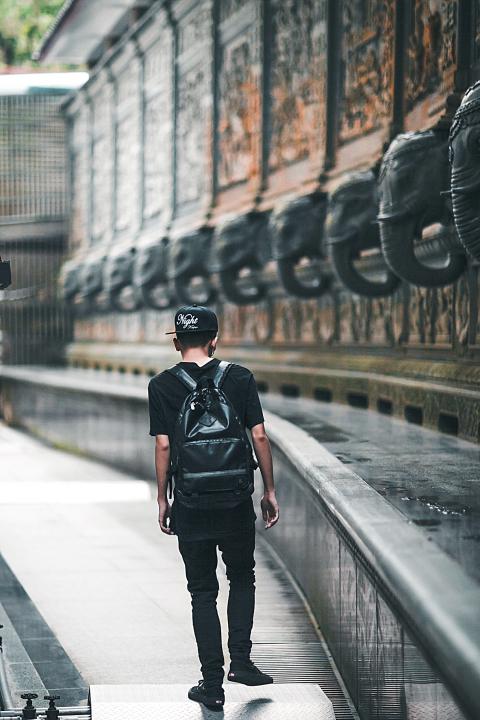 Junsheng, at Jhonghe's White Horse Temple.
Photo courtesy of Gamy Wong
Since becoming interested in hip-hop three years ago, he's been crowned champion at an impressive number of "mic-battles," a competition where rappers sing out impromptu rhymes and "diss" their opponents.
On the strength of his past performances, Junsheng was invited to be a guest among a dozen other aspiring hip-hop musicians to appear alongside music veterans MC HotDog, Chang Chen-yue (張震嶽) and hip-hop group MJ116 (頑童) for a special taping of TV talk show Here Comes Kangxi.
"It was cool. There were two generations of hip-hop artists on stage," Junsheng said in an interview with the Taipei Times.
But Junsheng's generation represents a new shift in thinking for Taiwanese musicians, where singers and bands like award-winning Fire EX (滅火器) express their Taiwanese identity resolutely, without relating it to China.
Upon receiving the Golden Melody Award this year for best song, Fire EX expressed their hope to make Taiwan a better 'nation,' a comment that was cut by censors in a Chinese simulcast.
Writer and former Democractic Progressive Party (DPP) legislator Lin Cho-shui (林濁水) has labelled younger Taiwanese' confidence in their identity as "organic independence" (天然獨).
While more young artists are expressing a strong Taiwanese national identity, Taiwan's media companies are mired in dealings in China where self-censoring content related to an independent Taiwan are the norm.
"Kangxi has a lot of sponsors with Chinese brands, and CTi's parent company — Want China (旺旺) — has really influenced the content of their TV shows," said Jessica Chang Chi-ling (張芷菱), an organizer of the Youth Alliance Against Media Monsters group (反媒體巨獸青年聯盟). "But the more they change the content to be pro-China, the more Taiwanese young people don't want to watch their shows."
During the taping of Here Comes Kangxi, many of the young rappers were cued by co-host Little S (小S), also known as Dee Hsu (徐熙娣), to perform a freestyle rap performance, leading Junsheng to rhyme: "I'm not like Chinese tourists everyday acting like pretentious pricks, without rhyme or reason I might be added to the blacklist."
Feeling uncomfortable about the lyric, Junsheng asked producers of the show to delete the lyric in question.
"I emphasized to them over and over, delete it," he said. "When you invite ordinary people with no TV experience onto a show, they don't know what opinions are alright to express on air," he said.
Here Comes Kangxi producer Lee Kuo-chiang (李國強) confirmed that the discussion did take place. "It was communicated after filming that the lyric would have to be deleted," said Lee in a phone interview with the Taipei Times. Lee also confirmed that a production error led to the diss lyric still making it to air.
Shortly after, Chinese netizens hopped the Great Firewall of China, and flooded the Here Comes Kangxi Facebook fan page with insults and complaints.
THE TIPPING POINT
But Chinese netizens didn't stop there. Junsheng also received his fair share of hate mail and comments on his Facebook fan page.
Junsheng says he had no intention of creating a stir, and mentions that freestyle rapping requires a constant flow of lyrics with a new and original rhyme at the end of each line. Rhymes that reveal hard truth's about a person or society have a resounding effect with the audience.
"When we perform, we say anything and everything," said Junsheng. "If you start saying 'you can't say this, you can't say that,' then it's not impromptu, it's not freestyle."
But Junsheng's on-air slip-up has had the effect of drawing a battle line between Chinese and Taiwanese rappers, creating a kind of hip-hop rivalry similar to the US' "East Coast/West Coast" rap rivalry of the 1990's.
In a post on China's Weibo (新浪微博) blog, amateur rapper Fu Wenhan (付文瀚) rhymed: "you say your name is Junsheng and you think you're legit, but as soon as you grab the mic it sounds like you're falling in shit."
Junsheng said there has been about 20 diss tracks directed at him, but he does not pay them much heed. "All their lyrics make no sense, and have really stupid rhymes. Some of them can't even keep a rhythm."
In contrast, Junsheng's rebuttal diss track hits back at his critics in language many Chinese fans may not be used to hearing about their political leaders.
"The bait's too easy to take, I'm like Wu Song (武松) riding a tiger on the prowl, y'all can suck mine but y'all be too used to sucking Chairman Mao's (毛澤東)," raps Junsheng in Glass-hearted Babies.
As the controversy continued to brew over the following week on Facebook and Weibo, Here Comes Kangxi co-host Kevin Tsai made a surprise announcement that he would resign from the show in order to pursue other interests. Co-host Little S followed suit with her own resignation, citing a lack of interest in hosting the show if Tsai did not stay on.
Because the incident with Junsheng and the resignations occurred less than one week apart, Taiwanese media reports suggested a link between the two, a theory Junsheng has reservations about.
"If you do a program for so many years, winding down is only natural," Junsheng said. "I think this incident conveniently presented itself, and they used it as a springboard to end the show."
Here Comes Kangxi producer Lee denied any link. "Those two events have nothing in common, and is not the reason why Kevin Tsai resigned," said Lee.
But the incident says much of the shift CTi programming has made over the last decade in order to cater to the larger Chinese television market. Once Taiwan's most popular TV talk show in the mid-2000s, Here Comes Kangxi has avoided topics and guests that explore Taiwanese consciousness and identity in order to avoid angering it's Chinese audience.
But the key problem the show faced may lie in the show's paradox of having to serve two viewing audiences that are evolving two distinctive identities. All it took was a spat between Junsheng and Chinese rappers to shine a light on the contradiction.
Comments will be moderated. Keep comments relevant to the article. Remarks containing abusive and obscene language, personal attacks of any kind or promotion will be removed and the user banned. Final decision will be at the discretion of the Taipei Times.