Live Wire: Hooray! The MoL legalizes open mic night for foreigners — well, kind of
On Sept. 18, the Ministry of Labor revised regulations covering public performances by most of Taiwan's foreign residents, legalizing several new categories of public performances.
The good news is that foreigners no longer need a special work visa — commonly referred to as a "performance permit" — in order to perform music or drama in bars, theaters, cultural venues, music festivals, commercial venues or any other public or private space.
The bad news is that these no-permit-required performances are only allowed if the foreign performers are not paid and no tickets are sold.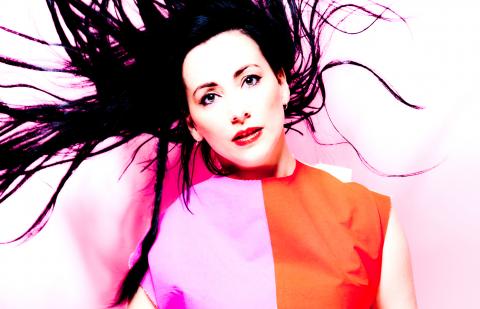 Kate Havnevik will perform tonight at Pipe in Taipei City.
Photos courtesy of Stark & Co
How are you supposed to pay for your theatrical production or musical event? Well, that's still mostly your problem.
The changes come as the result of lobbying efforts by the group Forward Taiwan (前向台灣), which generally seeks to build "a strong economic future for Taiwan through forward-thinking immigration reform," according to its mission statement.
Forward Taiwan has been lobbying to legalize low-paid gigging and theater by Taiwan's international residents. The current changes fall well short of that goal, but they do for the first time legalize open mic nights, performances at the Red Room, foreigner-organized concerts and plays and of course singing at birthday parties.
Yes, that's right! Three of nine newly legal performance categories are specifically related to birthday parties (specifically: in a private home, in a riverside park and in a bar) where it is now legal for foreigners to perform music. This of course means that up until two weeks ago, performing music at your friend's birthday party was illegal.
I don't know about you, but I say we can now all breath a sigh of relief that we never got busted for singing Happy Birthday to a friend inside a private home, and we can sleep easily knowing that from this point forward, we can sing the birthday song anywhere, anytime without fear of being deported. Do you feel me?
But please note, if you are going to run out and hold a beach rave with all your English teacher buddies as DJs, and then sell tickets on the Internet, that is most definitely still illegal — unless every DJ has a work permit, APRC or spousal visa. The same goes for concerts and livehouse performances.
According to the new rules, money can be collected at performances in some situations. Bars or cafes are allowed to ask for a minimum charge. Events can sell food and drinks. And performers and audiences are allowed to "share" the costs of the performance, though this is left vague and does not include selling tickets.
"For the time being, this was the best we could do," said Chen Hui-ling (陳慧玲), a lawyer with Winkler Partners, a firm lobbying for the revisions.
"They [the Ministry of Labor] drew the line at selling tickets at the door. We will continue trying to improve these laws, but change will come gradually," Chen added.
The revisions were issued as an official interpretation of the Employment Services Act (就業服務法). This new interpretation overturns an earlier interpretation, which ruled that any performance by a foreign national, whether paid or unpaid, would be considered as "work" and therefore require a work permit.
To the credit of both the government and lobbyists, the language of the law calls for an attitude of tolerance. It specifically explains that the changes have been enacted "in the face of globalization, in order to encourage foreigners in Taiwan to participate in various types of cultural exchange...."
Chen says that the Ministry of Labor will continue to consider changes, and that more meetings could take place by the end of the year.
However, protecting Taiwanese jobs is "the overarching purpose enshrined in the Employment Services Act, and some conservative elements in the bureaucracy are not willing to change anything if even one Taiwanese will lose a job opportunity to a foreigner," says Michael Fahey of Forward Taiwan.
The changes apply to all visa types, except Alien Permanent Residency Certificates (APRCs) and spousal visas, which can already legally perform under existing rules.
Small improvements have also been made to the application process for performance permits. Applicants are no longer required to get a letter from their primary employer granting permission to perform. Previously, the owner of your cram school or the president of your brokerage firm was required to provide an official letter, stating it was okay for you to sing a song at your friend's birthday party. Obviously, there is still some ways to go.
DANIEL PEARL DAY
Interesting to note, one provision in the new labor law — for "concerts that are commemorative and for the public good" — was specifically created for Daniel Pearl Day, which was just held last Saturday in the Hakka Culture Park in Taipei.
Daniel Pearl Day, which commemorates the life of journalist Daniel Pearl, drew 5,000 to 6,000 people last weekend in Taipei, estimates Sean Scanlan, the organizer. Sponsored in part by the American Institute in Taiwan (AIT) and attended by AIT director Kin Moy, the free outdoor concert has grown to become one of the largest and most loved celebrations for Taiwan's international community.
Scanlan noted that Daniel Pearl Day is much larger than Canada Day, a similar event at the same venue which claims attendance of 10,000.
PIPE'S FOURTH ANNIVERSARY PARTY
This weekend Pipe celebrates its fourth birthday with a performance by Norwegian diva Kate Havnevik and British songwriter and musician Guy Sigsworth, followed by an afterparty till early morning.
Havnevik is perhaps Norway's closest answer to Bjork, a singer who combines a voice of piercing arctic clarity with downtempo electronica and a quirky fashion sense. Over the last decade, she's released four solo albums, had several songs featured prominently on American TV series, and recorded vocal tracks with Royksopp. Sigsworth is a multi-instrumentalist known mainly as a producer for Bjork, Madonna, Alanis Morissette and other top female singers.
■ Kate Havnevik featuring Guy Sigsworth will perform tonight with local singer Riin at 8pm at Pipe, 1 Siyuan St, Taipei City (台北市思源街1號). Tickets are NT$900 in advance through Indievox.com or NT$1,200 at the door. After 11pm, admission is NT$200 to hear DJs Benjamin Se7en, Slammer and Years.
Comments will be moderated. Keep comments relevant to the article. Remarks containing abusive and obscene language, personal attacks of any kind or promotion will be removed and the user banned. Final decision will be at the discretion of the Taipei Times.