A turtle never forgets
Turtle Island, off the coast of Yilan, not only provides for spectacular dolphin watching but also has a rich history which its former inhabitants have been fighting to preserve
After more than 15 years of being barred by the government from visiting his ancestral home, Chien Ying-chun (簡英俊) can still remember the moment when he set foot on Turtle Island (龜山島) again.
Speaking in a thick Hoklo (also known as Taiwanese) accent, Chien said, "When we arrived, we took our time looking at every stone, every object, remembering our feelings toward the land."
We weren't on Turtle Island, however. When the entire population was evacuated in the 1970s, most of them were resettled in a cluster of residences now known as Gueishan Borough (龜山里) near Dasi (大溪) on the Yilan coast. Chien met us at the Turtle Island Museum in the community center and we talked amid artifacts, displays and memories of his past, including a 72-sided kite and a detailed model of the 2.8km2 island — head, shell, tail and all.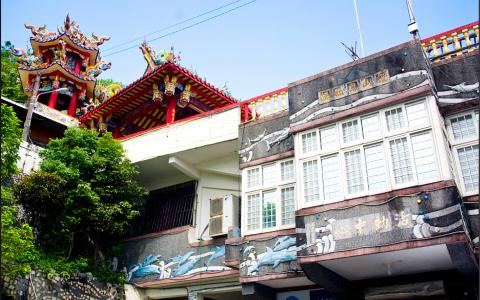 The Turtle Island community center and temple, which is also where the museum is housed.
Photo: Han Cheung, Taipei Times
DREAMING OF TURTLE ISLAND
Fascinated by cartography as a teenager living in Taipei, I would carefully study maps of Taiwan and take note of the various offshore islands. Turtle Island was seemingly the most accessible, its distinct shape clearly visible from the highway on one of our many drives down Taiwan's east coast. It's also one of the few active volcanoes in the country.
Yet, despite being so close, Turtle Island was a military base off limits to regular citizens, and I could only wonder what things were like from afar.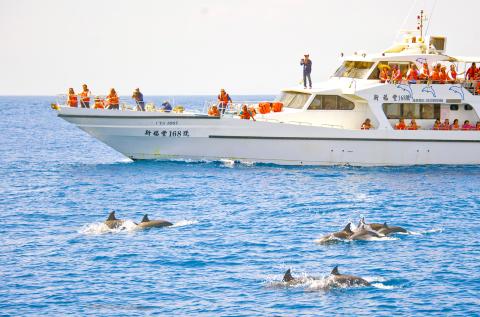 A tourist boat pauses to let its passengers watch spinner dolphins swim by.
Photo: Han Cheung, Taipei Times
I left Taiwan in 1999. A year later, the government opened it to the public, but only allowing 250 visitors per day, and I could never manage to secure a spot on my visits back. On July 1 this year, the Northeast Coast National Scenic Area Administration (東北角國家風景區管理處) announced that it was increasing the number of visitors to 1,800, and Turtle Island returned to my mind.
Permits must be reserved in advance, and visitors must join a guided tour that departs from Wushih Harbor Visitor's Center (烏石港遊客中心). The easiest way is probably to directly contact one of the tour companies, who will take care of the permit process for a small fee.
We chose the three-in-one package that included dolphin watching, circling the island and landing for a short walk.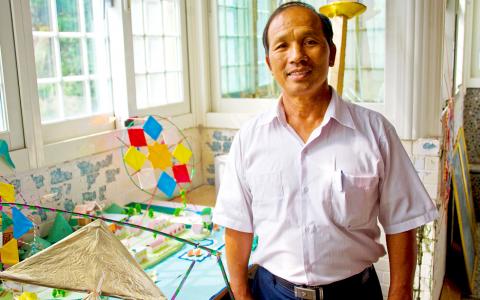 Chien Ying-chun is a Turtle Island native who led the campaign to revive Gueishan Borough so the village's descendants wouldn't forget about their ancestral home. He also served three terms as borough warden.
Photo: Han Cheung, Taipei Times
Our guide was a young woman in her late 20s. An Yilan native, her father owned and operated a tour boat and she practically grew up with Turtle Island. We left Wushih around 9:30am, and I stood on the bow of the ship, watching Turtle Island grow larger and clearer.
DANCING WITH DOLPHINS
As the boat neared the island, we turned and started following the coast. The turtle shape wasn't apparent yet, as the head pointed away from the Taiwanese mainland. As we circled the island, its outline changed every second, sometimes looking like a dog, sometimes an alligator, until we finally reached the rocky head.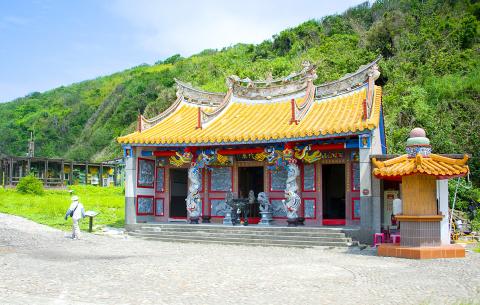 The only temple on the island, this was a Matsu temple before the Matsu statue was moved along with the residents to Yilan in the 1970s. The soldiers later turned it into a Guanyin temple.
Photo: Han Cheung, Taipei Times
A tour guide chattered through the boat's telecom for the entire time, introducing everything from the structure of the boat to the sulfur deposits on the island to the "eight scenes" seen while circling the island. These include the tail which changes its length and direction with the currents, described as the turtle shaking its tail. When the turtle wears a "hat" of clouds, locals believe that it signifies bad weather.
The boat continued east for a while until we found ourselves riding alongside dolphins, leaping gracefully forward in groups or making acrobatic flips and majestic spins in the air. These are spinner dolphins, the most common species in these waters. A few groups swim very close to the boat, and everyone snaps away on their cellphones.
FORGOTTEN VILLAGE
Once on the island, we meet Chien Chia-min (簡佳敏), the daughter of a Turtle Island native and Chien Ying-chun's niece. We take reprieve from the blistering sun in what used to be the island's only elementary school — now used as a military base — and chat about how life was in the only village which was home to about 750 people at its peak.
Sources point to the mid-1800s when people started inhabiting Turtle Island, mostly arriving from China's Fujian Province with others coming from Taiwan. They were all fishermen by trade and grew sweet potatoes and peanuts on the mountains. They lived in a tiny lakeside village of densely clustered stone houses with thatch roofs, each with six to eight inhabitants. Cement dwellings started appearing in the 1950s.
Chien was born in Yilan, but she heard many stories about life on Turtle Island growing up. She says the entire island only had one generator, so most houses used kerosene lamps. There was one television that people would gather around the temple to watch, and water was obtained from natural springs. Her grandma used to salt and dry fish on the thatch roofs for preservation because of lack of refrigeration. Most staple foods had to be imported from the mainland.
Turtle Island residents started moving to the mainland in the early 1970s, some citing hardships due to isolation, fire and typhoons, while others claim that the government forced them to leave to use the island as a military base. The last family moved in 1975 or 1977 depending on the source, and Turtle Island was soon closed to the public — even to natives, who brought their family's graves and the statue from the island's Matsu temple with them.
Chien's family left in 1974. She says her father wanted to leave the island for better opportunities, and coupled with pressure from the government, the entire family moved, "half-voluntarily," in her words. When the island opened to the public, her father became a tour boat operator and her mother a tour guide. She first set foot on the island in 2000 to help out with the family business.
"Through hearing stories, I already had an indescribable, extraordinary feeling towards the island," she says. "As a child, I wasn't happy that I had to work, but I was amazed at how my grandma and father could live in conditions like this."
In 1977, the natives were settled in Renze Community (仁澤社區), which was administratively part of Dasi Borough. The original Gueishan Borough was abolished in 1978, and with it the last official trace of the islanders' heritage.
RECLAIMING THE PAST
Chien Ying-chun didn't think he would ever leave Turtle Island. After finishing elementary school, he became a fisherman like his ancestors despite excelling academically. But when he turned 23, his family was moved to the mainland, against his wishes, he says.
In the 1990s, the villagers started a campaign to restore Gueishan Borough. Chien is a humble man, and didn't reveal that he was the campaign leader until asked.
"The elders were worried that after a few generations, our descendants would forget that we came from Turtle Island," he says. "A disappearance of a borough could lead to the disappearance of culture and history."
Yet government officials weren't supportive of his idea, one of the reasons being that Renze didn't contain enough households to constitute a village. He pleaded his case from local representatives to the presidential palace, but their case fell on deaf ears.
"It was a tough and bitter struggle," he says.
Chien never gave up, and numerous petitions and protests later, he scored his first victory in 2000 when Renze was renamed Turtle Island Community (龜山島社區). Chien didn't stop there. In July 2001, the villagers got their wish. Today, every house number plate bears an outline of Turtle Island.
Chien was subsequently elected borough warden, serving for three terms. Today, he's on the Toucheng Township (頭城) representative council and serves as head of Turtle Island Community's development association. He's responsible for setting up the museum and also has published two books about his former homeland.
Now, Gueishan Borough residents visit Turtle Island every May to pay tribute to their ancestors, which includes bringing the Matsu statue back to its original home.
During his campaign, Chien also decided to hit the books despite continuing to work fulltime as a fisherman. He received his junior high certificate in 1995 and never stopped, earning a master's degree in public affairs in 2012. He started classes for his doctorate last month.
"I've always loved studying, but I wasn't able to continue after elementary school," he says. "If I hadn't moved, I probably would have remained a fisherman, working from morning to evening. Going to school changes your perspective on things."
So did being forced off his homeland end up as a positive event?
"I think it's good," Chien says. "It gave me the opportunity to serve."
If You Go
Registering to visit
Turtle Island is open to the public from March to November, and permits are available every day except for Wednesdays. You can register on your own here: kueishan.necoast-nsa.gov.tw/main.php?id=252, but there is no English version of the Web site. All visitors must join a guided tour, and you are responsible for finding your own tour after you secure your spot. The easiest way is to contact a tour company directly, who will take care of the permitting for you.
Getting there
All tours depart from Wushih Harbor Visitor Center (烏石港遊客中心), which is accessible either by car (parking available) or you can take a train to Toucheng (頭城) and take a taxi, which is about a five-minute ride.
Comments will be moderated. Keep comments relevant to the article. Remarks containing abusive and obscene language, personal attacks of any kind or promotion will be removed and the user banned. Final decision will be at the discretion of the Taipei Times.