Book review: Ten tales from the market stalls
Taipei Writers Group's second anthology has its moments but doesnt quite live up to its predecessor, possibly because of its set theme of night markets
This is the second collection of short stories from the Taipei Writers Group. The first book, Taiwan Tales, was reviewed in Taipei Times on March 19. Then there were eight stories, now there are 10, and all but four are by newcomers. But this time there's a difference. Whereas in the first collection authors were, naturally enough, allowed to write on whatever subjects they chose, this time there appears to have been a set theme: Taiwan's night markets.
I think this was a mistake. Whereas night markets are famous for the variety of foods available in them, they are themselves remarkably similar. An additional problem for me was that I myself am no great lover of the places. Consequently, reading 10 tales each of which has an obligatory night market somewhere in its structure fairly quickly became wearisome. Writers are naturally different one from another, so why restrict this natural variety by imposing a compulsory motif?
I got the distinct feeling reading this collection that some of the authors were annoyed at this condition being imposed on them, and included a night market only out of a sense of obligation. Indeed, it almost became a rule that the better the story, the less important was the night market within it.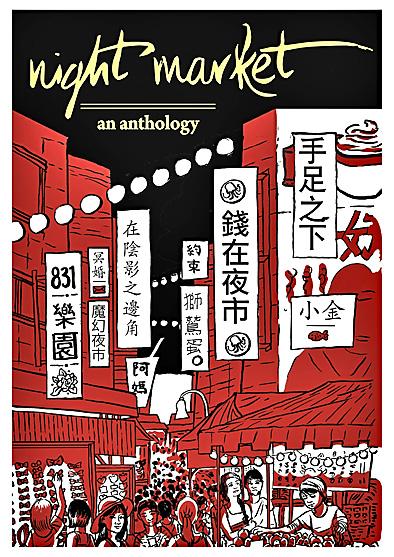 Night Market: An Anthology, by Taipei Writers Group
This was certainly true of the first item, a masterly tale by newcomer Katannya Jantzen. It's set on Kinmen during the most serious confrontations with Beijing during the 1950s. A rumor goes around that a new plan is afoot to reward the military stationed on the island, and this turns out to be licensed prostitution. What's so brilliant about this story is that it's narrated by a very young girl who observes what's happening but doesn't understand it. As such, it's reminiscent of L.P. Hartley's classic novel The Go-Between. But this new tale, showing adult affairs seen through the eyes of innocence, is indeed excellent in its own right.
Next comes At the Shadow's Edge by the experienced UK writer J.J. Green. It's set in modern times and concerns a pathologist who's conducting an autopsy on a teenage orphan, a boy who appears to have died from a heart attack. But the female doctor can find none of the usual physical signs of this, and goes in search of the boy's family to investigate the background. The result is a humane and realistic tale, and a night market scarcely features in it.
CK Hugo Chung's The Ground Beneath tells the story of a Taiwanese eldest son, happy to carry his burden of responsibility, and his younger brother who appears determined to live a gay life divested of any family connection. This younger brother, however, is killed in a road accident in Tamsui, but text messages from him continue to arrive on his brother's cellphone. A necromancer advises that only through the most solemn sacrifice can he be brought back from the dead. As usual with this writer, the prose is sharp and up-to-date, like the phone texts themselves. And indeed the cellphone almost assumes the role of one of the characters.
Newcomer Jeremy A. TeGrotenhuis contributes a story set in a fantasy world. An alchemist is asked to prepare a potion that will help someone who claims to have fallen out of love with his wife. After considering concoctions that include a cherubim's remains, he strikes a lucrative deal by selling the customer a liquid of which the main ingredients are the ashes of papers bearing the man's and his wife's names. It would be a pity to divulge the outcome, but this story is certainly one of the more successful in which a night market plays a prominent part, and displays a sophisticated intelligence.
Brian Q. Webb's Money at the Night Market was a story I didn't fully understand. Paradoxically, perhaps, it was the one in which a night market played the biggest part. A Taiwanese character, who might be a triad member, discovers that some hated foreigners have taken over a room near the market where he works. He breaks in, only to discover both beautiful visions and the painful stings of an octopus. What the foreigners were up to never becomes clear, to this reader at least.
Katrina A. Brown returns to Keelung with Bound. A New Zealander, like the author, forms a relationship with a Taiwanese night market worker, A-Wan, who also has ambitions of becoming a DJ. Things don't turn out particularly well, and this was the tale during the reading of which I felt the shades of the night market world really beginning to close in. "Once you get close, you become bound" appears to be the moral of the story.
Pat Woods, another newcomer, fantasizes in his story The Red Envelope about marrying a ghost bride. Never pick up a red envelope seen lying on the ground if you want to avoid this fate, apparently. But the story is told with sensitivity, and in a clear style. And the would-be phantom wife is given a gentle and even thoughtful personality.
The book concludes with three tales that are all more or less fantasy. First there's a continuation by L.L. Phelps of her Harry Potter-ish tale, begun in the previous collection, about mythical creatures living in tunnels of the Taipei MRT. This time it's gryphons. Clearly this saga is set to be continued.
C.A. Norman's Granny features a night market prominently. A student works on her family's stall selling charms but routinely scoffs at the superstition involved. Unsurprisingly, she encounters ghosts, a phantom Taoist priest included. It would be wrong to give away more.
Lastly, Kevin Ke's Little Gold is about a goldfish about to be sold and taken on an interplanetary trip by some aliens. Much of the narrative is a monologue by the fish itself. And thus the volume ends.
All in all, I had to feel that this collection failed to live up to the high standard of its predecessor. This may not be entirely due to the obligatory night market ingredient, but the impression nevertheless remains that the best writing is rarely done to order. The first story is probably worth the cover price, however.
Publication Notes
Publication Notes
Night Market: An Anthology
By Taipei Writers Group
225 PAGES
TWG Press
Softback: Taiwan
Comments will be moderated. Keep comments relevant to the article. Remarks containing abusive and obscene language, personal attacks of any kind or promotion will be removed and the user banned. Final decision will be at the discretion of the Taipei Times.