A true Taiwan brew
Local craft beer company Alechemist, founded by National Taiwan University agronomy students, insists on using ingredients grown in Taiwan
What happens when a group of National Taiwan University agronomy students step out of their labs to tackle the nation's low agricultural diversity in a culturally relevant fashion?
Enter Alechemist (禾餘麥酒), a craft beer company that insists on using ingredients produced in Taiwan. If a certain crop isn't being produced in Taiwan, they plan to work with farmers to grow it. So far, they've been able to use Taiwanese products as their main ingredients, but are still working on cultivating secondary ingredients such as hops. They've come up with one product so far, a cream ale made with self-produced wheat and Tainan white corn, the chewy type often found grilled in nightmarkets.
Founder Chen Hsiang-chuan (陳相全) says there aren't many products nowadays that represent local food. For example, people don't make cocktails out of Kaoliang liquor anymore.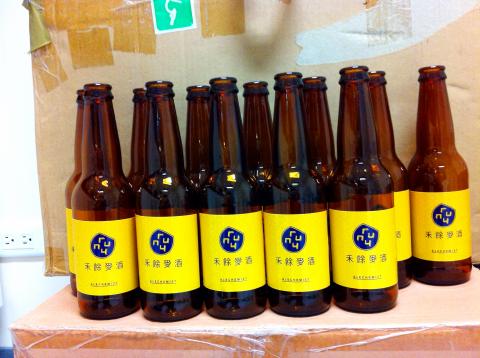 Beer bottles with the Alechemist logo. Warning: Excessive consumption of alcohol can damage your health.
Photo courtesy of Alechemist
EXPERIMENTAL CULTIVATION
As agronomy students, Alechemist member Lu Hsin-jie (盧心潔) says they know better how to communicate with the farmers. They can also work with farmers to create different types of the same crop to experiment in the brewing process.
"We can adjust the cultivation methods according to what characteristics we want the brew to have," she says.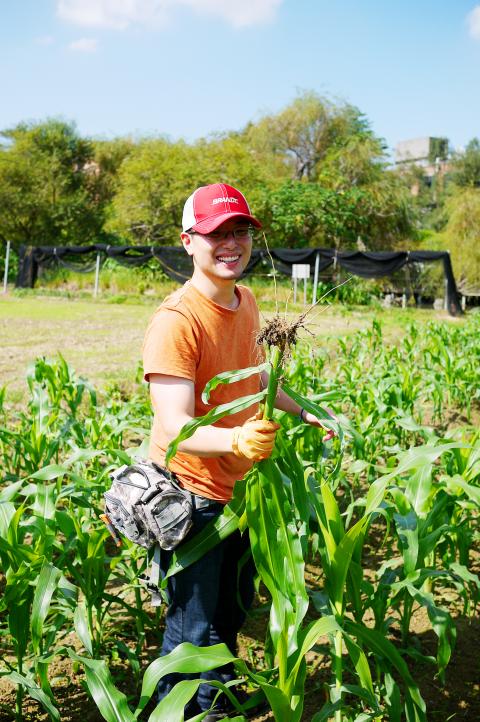 Alechemist founder Chen Hsiang-chuan holds up Taiwanese corn used in the company's first beer, a cream ale.
Photo courtesy of Alechemist
They also hope to facilitate cultivation knowledge sharing between the farmers.
Lu is in charge of testing various brew formulas, which they take to a brewery in Taoyuan to produce.
"Brewing techniques are pretty much standardized," she says. "Anyone can make beer in their home. But you can do many variations with the ingredients since you can pretty much use anything with starch."
She is also experimenting with buckwheat and coixseed, which are currently being produced in Taiwan.
Lu says since their goal is to help revive mixed grain production, they won't use fruit in their beer unless there's a surplus of a certain product.
Lu says local craft beer companies tend to focus on the product but not the ingredients, mostly importing from overseas.
The decision to import makes sense, as beer-essential crops such as wheat and barley haven't been regularly produced in Taiwan for decades. While Taiwan has plenty of rice, it imports almost all of its wheat, corn and other grains.
"We do produce enough calories, we just don't produce enough variety," Chen says. "With climate change, water shortages, growing rice might not be the most viable option for us in the next 20 years. It's kind of critical to try different sources of starch."
Lu says Taiwan has the capacity to grow such crops, as they were still being produced up to 30 years ago, and wheat has seen a slight revival in the past four years.
When brewers import their ingredients, there's a high chance of overlap, Lu says.
"The same crop will have different characteristics when grown in a different environment and climate," Lu says. "That way we can make our product more unique."
Lu's team has convinced farmers in Taichung to grow small amounts of wheat, receiving their first harvest earlier this year. They have acquired barley seeds hoping to harvest the first batch next year and also plan to eventually grow corn and hops. With a definite customer and higher-profit end product, Alechemist hopes to inspire farmers to diversify their crops and decrease the amount of abandoned farmland in the nation.
"It ties into a lot of core values, letting people know that something is produced in Taiwan," Chen says. "That's something we can all be proud of, the farmers knowing that their cereal grains are going into a product that they can proudly tell people about, giving them more motivation to grow these things."
MIXED GRAIN REVIVAL
Kuo Hua-ren (郭華仁), professor emeritus at NTU's department of agronomy, says the Japanese government started to diversify Taiwan's agricultural products in the 1930s. These new crops include non-rice grains such as wheat and buckwheat.
Mixed grain production reached its peak in the 1960s, but started declining because of a shift in agricultural practices, Kuo says.
In the old days, individual farmers raised their own livestock and grew their own feed. As the government started encouraging large-scale livestock production, people started importing corn and soybeans from the US to meet increasing demands, and local production dropped.
As for wheat, Kuo says the US government provided flour to Taiwan after World War II, which increased the consumption of noodles and bread. When the US started charging for the wheat, it was still cheaper than growing it locally, so production gradually ceased.
Kuo is a proponent of reviving mixed grain production in Taiwan, where the food self-sufficiency ratio is about 32 percent with about 200,000 hectares of fallow land.
"We have so much unused land, yet we're importing so much," he says.
Kuo says mixed grains should be the crop to recultivate the land because people are eating less rice and more noodles and bread these days, and there's often surpluses of fruits and vegetables.
Ceasing production has ramifications beyond the farmland, Kuo says, as the surrounding businesses selling items such as fertilizers and agricultural equipment will be affected as well.
Why is self-sufficiency so important? Kuo says most food imports to Taiwan are products of petroleum-based agriculture. As petroleum is finite, the prices will go up as supply declines.
"Twenty years on, we might not be able to afford to import overseas grains anymore," he says.
Alechemist aims to roll out two new beers before the end of the year, perhaps an India Pale Ale, Lu says.
Alechemist's beer is available at certain restaurants in Taipei, and the company also hosts regular tasting events, though there isn't a set date for the next one.
Visit their Facebook page at www.facebook.com/alechemist.tw for more information.
Comments will be moderated. Keep comments relevant to the article. Remarks containing abusive and obscene language, personal attacks of any kind or promotion will be removed and the user banned. Final decision will be at the discretion of the Taipei Times.