Movie review: Ways into Love 來得及說再見
The commissioned documentary consists of three shorts by three directors who address social issues surrounding the old, the poor and the sick
Ways into Love (來得及說再見) is a work of socially-responsible filmmaking funded by President Chain Store (統一) with an aim to raise public awareness of issues surrounding the old, sick, isolated and poor.
The documentary is composed of three stylistically diverse shorts by filmmakers Singing Chen (陳芯宜), Shen Ko-shang (沈可尚) and Huang Chia-chun (黃嘉俊). Each tackles a different topic and is supported by one of the three participating welfare organizations: Mennonite Social Welfare Foundation (門諾基金會), Liver Disease Prevention and Treatment Research Foundation (肝病防治學術基金會) and Hondao Senior Citizens' Welfare Foundation (弘道老人福利基金會).
In A Real Meal (好好吃飯), Chen's modest and patient use of the camera introduces three elderly people who live alone and rely on services provided by volunteers from Mennonite, who deliver two meals a day to the old and the needy across Hualien. Chen subtly reveals the fear and longing of her subjects and shows how a simple act — opening a bag of rice — can be an insurmountable task.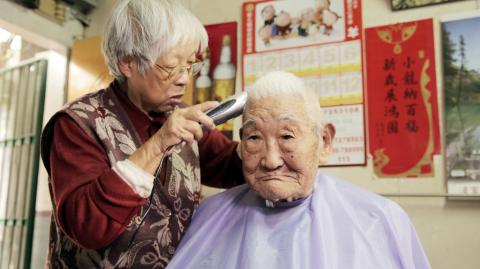 When a Women loves a Man by Huang Chia-Chun.
Photo courtesy of Good Day Films
Tseng Yu-tsai (曾有財), an impoverished man living by himself, has returned to his dilapidated hut with the bag of rice he has just bought and tries to open it with a pair of rusted scissors. After many attempts he finally succeeds, only to realize that his rice cooker has broken. Two hours pass, and Tseng, who suffers from dementia, still hasn't eaten.
Occasionally, the unexpected is caught on tape, such as a heart-wrenching moment in which Tseng suddenly turns to Chen behind the camera and says: "Nobody wants me. Who would?"
In terms of style, Murmuring Days (日日喃喃) is the most experimental among the three films. It follows three liver cancer patients, who face their sickness in different ways. Shen offers little exposition, allowing the viewer to work out what is happening on the screen.
A peculiar approach is adopted to contemplate how Hsu Ching-hsien (徐靜嫻), who suffers from stage-three cancer, and her husband Li Huai-chih (李懷之), view life in the face of death. The couple pour forth their private thoughts and deep emotions, sometimes with tears, sometimes with silence.
Shen's admirably restrained lens eschews sentimentality. An expressive example can be found in a close-up of Liao Sheng-ming (廖盛銘), who attentively watches a video made for his young son. In mere seconds, the scene tenderly conveys the dying young father's wish to remember and be remembered.
With When a Women Loves a Man (人之老), the last section of the triptych, Huang focuses on Guan Wen-yin (管文英) and Li Fu-tang (李福堂), a nonagenarian couple separated by the Chinese Civil War and reunited after nearly half a century. The resulting work is the most uplifting among the three, offering a heart-warming portrait of the couple taking care of each other at the twilight of life.
All net profits will be donated to the three above-mentioned welfare organizations.
Publication Notes
Film Notes
Ways into Love 來得及說再見 DIRECTED BY: Singing Chen (陳芯宜) , Shen Ko-shang (沈可尚) and Huang Chia-chun (黃嘉俊) STARRING: Tseng Yu-tsai (曾有財) as himself, Hsu Ching-hsien (徐靜嫻) as herself, Liao Sheng-ming (廖盛銘) as himself, Guan Wen-yin (管文英) as herself, Li Fu-tang (李福堂) as himself RUNNING TIME: 113 Minutes LANGELA: In Mandarin, Hoklo and Amis with Chinese and English subtitles TAIWAN RELEASE: Today
Comments will be moderated. Keep comments relevant to the article. Remarks containing abusive and obscene language, personal attacks of any kind or promotion will be removed and the user banned. Final decision will be at the discretion of the Taipei Times.