Under the cloud of nuclear power
Anti-nuclear activists from Japan, Taiwan and Australia gathered at the No Nukes Film Festival in Taipei last week to discuss uranium mining, nuclear waste and 'radioactive racism'
What do Taiwan, Japan, Australia and France have in common? They are part of the global nuclear industry chain that starts with mining companies like Canada's Cameco and Areva from France that extract uranium ore to build and fuel nuclear power plants.
Throughout the chain, there is another thing that happens over and over: the nuclear industry stores its waste at facilities located in poor and Aboriginal communities because of their remote locations. These communities also offer the least resistance against corporations and governments.
"We have an expression in Australia called 'radioactive racism,' meaning all of the radioactivity, nuclear tests, uranium mining and nuclear waste are always targeted at Aboriginal communities," says Marcus Atkinson, an organizer with the Anti-Nuclear Alliance of Western Australia.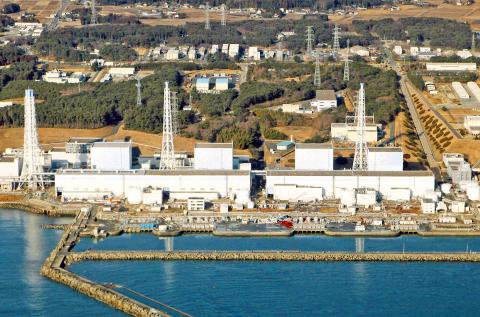 An aerial view shows the quake-damaged Fukushima nuclear power plant in the Japanese town of Futaba, Fukushima Prefecture on March, 2011. Japanese filmmaker Atsushi Funahashi documents the displaced residents of Futaba Town, Fukushima, which remains highly contaminated after the 2011 earthquake and tsunami caused the nuclear disaster.
Photo: AFP/ Jiji Press
The anti-nuclear activist was in Taipei last week to attend the No Nukes Film Festival (核電影), a free biennial event organized by Green Citizens' Action Alliance (綠色公民行動聯盟), an NGO and anti-nuclear advocacy group. The festival and film screenings ends Sunday.
For the past 20 years, Atkinson has worked as anti-uranium mining activist in Australia, which has nearly 40 percent of the uranium reserves on earth, making it the world's third largest supplier.
REACHING OUT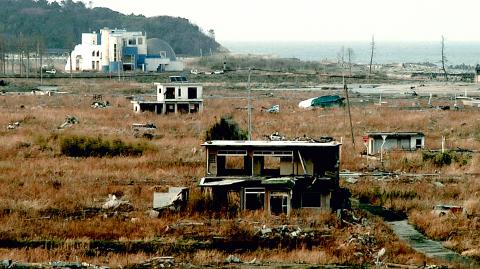 Stills from Japanese filmmaker Atsushi Funahashi's Nuclear Nation II.
Photo courtesy of No Nukes Film Festival
Now in its second edition, the film festival examines different aspects of the global nuclear industry with a focus on issues that are rarely discussed in Taiwan such as uranium mining and environmental justice.
"I used to think of nuclear issues within a national framework," says Chen Shi-ting (陳詩婷), the action alliance's executive secretary. "But the nuclear industry is actually the source of oppression to people throughout the globe."
"Through the film festival, we can ... reach out to the general public who either don't care about the nuclear issue or find it hard to digest," she adds.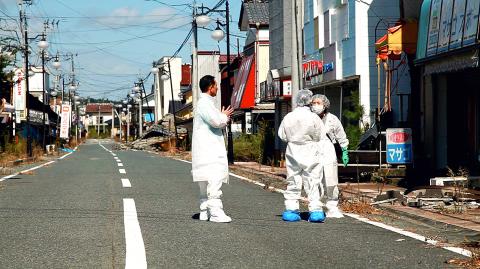 Stills from Japanese filmmaker Atsushi Funahashi's Nuclear Nation II.
Photo courtesy of No Nukes Film Festival
THE SYSTEM OF SACRIFICE
Among the lineup of 13 documentaries, Paiwan filmmaker Sasuyu Ubalat's Get Out (原來我們不核) examines the Paiwan village of Nantian (南田) in Taitung County. The villagers are deeply divided over the future of their small community, which was chosen by Taiwan Power Co (Taipower) as a candidate for a permanent nuclear waste storage facility.
While a handful of tribal leaders and elders view the project as encroaching on ancestral land, the majority of villagers support hosting the storage facility because they believe that the massive financial incentives offered by Taipower will help the poverty-stricken village.
Atkinson says he sees many similarities between what is happening in Nantian and Aboriginal communities in Australia that are struggling to keep uranium mining off their land.
"It is definitely the same tactic... The money and pressure divide the community, kill the resistance and get people fighting with each other. Then the government and company can do whatever they want," Atkinson says.
In his documentary series Nuclear Nation I and II, Japanese filmmaker Atsushi Funahashi documents the displaced residents of Futaba Town, Fukushima, which remains dangerously contaminated after a 2011 earthquake and tsunami caused a nuclear meltdown at the nuclear power plant in Fukushima. Funahashi says the nuclear industry thrives on "a system of sacrifice" in which poor communities like Futaba sacrifice their histories, cultures and futures so that people in the cities can have enough electricity.
"The nuclear power plant robs small towns and villages of selfhood. It brings jobs and money, and locals become dependent on and addicted to it, fearing that if the plant is closed down, their livelihood will disappear… How to enable villages to survive without nuclear power plants is an important question we need to address," Funahashi says.
"Ultimately, nuclear power is an ethical issue, not an economic one… What right do we have to impose something we don't want onto others, our future generations and the environment?" he asks.
ALLYING WITH ABORIGINALS
With a long nuclear-free history, Western Australia has a strong foundation for an anti-nuclear movement. Atkinson says Aboriginal people have formed a close and still growing alliance with environmental groups, politicians and union organizations since the 1990s because they have learned to "listen to each other."
For example, the Walkatjurra Walkabout is an annual month-long trek through the Wangkatja country and is joined by local Aborigine villagers and people from around Australia as a way to celebrate the strength of an Aboriginal community that has fought to stop uranium mining for over 40 years.
Atkinson says that when it first started in 2011, the event was limited to protesting uranium mining. But as community elders and villagers began to contribute, the walk has become about supporting Aboriginal sovereignty and advocating human rights, while facilitating a deeper understanding and reconnection to the land and traditional culture.
"The experience has been more empowering for us in a lot of ways. I think the work with the Aboriginal communities has really opened my eye to the bigger picture," Atkinson says.
PHASING OUT NUCLEAR POWER
In Australia, uranium mining companies have suffered a major setback as global uranium prices have dropped 70 percent since the Fukushima meltdown, prompting Japan, one of the biggest importers of Australia's uranium, to switch off its nuclear reactors.
Atkinson says that all the big companies that have thrived in the nuclear industry in Australia since the 1950s are going broke as they wait for Japan to restart their reactors.
Meanwhile, mining giants are leading the push to build new nuclear power plants in countries like India and Indonesia.
But Atkinson says the future looks bright. He says there is a strong sense that Australia's four uranium mines will shut down over the next decade as renewable energy becomes cheaper than nuclear power.
And nuclear waste? Atkinson says that nuclear waste in Australia should be stored closest to where the greatest number of people use electrical power — Sydney — and where "people who know how dangerous it is can do the best they can to look after it."
"This out of sight, out of mind philosophy is not the best way to deal with a substance so dangerous… [Nuclear waste] is never going to be in the middle of nowhere. We need to realize that there is no such thing as nowhere. There is always someone living somewhere," he says.
The No Nukes Film Festival runs through Sunday at Taipei Contemporary Art Center (台北當代藝術中心) and LUX Cinema (樂聲影城). Details about the festival can be found at: zeronuke.gcaa.org.tw.
Chen says the festival will set out for an island-wide tour in September. Anyone who can get an audience of 20 or more people and a place to screen films — whether a park, night market or an office — is welcome to contact the alliance, which can also help to arrange after-screening discussions. For more information, visit the alliance's Web site: www.gcaa.org.tw.
Comments will be moderated. Keep comments relevant to the article. Remarks containing abusive and obscene language, personal attacks of any kind or promotion will be removed and the user banned. Final decision will be at the discretion of the Taipei Times.